So I Went to the White House on Monday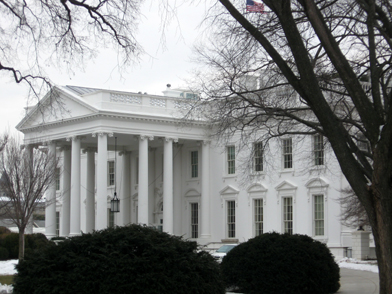 Yes, it is unbelievably shallow of me to first give you this — the stories behind the day — and then give you the actual meat of what I learned while I was there, but, come on, don't we all pick up People magazine at the doctor's office before we pick up the Time magazine?  Aren't you shallow, flighty things like me?
No?
Well, pretend you're a shallow, flighty thing like me for the day, and I promise that I'm working on typing up the brilliant things I heard.
Last Thursday night into Friday morning, BlogHer asked if I could attend the Women's Online Summit at the White House.  Why yes, I could drop editing a manuscript for the day and go hang out with brilliant people.  I knew we'd be covering topics as broad as the economy to health care, all from a women's perspective.  Which I feared would mean the "pinking down" of information.
What do I mean by "pinking down" information — you know how tool companies put out inferior tools with a pink handle on it because they think women want pretty pink things while they repair their house?  Well, I don't want the pink version — I want the hardcore metal tools that are going to get the job done because I am serious as all get-out about home repair.  Yes, I'm a woman, but I don't need my tools to look pretty — I only need them to get the job done.
Which is different from tools that are made with my small hands in mind, that know that my body is built differently from a man and my strength is in my legs rather than my arms.  Tailoring a tool to a person is not the same as pinking it down.
So I was fearful that a Women's Online Summit could be the pinking down of information, but happily realized within seconds of the day beginning that not only was the information not pinked down, but that the inclusion of the word "women" was merely a lens with which to view the same information that would be presented at any Online Summit.  Major accolades to the White House for starting these conversations with various groups, answering questions, and asking for feedback and ideas for helping disseminate information to the American people.  And what I learned transcended America because the ideology is applicable across the world when looking at women's place in society.
But I digress from the shallow, flighty portion of this post.
So, over the weekend, I couldn't say anything beforehand, so I was all casual with rearranging things for Monday, telling people that I had this "thing" I had to be at.  But in my head I was screaming, "That thing is the hite-way ouse-hay!" (I said it in Pig Latin because that's in code and therefore, I wasn't actually mentally telling them.)  Because, come on, it's amazingly cool to get to go to the White House.  If life were a big game of Monopoly, I have already gotten one of those green properties for speaking at the Congressional briefing last year.  Going to the White House would be like acquiring another green property. (I'm not sure what the third green property would be … hanging out with SCOTUS?)  I felt a little out-of-my-body all weekend.
Josh and I devised this bat-shit-insane driving/parking plan that would enable us to drive home together out of the city.  So I started driving into the city, pausing to pee at a Shell station (the man almost said no, but he could see the desperation in my eyes), and I was nearing Walter Reed when traffic slowed to a crawl.  I was watching the clock, watching the seconds ticking closer to 8:45 am when I had to be at the White House gate or miss out on the optional tour.  I was not going to miss the optional tour.  I willed the other people to drive, drive, will you please just driiiiiiiiiiiiiiiiiive.  I cannot tell you how painful it is to be stuck on Meridian Hill, seeing the Washington Monument before you, and knowing that you cannot get through the wall of cars to your destination.
I was playing Green Day, which wasn't helping (especially when the CD ended and "American Idiot" restarted, and I realized that I had gone through the entire CD while I sat in traffic), so I turned it off and did this rocking back and forth motion in the seat as my car inched ahead as if this was going to make the sea of cars part.  I finally parked the car at 8:45 am up in Dupont and called my contact at the White House who told me that I had 10 minutes to get there.
So I tried to get a cab.  The first one pulled over to tell me that he was off-duty.  WHY THE HELL DID YOU PULL OVER THEN?  It was easier to get a cab going in the wrong direction, so I hailed another one, apologized to the driver for the fact that we were going the wrong way, and begged him to get me there in time.  He told me it wasn't possible.  I told him that I needed him to make it possible.  And like a moment out of a movie set, Khan made it possible.  The man defensively drove through the city, depositing me at the gate in exactly 10 minutes, earning double the cab fare for himself.  Worth every single penny because the group started moving the moment I shut the cab door.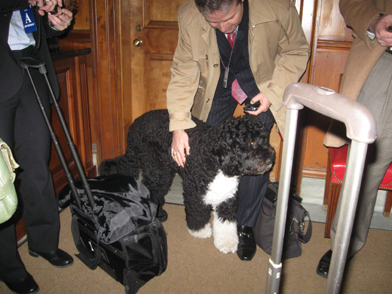 We went through security and entered the East Wing of the White House.  Because we were running late, we got to keep our coats and bags with us.  It was Monday — normally a tour-free day in the White House — so it was quiet and empty of other groups.  Right when the tour began, Bo, bounced by with the grounds keeper.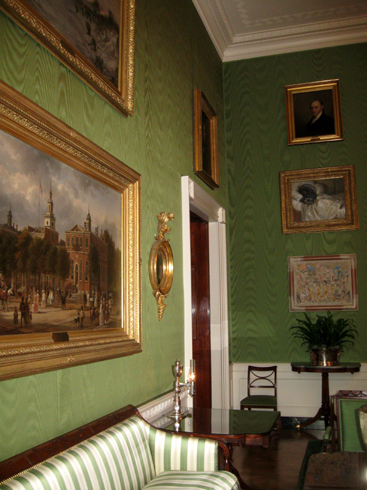 We walked through the East Wing and got to see the ballroom and the library and the Vermeil room.  It was emotional to walk through the red room and touch the silk on the walls of the green room.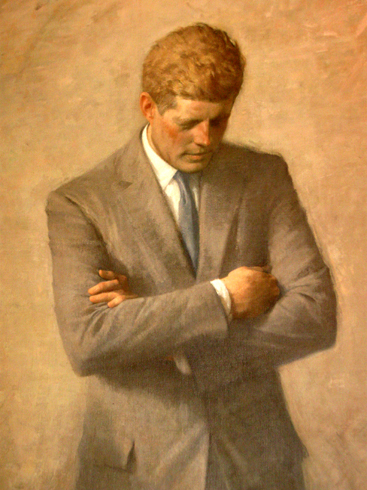 I got teary looking at some of the art — it is all so familiar to you if you grew up in America — and here it was, right in front of me rather than in a book.  It is mind-blowing to think about the history of the space.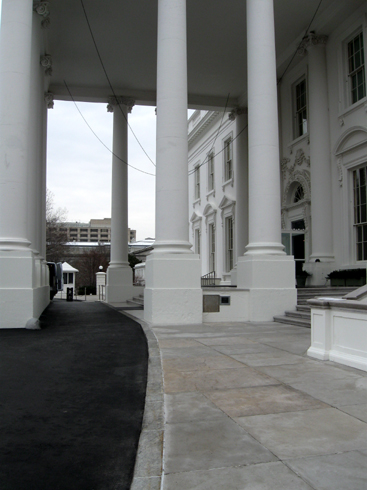 After the tour, we walked over to the Executive Office Building for the actual meeting.  There were 25 of us there from various sites.  I can't really go through the speaker list since our information needs to be unattributed, but we were briefed on the issues by an incredible group of people.  I'll go through all of that in a later post because there is so much to chew over in the 14 pages of notes I took.  I'm obviously a major supporter of this administration, so it's not surprising that I was happy to hear about the policy work.  But even if you aren't a major supporter of this administration, I think it's important to hear how they are thinking about women within the big picture.  I think they need to be applauded for that even if you don't agree with the way policy plays out.
So, I'm listening to someone brief us on education issues (who looked and sounded so much like my friend's husband that I was getting a little doppelgangered out by it), when the door next to me opened and the President walked in.  My body reacted involuntarily by half-standing and gasping loudly.  I plopped down in my seat and the President made a mock gasp back at me and we all laughed.  I half-stood again, plopped down in my chair, finally stood up all the way, and he told us to be seated.
And then he spoke — brilliantly — for a few minutes.  And I was trying to stay in the moment, but it's sort of like looking at the sun.  My heart was pounding so loudly that it was placing a thump over every few words.  Finally, he wrapped up and said, "I'd like to go around the room and meet all of you."  He shook my hand first, staring straight into my eyes, and you realized exactly why he's the President.  Because the rest of the room melts away and he makes you feel as if you are the only person in there.  He's charismatic and funny and low-key.  He makes you feel so comfortable and so safe.  When he said, "nice to meet you, Melissa Ford," I could literally hear a Greek chorus of all my ancestors performing an ethereal melisma.
The President left the room and we all were giddy.  When we took a break, I seriously considered not peeing so I wouldn't have to wash my hands (but memories of catheters past drove me to the stall).  But we got back down to business and finished the briefings and discussions.  I seriously cannot tell you how much I wish every American could have been there to hear the information.  I left the building at 5:15 pm with my brain buzzing, my mind full; already digesting the 3000 ideas that were popping around.  For the first time in a long time, I felt smart.
I got in another cab, happy to see that it was driven by a woman, and she asked me how I was and I screamed, "I just met the President!"  I mean, Khan was great to drive like a maniac through the city and deposit me on time.  But after a really great day, you want a woman to unwind with and talk.  As we drove back to Dupont, she told me in her beautiful Eritrean accent about seeing the First Lady right when they got here.
And that was possibly the theme of the day — we are all just people, moving over the surface of the earth, trying not to negatively affect others, trying to do well for ourselves.  And we come together in these strange formations — cab driver and passenger, President and writer — townspeople meeting and then parting, bearing witness to each other's moments.
Back in 2008, I wrote about how the twins and I all voted for Obama.  I held them up so they could press the button, and then we erased it and the next one went, and I cast the final vote.  I wanted to give them that experience of being part of that moment.  And that's what I thought about when I tucked the Wolvog into bed the night before I went to the summit.  He cuddled under his blanket and gave this little smile while he said, "have fun at the White House tomorrow, Mommy!"  And it blew my mind — the bridging of that moment from then to now.  As I shook the President's hand, I could visualize my hand pushing that button.  And now he's here in front of me.  And what an amazing world we live in where moments like this happen.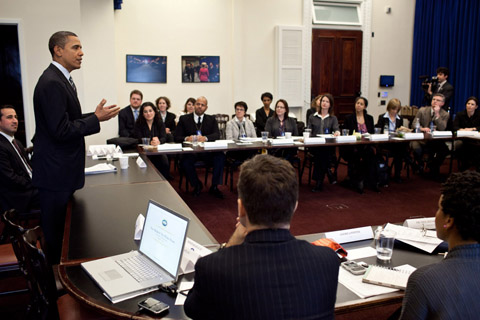 President Barack Obama drops by the Women's Online Summit in the Eisenhower Executive Office Building, Jan. 31, 2011. (Official White House Photo by Pete Souza)
That's the door he walked through on the far left of the photo, and I'm sitting in the first seat on the far left.  I cannot be blamed for gasps.
Actual write-up of the briefings and a possible cool opportunity for you (yes, you!) coming soon.