Disney With Teens
We're back from Disney, and I'm here to report that Disney with teens is veeeeeeery different from Disney with little kids, and it is like 1000 times better.
We made the choice to go to Disney for Christmas without really thinking about the crowds at Disney for Christmas. It was similar to last year when we made plans to go to Montreal in winter, and after the plane landed and was taxiing on the runway that I exclaimed, "Oh my G-d, I've never been to Montreal in winter. Isn't it going to be super cold?" Yes, it was super cold.
But in both cases, it was also a really good time and we're back and feeling pretty down that we're not going to go on Soarin' or It's a Small World today.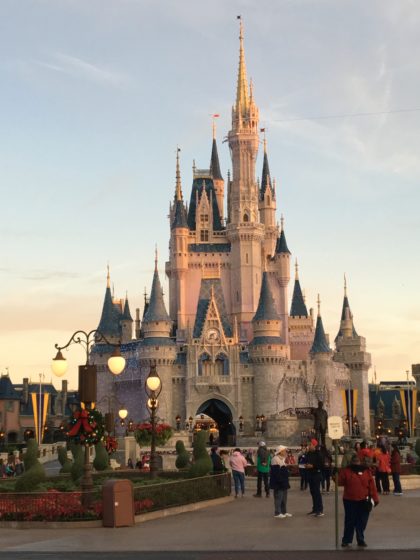 Unlike the first time we went when they thought they were meeting the real Snow White, and the second time we went when they wanted to believe they were meeting the real Snow White, this time we were able to trim out the long wait times to see Snow White. They happily called out hello when they spotted a character, but felt zero need to wait 50 minutes in a line with crying children to snap a picture. I offered them a character breakfast before we went, and the Wolvog smiled wistfully at me and said gently, "Um… mum… you do know that we know that it's just a person in a costume… right?" Yes, smart ass.
We did five days in the parks — 14 hours to 17 hours every day. Tack on an hour to get ready and get there in the morning and another hour to get back and get to bed in the evening, and we kept going for 16 hours to 19 hours EVERY SINGLE DAY. We were delirious by the last day. We came home and slept 14 straight hours the first day home. That's what you can do when you go to Disney with teens. No meltdowns. No crying fits. No begging for stuffed animals or another snack. Yes, we all whined that our feet and back hurt, but Josh and I whined just as much as the kids. What it came down to is that all four of us were on the same team, and this team was solely focused on getting on rides. One goal. All of us with the same goal. We were like an amusement park machine.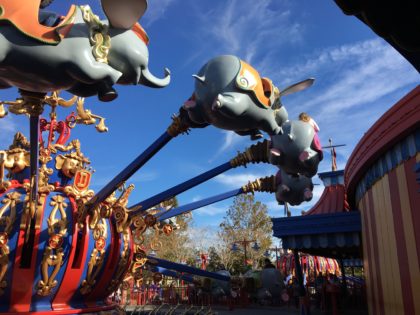 We brought breakfast and lunch with us so we wouldn't have to slow down. (If you haven't picked up on the fact that we do amusement parks like it is our job, you've missed the point.) We made reservations for dinner so we could time walking off a ride a second before we needed to be seated. We filled our water bottles whenever possible. We snacked on nuts while we stood in line so we had extra protein. We were glorious! We were victorious!
So here are the stories:
Wistfulness
I loved going to Disney when they were little because they were so wrapped up in the magic, but I didn't realize that the place would make them miss their babyhoods, too. They asked to begin and end with It's a Small World since that is the ride we began and ended with the last two trips.
It's not that the magic wasn't still there — I made a new wish on It's a Small World because all the wishes I've made at Disney so far have come true. I love Disney because of its sameness; because it made me remember my own childhood as much as it made me remember the twins' childhood. There's a smell to the park; the mix of sweetness and rain (it always smells like summer rain in the parks). And as we breathed it in, we kept retelling stories from old trips.
We talked about our childhood as much as we talked about their childhood. I told them about the best mints I ever ate. They came from a candy store on Main Street — no longer sold, we checked — that my parents bought me at the beginning of the day as I entered the park. They were tiny pink, white, and green balls; impossibly small French mints that came in a tiny circular tin. (Like these, but tiny tiny tiny.) I told them about how Winnie the Pooh was once-upon-a-time Mr. Toad's Wild Ride. If You Had Wings became Buzz Lightyear and 20,000 Leagues Under the Sea became Under the Sea – Journey of the Little Mermaid. Haunted Mansion is my favourite ride, but I told them about how my parents had to bribe me to ride it the first time (because I was too scared) by buying me fake fangs. I loved those fangs, and I used to lie in bed and read a book with those fangs in my mouth.
Disney is both easy and hard because you are always around babies. On one hand, there is a gleefulness to the ease in which we now move, unencumbered by diaper bags and nap times. We looked at people schlepping around babies and felt thankful that we had it so easy. Disney is a lot more enjoyable when you don't have to worry about timing meals or bedtimes. But every time you step to the front of the queue, they ask you how many in your party so they can seat you together. Sometimes I was happy to say four. Other times, I was sad that I couldn't say five.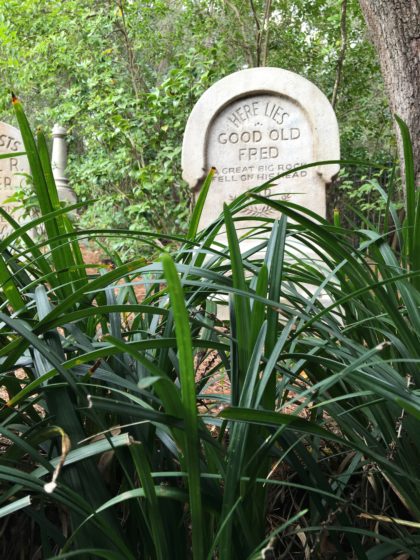 Leave Without Regrets
We told them our only goal was to leave each park with zero regrets. So, yes, I did have to bribe a child to go on one ride (because I could tell they were struggling with their fears and needed a reason to push themselves. They were so glad they did), and I had to push MYSELF to go on the Frozen ride the first time. I knew there were drops, but I didn't know when the drops happened. I was so anxious while waiting in line that I heard a little girl ask her dad, "Should I be scared, too?" I had to bend down and explain to the girl that I am a very nervous adult and that there was nothing wrong with the ride. Extra embarrassing moment was when the dad pointed out that a service dog went on the ride without trouble. But I pushed myself to get on and was so proud of myself afterward. I threw up my hands and sang along (and, admittedly, burst into tears because it was such a release) when Elsa sang, "Let it Go" and you're dropping backwards. We went on two more times after that.
After we went on our last ride of the vacation, the kids looked like they were struggling with the sadness, so I asked if we should just go on again. They were so relieved that their last ride turned out to not be their last ride, and they ended up feeling like they could walk out of the park feeling completely full.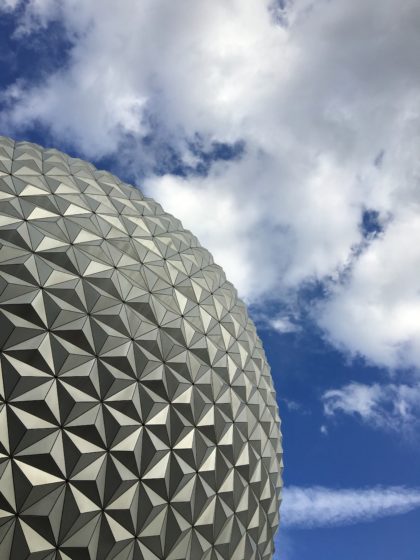 Broken Rides
There were a lot of broken rides. Like A LOT of broken rides. The only ride that broke while we were on it was Figment at Epcot. It was trippy to get walked off the broken ride — such a cool experience. But we noticed that two or three rides broke in each park each day.
We started taking our breaks at broken rides. We found that most went back up within an hour, and if we read our books where the queue would start, we'd be the first in line when it reopened. We did this with Spaceship Earth (45 minute wait) and Under the Sea (half hour wait). In the case of Ariel, we were able to ride it two times in a row because the line was so short. After that, the wait time was back up to 70 minutes. So we rode it twice, with what amounted to a 15 minute wait each time.
I'm sure it doesn't always work out for people, but we found taking our breaks at broken rides to be a great way to make the waits shorter.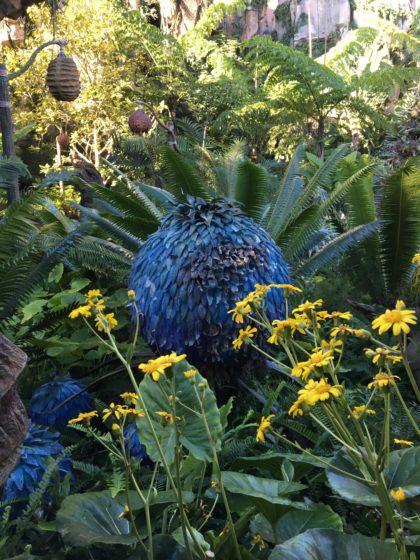 Best and Worst
The parks have always held the best and worst of humanity. There are the great conversations with strangers in line, and you also have people who push or snarl or skip the lines. We saw people jump into the Fast Pass queue after they passed the Fast Pass checkpoint. We saw parents smacking their kids, ignoring their kids, yelling at their kids.
But for the first time, we encountered the best and worst of employees. We had one amazing experience — big shoutout to Ben from Greenville, South Carolina. It was so amazing that we called guest services afterward to tell them about Ben and say thank you again. My glasses broke at the Animal Kingdom. I had prescription sunglasses with me, but I was going to be without regular glasses once it got dark. We had to leave the park and go back to the hotel to get my backup glasses, which meant giving up our Fast Pass to Festival of the Lion King AND missing out on the safari because the wait time was so long. We were sad but realistic. But when we told Ben from Greenville, South Carolina about our situation, he let us walk onto the safari ride so we could see the animals before it got dark. We were able to leave the park after and come back to wait in the safari line (two hours) and do the safari a second time in the dark. It changed our whole day.
But we also encountered the meanest woman when we were waiting for Spaceship Earth. She hated that we were taking our break near the queue. She kept coming back to us to repeat over and over again that we were wasting our day. That the ride wouldn't open up for four or more hours. No matter how many times we calmly told her we were aware and we were going to take a break anyway, she would interrupt us and tell us that we were making a terrible decision. Even after she knew the ride was opening, she was still telling people that it would be closed for hours. She seemed so angry when she had to let us on and she refused to acknowledge us when we thanked her as we got onto the ride. I have zero clue why it mattered to her.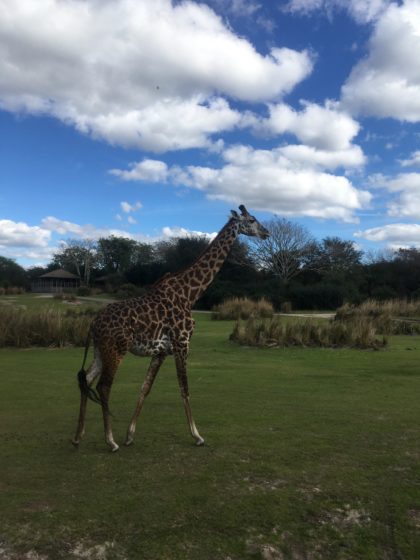 Put Down the Damn Phone
There were smartphones the last time we were there, but they weren't a huge problem. This time, they were. People would stare at their phone in line, not paying attention to the fact that the line was moving. They would walk into you in the park because they were staring at their screen. They filmed themselves on the ride, knocking into you in order to take the best shot. They played on their phone DURING the ride, ruining the dark rides such as Haunted Mansion. There were so many parents who stared at their phone during the waiting times while their children ran into other people. We saw one parent lose her child who wandered away while she was reading Facebook. We waited behind another parent who scrolled through recipes for 90 minutes while her child stood there, silently. It was really sad.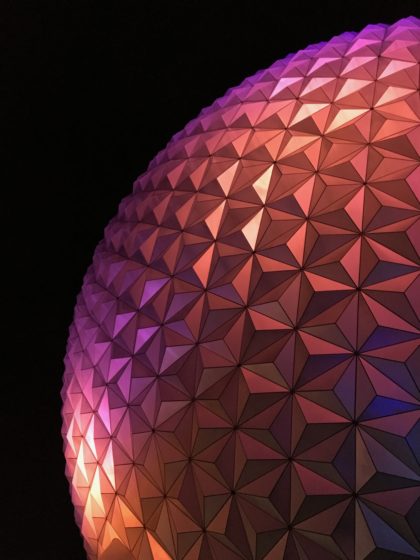 Creepy
Disney is sometimes beyond creepy. You know you're being tracked at all times, but they also never let you forget that fact when they would do things like put up your name at the end of a ride ("Goodbye, Melissa!"). Or I received a survey while we were at the park and one of the questions was whether they could add my answers to my file. Um… why do they have a file on me?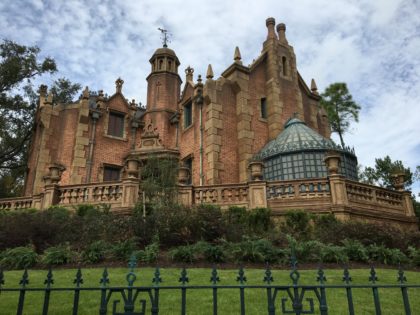 Magical Moments
And then, just when you feel done, when you are beyond annoyed by the children who run straight into you or the long lines or the big crowds, something magical happens.
It starts snowing as you walk down Main Street. Or "When You Wish Upon a Star" comes on at the right moment. And you cry as you walk out of the park because regardless of the small bumps, it is all so good. It so good and you shared it together and you never want it to end.