What We Learned at Disney World (Part Two)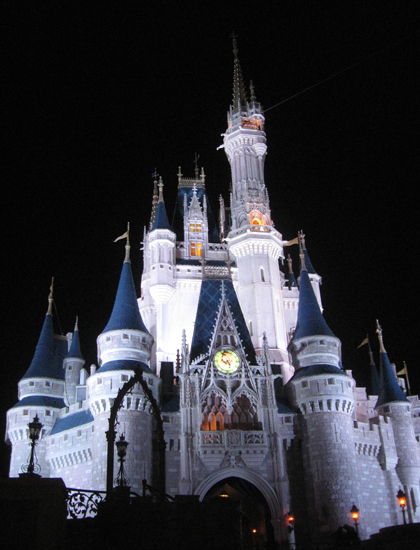 Thank you for indulging me in my Disney stories.  I am one of those people who love to talk Disney.  We have boiled down our travels there to a science, mostly thanks to my sister who passes along all of her tips as well.  For instance, this is the order of things when you enter the Magic Kingdom (coming, of course, at the start of the day so you can see the opening ceremony): Grab a Peter Pan Fast Pass (currently, it will also spit out a secret Philharmagic Fast Pass at the same time… shhh).  Go on Dumbo first (long lines combined with the fact that the way it snakes makes it difficult for anyone to join you in line later).  Go on It's a Small World second.  Grab a Fast Pass to Winnie the Pooh before you use your Peter Pan Fast Pass.  Go on Peter Pan.  Go see Philharmagic with your Fast Pass.  Go on Snow White as you walk over to Winnie the Pooh.  Ride the Tea Cups if you still have a moment before Winnie the Pooh.  Bam — you've just done 7 rides in about an hour with minimal waiting.
After that, go to Tomorrowland.  Haunted Mansion gets less busy when everyone sits down for the parade.  Taking the non-graveyard right-side route will shave a lot of time off your wait.  When you're in line for Pirates of the Caribbean and the line divides, take the right side.  It's slightly shorter (and you'll get to see the skeletons playing chess!).  If you have a Triple AAA card, you can get special seating for Wishes that is totally worth it (it's right at the corner of Main Street and the circle, outside the ice cream shop and down a small ramp).
And we can do this for every park (though I'm best at Magic Kingdom and Epcot).  We have it mapped out — when and where to meet characters, the order of rides, where to buy food — so that we have minimal waits and can shove in as many rides as possible.  We've done on-property vs. off-property hotel comparisons.  Car vs. no-car comparisons.  I love talking about Disney, rubbing my cheek against other people's travel itineraries, plotting out when our next return trip will be (poor Josh).
Maybe when I grow up, I will be a Disney vacation planner for other people.
*******
More fables from the land of Disney in an attempt to make my vacation stories more palatable…
*******
The ChickieNob didn't want to see Turtle Talk at Epcot and insisted that it was "too scary" which sounded like bullshit to me since her favourite ride is the Haunted Mansion.  We dragged her in there anyway, and she refused to sit on the carpeted area with the other kids, choosing instead to sit in our laps while her brother took a spot in the front.  Crush came out and did his routine, and when it came time to call on kids with questions, the Wolvog was chosen.
The ChickieNob was considerate enough to begin wailing after I had finished filming her brother talking to Crush (you can hear the ramp up to her grief at the end of the video).  This wailing reached a climax accompanied by a mucousy nose and gaspy breathing once the lights came on.  The ride operator stopped by to see what the hell could upset a child this much considering her ride was a flat screen that showed a talking cartoon reptile.
We were finally able to drag the story out of the ChickieNob.  Apparently, she had been carrying around this deep well of regret since the last trip when we went to see Turtle Talk. Crush had called on her, and she choked up, too scared to ask her question.  He went on to the next child and the ChickieNob had never recovered from it, though she hadn't shared that fact with us until now.
The ride operator told her that there was a simple solution.  She would go to his tank and talk to Crush and tell him to call on her during this next show.  The ChickieNob explained that she was too scared to sit on the carpet apart from us, so the ride operator told her that a special exception could be made and I could sit with the kids on the floor so that the ChickieNob could release this regret.
Seriously, where else do people give a shit like this about your child?
So we sat down on the floor and watched Turtle Talk again.  When it came time for questions, the ChickieNob meekly raised her hand and Crush called on her.  She asked him if a red-eared slider turtle would make a good pet.  Crush joked around with her for two minutes about turtles as pets and order was restored to the ChickieNob's world.  She has decided that she does like Finding Nemo once again, and we have been blessed to hear the term "totally sweet" on average twenty times a day since Epcot.
People are often willing to give you what you need if you ask, and no one should live with regrets that are fixable.
[flashvideo file=https://www.stirrup-queens.com/wp-content/uploads/2011/10/Turtle-Talk.mp4 /]
*******
We were waiting in line to meet Snow White when a woman walked by with a blue dragon puppet on her shoulder.  It had a small tube leading off of it that allowed her to twist a button and make the dragon's head move.  The ChickieNob gasped sharply and grabbed my arm: "that woman is holding a real dragon."
The woman heard and bent down, encouraging the ChickieNob to stroke its blue fur.  She promised that it wasn't from one of the fire-breathing species, and told her that her friend had found the dragon in the forest without any parents and now was taking care of him.  When the Wolvog returned from his Kimpossible mission (you know, just saving some stolen art work in Norway), he too stroked the dragon and asked the woman a million questions about dragoncare, all the while, the dragon's head tilting and moving.  The woman explained that the tube was just a leash to keep the dragon from flying away.
And while meeting the real Snow White was exciting and warranted about five minutes of marveling, the ChickieNob and Wolvog couldn't stop looking at each other at random moments throughout the day and one of them saying, "I can't believe we met a real dragon.  We are so brave because we touched a real dragon."
The ChickieNob has given up on wanting a clam or a red-eared slider turtle (Wait! What? We just went through that Crush trauma so she could ask that question!) and now wants to spend all of her time in the woods looking for orphaned dragons.
Let your imagination believe what it wants to believe, and you can discover amazing things.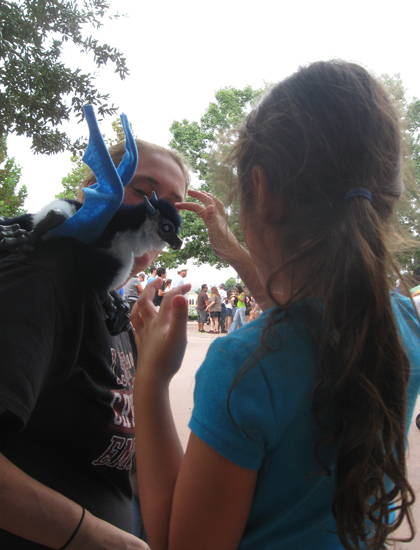 *******
The Wolvog's favourite ride at Epcot has always been Spaceship Earth.  It is his fantasy ride — slow-moving, with relaxing Judy Dench's voice telling you about the history of inventions.  Plus it has a touchscreen computer in every car.  Needless to say, we went on it probably 10 times while we were there.
He must have been there the first time we went to Disney (because I Googled it on BoingBoing that night), but this trip came right after Steve Jobs' death, and the Wolvog's entire seven-year-old body turned towards the animatronic Steve Jobs as we passed through his garage and he reached out his arms as if he was willing the robot to pick him up.
Each time we went on the ride, he released his goodbye a little more.  The first few times, he became silent and reverent as we passed through the garage.  By the final few Spaceship Earth runs, he was calling out his name and telling robot Steve how he too would have a computer company one day.  We couldn't have created a better goodbye for him, and it came when we weren't even looking for it.
There is no wrong way to mourn; grab whatever you need to get through a loss.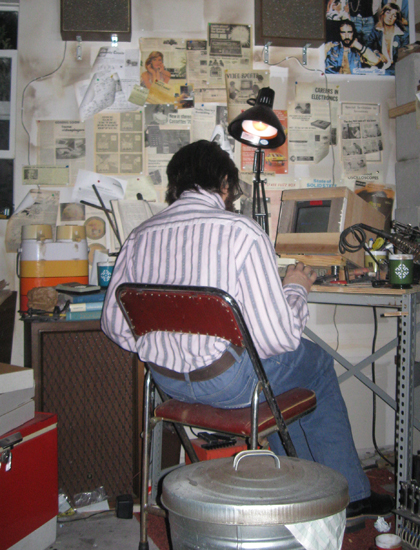 *******
The ChickieNob also had some fears about the characters not remembering her since her last visit.  I think it was partially a test of her imagination — were they just people in costumes or were they the real deal, since the real deal should remember someone as unforgettable as the ChickieNob — and it was partially a fear of being forgotten.
She wasn't just nervous for the ones she had met before; she equally loved and feared the new people she met, such as Alice from Alice in Wonderland who tried to get her to speak by asking her how she was in fourteen different languages. (When I asked the ChickieNob why she didn't say anything, she looked at me blankly and said, "she never said it in Hebrew.  If she had spoken to me in Hebrew, I would have answered her."  Seriously, child, but she said it in ENGLISH.)
[flashvideo file=https://www.stirrup-queens.com/wp-content/uploads/2011/10/Alice-in-Wonderland.mp4 /]
But it's the ones who we had met before, let's say, Pluto, were treated to a long line of questioning testing their memory in which they enthusiastically nodded through the whole thing and the ChickieNob looked at them suspiciously, as if their eager agreement of remembering meant they were guilty of forgetting.
She finally relaxed once Snow White informed her that she still remembered me from when I was two, but just hadn't recognized me since now I was all grown-up.  We had a chat about magical aging — how magical beings don't age in the same way as humans, therefore, they don't always recognize us instantly since our faces look so different to them, whereas they look the same to us.
The ChickieNob then answered that she had noticed that many of the characters' faces HAD changed since our last trip, especially the princesses who looked decidedly different from the photos at home.  Gulp.  Magical aging, dear.  It affects them too.
And that was enough to appease her.
[flashvideo file=https://www.stirrup-queens.com/wp-content/uploads/2011/10/Snow-White.mp4 /]
Though it didn't stop her from when I told Mickey Mouse that we loved him and he touched his chest, making his finger trace the shape of a heart in the air, and then pointed to us, to asking, "how do we know that Mickey really really loves us and that he doesn't just say that to every child?"
No matter our age, we all have a need to be remembered, acknowledged, and cared about.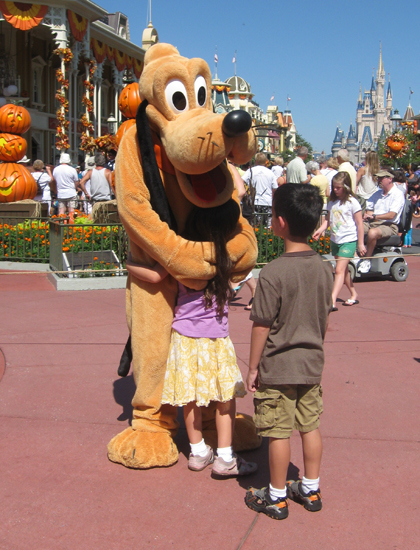 *******
It was a hard goodbye.  I did most of my crying in the hotel room the last few nights after the twins went to sleep and maybe lost a few tears at discreet times while waiting in line at the parks (though the crying that came at Dumbo was just because the ChickieNob went on a five minute lecture about how everyone else she knows has a younger sibling and why won't I just have one more baby and she would help me take care of her sibling unless it cut into her doll time.  And all the while, those stork tags on the ride kept swinging back and forth in the breeze, reminding me of babies babies babies babies babies.)
But the twins did the hard cry as we walked through Cinderella's castle on our way out of the park for the final time.  The ChickieNob kept pausing to turn around to peek at the castle as we walked towards Main Street, her grief so deep as she screamed out how much she hated school and leaving Disney and did she mention that never ever wanted to go on holiday anywhere else?
And I told her that it was time to let go of the little kid trips and start traveling around the world.  That it was time for her to be dipped into different cultures, sample the food, learn the language.  That we would be back at Disney again, but it was time to travel overseas and that was a sign of how grown-up she was.
Which made her wail, "I do not want to grow up!"
At that moment, she turned around, and lights were twinkling against Cinderella's castle.  We had always told her those lights were fairies, so I whispered that the Princesses had heard her cry and sent out the fairies to tell her l'hitraot (see you again) one last time.  I personally have always felt much more settled with the Hebrew l'hitraot than the English goodbye.  And the ChickieNob stopped crying and agreed.  "L'hitraot," she called out (insistent that all the Princesses know Hebrew even if Alice doesn't).
At that moment, the twinkling lights stopped, and she was able to turn from the castle without crying and walk through the gates.
Sometimes, when you least expect it and without truly wanting things to be over, the end you need arrives.
 *******
Believe it or not, this isn't the end of the Disney thoughts, videos, and pictures.  I promise I will stop torturing you soon, but I have a few more thoughts to unload.