MFA Sunday School (Four: Budgeting Writing Time)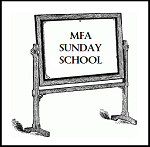 Welcome to MFA Sunday School, a once-a-week, free, online writing workshop. MFA Sunday School posts are uploaded on Sunday mornings, though you can read them or participate any time — the comment section is always open for people to post a link to their work or ask a question. You can subscribe to blog posts via the RSS feed, or look for them under the category heading "MFA Sunday School." If this is your first time in "class," you may want to jump back to the first post in the series in order to understand how things work.
Let me guess what happened last week.  On the first day, you created a character.  On the second day, you couldn't find time to do it.  On the third day, you made two characters and started on a third one just in case you missed another writing day this week.  And that's what you have now because you did end up skipping the rest of the days — three and a half characters.  It is hard to find time to write.
I dated a guy back in graduate school who was inflexible about his meditation time.  He meditated twice a day for about a half hour each time.  He meditated some time between 7 – 8 am and again between 3 – 4 pm.  And guess what, he always got to meditate.  Most of the time, it didn't affect me — I just read a book or I'd meditate with him.  But sometimes, I'd want to go to an afternoon movie or I'd be antsy and not want to sit inside.  And those were the times when I'd point out things we were missing because of his meditation schedule.  And he'd shrug and say, "I'm still meditating."  Not because he was an asshole who didn't care about my feelings, but because it was that important to him.
And that's how writers (yes, YOU) have to approach writing.  You need to set a time to do it and hold it sacred regardless of what other people need you to do too.  This is how you're going to do it:
You're going to start with fifteen minutes, and fifteen minutes only.  You get no extra points for writing for a half hour or an hour.  Fifteen minutes and then stop.  Before you start doing this, you will need to pick a time of day that works best for you, that is consistently good with few exceptions.  Then you need to go explain to everyone who may need you during those fifteen minutes that you no longer exist for a quarter of an hour — you know, the amount of time it would take to shower and get dressed.  Not a lot of time.  But they need to understand that you are (1) writing and cannot be disturbed and (2) need them to support you so you can write uninterrupted.  I'm going to assume that most people are going to write at home rather than use their lunch break.  Therefore, carve out your time in the morning, mid-day, or evening, but explain to all the people who live in your house (yes, even the two-year-old that you need to plop down in front of the television for fifteen minutes) that this is your sacred time and you cannot be disturbed.  If you need to, hand them this post and say, "this is what I'm doing and this is how I need you to help."
And before you start saying how you can't possibly find fifteen minutes every day, I'm going to tell you to stop talking.  Eat your three meals five minutes faster, go to bed ten minutes later and wake up five minutes earlier, cut out a television show, ask your partner to take the baby for fifteen minutes.  If you want to find fifteen minutes (and it's only fifteen minutes because you don't even need to use time to commute somewhere), you can find fifteen minutes.  And I promise you, it's the only amount of time you're going to need.  I am not going to ask you to go beyond fifteen minutes.
After you have found your time, take away other possible distractions beyond humans.  Disconnect from the Internet.  No, you can't check your email first for a second.  No, you can't check a fact online for the story you're writing.  Turn off your smartphone, don't answer the home phone, and literally cloister yourself.  By the way, I often will leave a string of gibberish letters in the middle of a manuscript in order to come back and plug in the fact later.  BUT I never just go online for a second because — I'm sorry — that's the fastest way to become derailed.
So fifteen minutes — that's it.  And when fifteen minutes is done, you walk away.  Guess what — it will seem as if you're accomplishing nothing.  Maybe you spent the whole time staring at the screen.  Maybe you only wrote three sentences, and you don't feel very good about them.  It wasn't a waste, I promise you.  Come back again tomorrow and the same thing will happen, and perhaps the next day too.  Some people — like me — sometimes need four or more Channel Days before they actually get into the heart of a writing project — a place that we'll call finding the pulse.
To understand the concept of Channel Days, we need to take a page from yoga.  Yoga isn't an end-point: it's merely a way to train the body so the mind the meditate.  According to Patanjali's Yoga Sutras, yoga is a pathway to somewhere else, and some yogis stop the physical practice of yoga once they can train the mind to meditate for long periods of time and the body is strong enough to sit still.  Channel Days within writing are also a pathway to somewhere else — the rhythm or pulse to a project — which means that they aren't a waste of time.  They are a very important exercise you need to go through in order to get to that pulse.
Most people can't jump in and out of writing with ease.  If you step away from a project for a bit, you need to spin the dial on your internal, mental radio and tune into the words again.  If you think you're not getting anywhere and step away, you'll forever be stuck in Channel Days.  If you work through them and sit with the project, realizing that these days are far from "wasted" time and necessary for getting where you want to be, you'll come through them into the pulse of the project.
For the first few weeks, you're going to stick to fifteen minutes a day.  After you've had about three weeks of this and you've established an expectation with others around you, you may increase to a half hour, though you don't have to.  Consider the sustainability: It is better to write fifteen minutes every single day, than to write at varying lengths of time three times a week.  Better to stick forever at fifteen minutes a day than to miss days, and since you need to take other people into account and don't want them cranky with you, it's better to fulfill their expectation than to give them a sense that writing is a flexible thing for you.  Feel free to commit to fifteen minutes every day but grab a few longer days when you can.  But never skip.
If you are going to increase you time, do it in fifteen minute increments over the course of a few weeks.  So fifteen minutes a day for a few weeks, a half hour a day for a few weeks, forty-five minutes a day for a few weeks, to an hour a day.  Just as you wouldn't run a marathon without training, don't make your brain and body sit for an hour when it isn't trained to do so.  That's a recipe for frustration.  Fifteen minute increments to increase your writing time.  Though, again, don't feel you need to stretch beyond fifteen minutes.  Better to drain every last drop of concentration for those fifteen minutes than to poorly plod through an hour.
At fifteen minutes a day, even once you find your groove, you may only write a paragraph or a page a day.  You're certainly not going to churn out a chapter in that amount of time.  But think about it — if you write a page a day, you will have a 365-page book by the end of the year.  Not too shabby.  Also, this isn't a race.  You are not competing against anyone else.  You're not even competing against yourself.  You may have wanted the project or post to have been finished yesterday, you may be chomping at the bit to hit publish or start sending something out, but deep breathe.  This really isn't a race, so panting as if you're in one.  Slow and steady writing reaches the finish line, and if you look at the big picture, it doesn't matter the date you cross that finish line.  It just matters that you've created something; that you have something in hand that wasn't here on earth before you pulled it out of your brain.
I gave you the character development exercise last week and the time budgeting exercise this week because I needed you to see how hard it can be to devote uninterrupted time to something that you love.  Maybe you believe that only published writers have the right to demand writing time because then it's not a hobby, it's a job.  If you want to hold on to that belief, you can, but it will always limit you.  This is why you deserve time to write: it's important to you.  It makes you feel good, it centers you, it is your mental exercise, which is just as important as physical exercise.  You take the time in your day to eat and you take the time in your day to sleep; this is important to you too: you should take time in your day to write.
So now go backwards to week three and try your hand at creating seven characters, working on them for fifteen minutes each day without distraction.  You may only get three and a half complete within that amount of time, and that is fine.  This is your Channel Week.  In yoga, you learn how to breathe in and out, slowly and calmly.  And in writing, your Channel Week is that time period where you learn to steadily work without distraction.  For just fifteen minutes each day.
Homework: Choose your time of day, talk to your family, and start writing fifteen minutes every day.  In the beginning, start making a checkmark on a calendar after you complete your fifteen minutes to serve as a visual reminder.  You better have seven checkmarks when I see you here again next Sunday for the next writing lesson.