MFA Sunday School (One: Introductions and Expectations)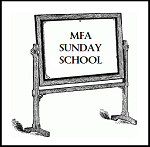 Welcome to MFA Sunday School, a once-a-week, free, online writing workshop.
Whether you are joining from the very beginning or finding this first post in the series at a later date, this is the place to get to know your virtual classmates, find writing partners, and introduce yourself to the rest of the group.  From time to time, I will be reminding people to dive back into the comment section below and find people to connect with over writing.  So introduce yourself even if you're late to the game.
But first some logistics.
MFA Sunday School posts are uploaded on Sunday mornings.  You can subscribe to blog posts via the RSS feed, or look for them under the category heading "MFA Sunday School."  You don't need to read them on Sundays — in fact, you probably want to save them until you can concentrate on them.  I'll usually give you homework at the end.  On the other hand, there will also sometimes be time-sensitive lessons such as a query letter critique, where once the critique is closed, we won't be giving you an edit on your query letter until the next one.  So… follow along as closely as you need to follow along.  If that makes sense.
MFA programs are usually organized into two umbrella categories — fiction and poetry.  Some programs also hold classes on creative non-fiction and playwriting/screenwriting.  MFA Sunday School will cover the basics of poetry — free form and fixed form.  The basics of short story writing.  How to dissect fiction and then use what you learn to enhance your own work.  How to develop a novel.  How to write creative non-fiction.  Formatting for playwriting/screenwriting.  How to look at your own work with a critical eye.  How to submit to literary magazines.  How to pitch to editors.  How to form a relationship with a writing partner and look at each other's work with a critical eye.  Critique of query letters.  And any other topics you'd like to know about that are usually covered in an MFA program.  In other words, anything and everything related to writing.
A few years ago, I wrote an eleven-part series on getting a book published. (You need to unfortunately read it from the bottom up since the top post is the eleventh or final post.)  We'll be delving back into that too, especially because the publishing world keeps changing and as new options open, such as e-books or Amazon singles, we need to keep looking at the process of getting your work out there.  If you liked that series, MFA Sunday School is going to be similar except it will cover a wider range of topics.
I am your main teacher.  I have an aforementioned MFA.  I also studied creative writing as my undergraduate degree, so I have seven straight years of workshops.  I've published two books so far — one fiction, one non-fiction.  I have a handful of published poems.  I've been the editor in chief of two literary magazines.  I'm a section editor at BlogHer for Blogging & Social Media.  I've written the blog Stirrup Queens for almost six years.  I'm going to need to pull in other writers from time to time as well as agents, publishers, literary magazine editors so I won't be the only person you'll see here.  Hopefully we'll have some fun guest speakers.
Why an online weekly writing program?  Why not.  I have the information in my brain; I know it's expensive to go to university full time — it seems like a win-win.  The focus of an MFA program is not to get you published per se but to get you to be a better writer, a goal that many bloggers share with book writers and poets.  So I see this as a way of mutually supporting each other to become better writers whether your medium is fiction writing, poetry writing, playwriting/screenwriting or blogging.  I like connecting with people who like to write, who want to write better, who want to understanding the process of writing, who like words and want to play with them.
So, last few things before we start getting to know one another.  The comment section will be your space to speak to your classmates (always in a civil tone).  There will be exercises sometimes at the bottom of the post, and I would appreciate it, if you have a blog or online space, if you could post your work on YOUR blog and then post a link to the work in my comment section.  Then people can jump from here to visit your space.  If not, the comment section will become extremely crowded (sestinas are long!).  If you don't have a blog, don't worry; you can post your work here in the comment section.  I'm just trying to cut down on the number of people who do so.  The comment section for each lesson is open indefinitely.  If a particular exercise resonated with you, it's a good idea to bookmark that post and return to it from time to time to see if there are new comments and new pieces of writing to read.
I definitely also recommend getting a writing partner.  You don't have to do this immediately, but pay attention to other people in the comment section and see if there is someone who sounds like they could be a good fit.
I'm also going to start using the Prompt-ly list for general writing discussion, and it will compliment the MFA Sunday School posts.  It will be a place to ask questions, find writing partners, discuss the topic of the week, etc.  If you're already on the Prompt-ly list and this appeals to you, no need to do anything.  If you're not on the Prompt-ly list and want to be able to take the discussion off-blog and to email, sign up via that link.  If you're on the Prompt-ly list and don't want to talk about writing… well… then I'm not sure why you're on the Prompt-ly list since I wrote in the opening post that there will be how-to information in the future.  It will still be a place to throw out blog ideas, interesting articles, and the like.  But this will take it one step further where it will be about all mediums of writing.  I'm not sure how often we'll need to go to email for discussion, but throwing it out there as a resource that is already in place — an email group of writers.
And… that's about it.
It's now time for you to introduce who you are and why you're here.  First and foremost, tell us about what you write: your blog, any publications, whether you're more interested in poetry or fiction.  Tell us what you hope to learn as well as what you like to read.  What are your long-range goals?
And then please vote below to let me know which of the following topics appeal to you most (all will be covered, but I'm trying to get a sense of what people want to learn in depth vs. what people want to touch on briefly).  There is an "other" option for you to fill out other things you'd like to learn.  Or feel free to add that in your introduction below if you have a few items.
So welcome to class and let's get ready to learn.