Occupy Blog Street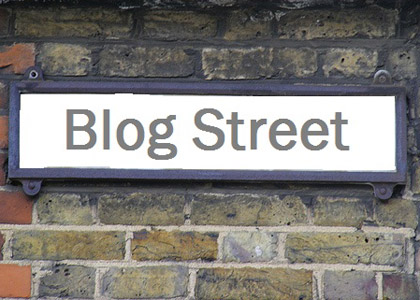 This post is for the 99% of the blogosphere.
Every year around this time, sites trot out their top 100 lists (yes, I'm looking at you, Babble).  They open up their blog awards as click-bait, slapping advertisements down the side of the page while they encourage nominees to encourage their readers to vote for them.  They do calls for the best of… the best of the food bloggers and the best of the tech bloggers and the best photography.  They create clickable lists of people to follow on Twitter — declaring certain accounts the accounts you need in your feed if you're going to have your finger even touching someone who is touching the zeitgeist, making us believe that we're not part of the zeitgeist anymore since there is a 1% living it for us.
Because then there are the rest of us.
The 99% of bloggers who write the content that doesn't get recognized in any enormous way.  The daily posts about both the remarkable and mundane elements of life.  The people we actually connect with and love and would cry if they left the blogosphere.  The 1% are the bloggers we're dying to meet just to see what they're like in the face-to-face world.  The 99% are the bloggers we're dying to spend time with because we just know it would be a fantastic conversation with a likeminded individual.
Blogging was — at one time — about leveling the playing field.  About taking away the gatekeepers of publishing and allowing every voice to have the potential to be heard.  And that is still what it is, though it's almost as if people are too scared to allow ourselves equality, so we create these "best of" and "top blogger" lists in order to remind ourselves of some old time that doesn't actually need to exist.
And for anyone who makes the argument that these lists tune out the cacophony of the blogosphere, allowing voices to be heard, I'd accept that argument if the lists changed yearly.  But they don't.  And we all know that.
Five years ago, I started the Creme de la Creme as a response to this idea of separating out some bloggers from others; giving 1% attention while ignoring the 99%.  Because we all have amazing posts — not just once a year, but actually quite frequently.  And I can prove it with the evidence of the Friday Blog Roundup, which has been happening for 5 1/2 years.  Every week, for 5 1/2 years, I have been able to find at least 4 posts from various bloggers which are remarkable; noteworthy.  And the point is that it's not the same bloggers weekly.  Almost 100% of the time, there is at least one blogger on the list who has never been featured prior to that point and the other three bloggers vary, bringing in all areas of the blogroll.  So if you take 286 Roundups (yes, the Roundups are misnumbered as we discovered last year though kept due to laziness) and multiply that by an average of four posts, that comes out to 1144 posts that I found remarkable, written by an average of 500 or so unique bloggers.  And if we add in the posts that you bring to the mix each week, we add in several thousand more.  Which — in my not-so-scientific opinion — proves the point that there are more than one or two infertility bloggers who deserve recognition.  There are actually 100% of us who do.
Movements have a manifesto; a clear vision for what they hope to accomplish and change.
This is mine, the one I've been repeating in various ways over the years.
Occupy Blog Street.  Sit down on your blog and write something today.  Hit publish.  Read everyone equally — mixing the 1% and 99% together to create a single entity.  Ignore "best of" lists.  Declare 2012 as the year of telling YOUR story and then tell it. (Though you may only get to December 21st because that's when the world will officially end.  We'll all understand if you miss blogging those last few days of the year since none of us will be around to read those posts.)
Check your stats once a day, and then wean yourself to once a week, and then wean yourself to once a month. (I would tell you not to check at all, but how else will you know the amusing Google searches that bring people to your blog?)  Do not judge the worth of a post by how many comments it gets, but instead judge the worth of a post by how it made you feel to write it.
Choose a blog to read just because you like the look of the header and layout and not because you found it on a top blogger list.  Use StumbleUpon and find posts you would have never found otherwise.  Stumble other people's posts that you like.  Make sure you let your favourite bloggers know how much they are appreciated.  Everyone needs encouragement from time to time.
And most important, don't feel badly if you're not included on a top blogging list; if no one bestows an award on your blog this winter.  You're in good company with the 99% of us who never make those lists either (nope, I'm not on them).  Other people's opinions do not matter as much as your own.  And you know, in your heart of hearts, that your blog is not only worth writing but it is worth reading.  So re-read your own blog, make a day of it to curl up on the sofa and re-read your own thoughts.  And marvel over them.  Give yourself your own reward; make it out of paper cups and duct tape and gold foil.  Put all of your blog posts in a Word file because your words are important and worth protecting (you've done this, right?).
Every voice matters.
Photo Credit: modified with permission from SludgeGulper.