#Microblog Monday 254: Book Grief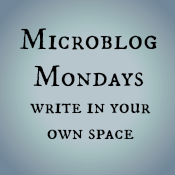 Not sure what #MicroblogMondays is? Read the inaugural post which explains the idea and how you can participate too.
*******
When I was little, I never read the final page of the Phantom Tollbooth. I would read up until the last word on the final two-page spread, and then instead of turning the page and reading the final two paragraphs on the other side of the paper, I would skip back to the front of the book and start again, meeting Milo as if it was the first time.
I felt such a deep sense of book grief that our journey together was over.
I felt that after Brothers and Sisters ended. And House. And I'm feeling that way with Downton Abbey coming to an end for us. There are books I refuse to admit are over. I re-read and re-read The Magicians, so Quentin Coldwater is usually with me any time I have to wait.
Media grief, it's a real thing.
What book or show are you sad is over?
*******
Are you also doing #MicroblogMondays? Add your link below. The list will be open until Tuesday morning. Link to the post itself, not your blog URL. (Don't know what that means? Please read the three rules on this post to understand the difference between a permalink to a post and a blog's main URL.) Only personal blogs can be added to the list. I will remove any posts that are connected to businesses or are sponsored post.