#Microblog Mondays 181: Be My Valentine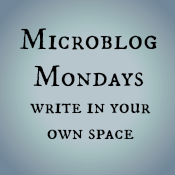 Not sure what #MicroblogMondays is? Read the inaugural post which explains the idea and how you can participate too.
*******
We don't do anything for Valentine's Day anymore. Josh and I have never celebrated it. (We also don't celebrate Tu B'Av, which is sort of the Jewish version of Valentine's Day.)
When the kids were little, I was the class mum, so I threw the school party. They filled out Valentine's cards for all of their classmates, ate candy, and played games. But now that they're in middle school, we don't have that ritual.
I don't feel sad about it, and I certainly don't want to go out Wednesday night. But I do feel like I need to make heart-shaped pancakes or something of that ilk.
What is the most low-key way to mark Valentine's Day without really doing anything for Valentine's Day?
*******
Are you also doing #MicroblogMondays? Add your link below. The list will be open until Tuesday morning. Link to the post itself, not your blog URL. (Don't know what that means? Please read the three rules on this post to understand the difference between a permalink to a post and a blog's main URL.) Only personal blogs can be added to the list. I will remove any posts that are connected to businesses or are sponsored post.