#Microblog Mondays 180: Impatient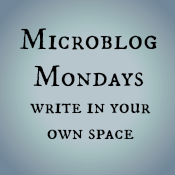 Not sure what #MicroblogMondays is? Read the inaugural post which explains the idea and how you can participate too.
*******
I would describe myself as impatient. I excel at delayed gratification when I already know that I have X (like saving a piece of chocolate to eat for an indefinitely amount of time), but… well… here's an example of my impatience: When I begin writing a new book, I feel anxious by the end of the first day that it's not already complete.
Like I said: impatient.
Which, you know, can be a good thing because I am always motivated to move forward. But I know I also waste a lot of time wishing things forward when they're going to unfold in their own, sweet time. I liked this post by Darius Foroux:
The book you're writing, the presentation you're making, the business you're building, things can't happen fast enough. There's nothing wrong with wanting things to happen fast. In fact, that's one of the main reasons people and companies innovate.

But we have to realize there's a difference between a desire to achieve things and impatience. The former helps you, the latter harms you, especially your creativity.
Do you consider yourself a patient or impatient person?
*******
Are you also doing #MicroblogMondays? Add your link below. The list will be open until Tuesday morning. Link to the post itself, not your blog URL. (Don't know what that means? Please read the three rules on this post to understand the difference between a permalink to a post and a blog's main URL.) Only personal blogs can be added to the list. I will remove any posts that are connected to businesses or are sponsored post.