#MicroblogMondays 175: Celebrating the Year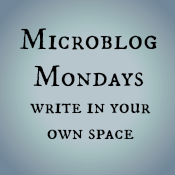 Not sure what #MicroblogMondays is? Read the inaugural post which explains the idea and how you can participate too.
*******
On the last day of the year, I cleaned up my to do list and got ready for the work week. I played a lot of Shuffle Cats, crossword puzzles, solitaire, and Sudoku. We watched the first Lord of the Rings movie because we missed our yearly tradition of watching all three films between Christmas and New Year's Eve. We ate appetizers for dinner.
I never got out of my pyjamas.
It doesn't look very exciting when you write it out like that, but it was the perfect way (for me) to spend the last day of the year. Nothing big. Nothing grand. No champagne or fancy party. Just everyone piled into a bed, eating chocolate, fighting orcs, and waiting for the ball to drop.
How did you mark the last day of 2017?
*******
Are you also doing #MicroblogMondays? Add your link below. The list will be open until Tuesday morning. Link to the post itself, not your blog URL. (Don't know what that means? Please read the three rules on this post to understand the difference between a permalink to a post and a blog's main URL.) Only personal blogs can be added to the list. I will remove any posts that are connected to businesses or are sponsored post.