#Microblog Mondays 178: Attention Management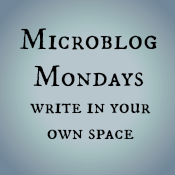 Not sure what #MicroblogMondays is? Read the inaugural post which explains the idea and how you can participate too.
*******
It is very hard to manage your attention. It's different from time management, which I think of as allocating time well or spending time on the right tasks. This article says it best:
Attention management is more than not looking at social media every five minutes—though it's also that, too. It's also about setting priorities and focusing your attention where it matters.
It is riffing off of this article on attention management and knowing your essential priorities.
People often ask me how I get stuff done, working from home. While I don't agree with everything Rao says, it's a great starting point. Turn off the distractions. Tell yourself your intention. Get tasks accomplished in the best order. One at a time.
Easier said than done, and some days I do it better than others.
What tricks do you use to manage your attention?
*******
Are you also doing #MicroblogMondays? Add your link below. The list will be open until Tuesday morning. Link to the post itself, not your blog URL. (Don't know what that means? Please read the three rules on this post to understand the difference between a permalink to a post and a blog's main URL.) Only personal blogs can be added to the list. I will remove any posts that are connected to businesses or are sponsored post.