#Microblog Mondays 176: Letterboxing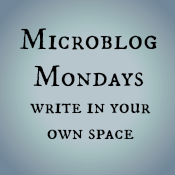 Not sure what #MicroblogMondays is? Read the inaugural post which explains the idea and how you can participate too.
*******
Before we got into geocaching, we tried letterboxing. It's the same concept, except you follow clues instead of coordinates. We kept our notebook in my purse so we could mark it if we found a letterbox while we were out.
I just read about the origin of letterboxing, and it made me want to drop our notebook back in my purse:
Letterboxing began in the mid-19th century, when a man knelt in the peat bogs of Dartmoor, England, constructed a small cairn, and placed a glass jar inside. He told other hikers to leave something in the jar if they came across it, and people began to leave messages for future visitors.

With that act, James Perrott unwittingly laid the foundation for a hobby that continues more than 150 years later.
Don't you love that? To be a hiker and know that there is this jar out there filled with messages for you if you can find it?
Have you ever been letterboxing? Want to start?
*******
Are you also doing #MicroblogMondays? Add your link below. The list will be open until Tuesday morning. Link to the post itself, not your blog URL. (Don't know what that means? Please read the three rules on this post to understand the difference between a permalink to a post and a blog's main URL.) Only personal blogs can be added to the list. I will remove any posts that are connected to businesses or are sponsored post.