#MicroblogMondays 174: Merry Christmas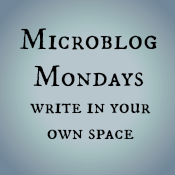 Not sure what #MicroblogMondays is? Read the inaugural post which explains the idea and how you can participate too.
*******
We don't celebrate Christmas, so I live vicariously through all of your Internet postings. I love hearing about Christmas traditions.
Like do you go away or host it? Hang stockings for decoration or fill them? Church or no church? What are you eating today?
Do you open gifts on Christmas Eve or Christmas morning? And during gift opening, do you go one person at a time so everyone can watch other people open presents or do you open gifts at the same time? Are you ever surprised or do you pretty much know what's under the tree?
So tell me about your Christmas (or grab a good idea for next year if one pops up in the comment section).
*******
Are you also doing #MicroblogMondays? Add your link below. The list will be open until Tuesday morning. Link to the post itself, not your blog URL. (Don't know what that means? Please read the three rules on this post to understand the difference between a permalink to a post and a blog's main URL.) Only personal blogs can be added to the list. I will remove any posts that are connected to businesses or are sponsored post.