#MicroblogMondays 173: Spontaneous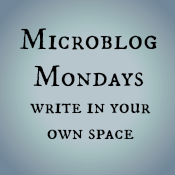 Not sure what #MicroblogMondays is? Read the inaugural post which explains the idea and how you can participate too.
*******
I read a post that rang true for me about why introverts hate spontaneity. I am probably the least spontaneous person I know. If I went to Ollivanders, he'd hand me a wand that is made out of cement. Completely inflexible.
Of course I dipped into the comment section and there were people arguing that they are introverts who love spontaneity and the two aren't mutually exclusive. Of course, they aren't, but the original argument rang true for me. I need time to mentally psych myself up for interacting with people, and I need to know when I'm getting my downtime. I can't commit to one without knowing the other.
So, do you like spontaneity? And are you introverted or extroverted? (Though I know someone will argue that we're all a little of both.)
*******
Are you also doing #MicroblogMondays? Add your link below. The list will be open until Tuesday morning. Link to the post itself, not your blog URL. (Don't know what that means? Please read the three rules on this post to understand the difference between a permalink to a post and a blog's main URL.) Only personal blogs can be added to the list. I will remove any posts that are connected to businesses or are sponsored post.