#MicroblogMondays 171: Takers and Givers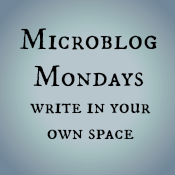 Not sure what #MicroblogMondays is? Read the inaugural post which explains the idea and how you can participate too.
*******
I love Dungeons and Dragons. I haven't played since high school, but I listen to other people's games via YouTube, Twitch, or podcasts. Josh doesn't see the joy in listening to someone else's game, but you get the story AND you don't need to do any of the work. I'm a listener not a contributor. A D&D taker but not a giver.
I don't know why I don't play since I clearly like listening to games. I guess that there are things I like to participate in and things I like to only observe. And while there are local or online D&D games I could join (and I sometimes feel a twinge of jealousy when other people tell me about their ongoing campaigns), I don't.
What is one things you only like to observe but would never want to do?
*******
Are you also doing #MicroblogMondays? Add your link below. The list will be open until Tuesday morning. Link to the post itself, not your blog URL. (Don't know what that means? Please read the three rules on this post to understand the difference between a permalink to a post and a blog's main URL.) Only personal blogs can be added to the list. I will remove any posts that are connected to businesses or are sponsored post.