673rd Friday Blog Roundup
As hard as it is to talk about my own books, I'm finding it ten times harder to talk about the twins' book.  It is slowly making its way to people's homes and bookstores, and we've been getting excited messages from people telling us that it arrived.
It is a gorgeous book; thick pages and densely packed information.  Sometimes when they're at school, I take one of the author copies off the stack in the living room and thumb through it and think, "Holy shit.  My kids wrote this."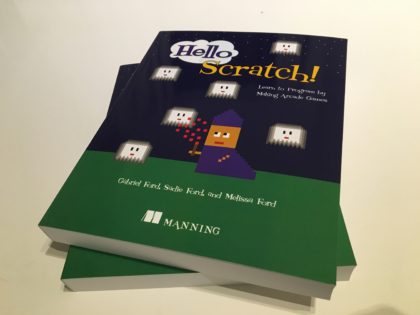 If you are currently stressing about a gift to give a child between the ages of… oh… let's say 8 and 16 (you probably couldn't be younger and read it, but you could certainly be older and still get a lot out of it), may I suggest Hello Scratch?  It's smart and clever and you'll make fun games PLUS you will actually understand computer science once you're finished reading it.
But wait!  What if you don't have anyone in your life who likes computers?  What if everyone you're buying a gift for is a computer hater?  You can still support the twins.  Tweet about their book, Facebook about it, recommend it to a friend, tell your local school library they should get a copy.  Scream about it on a street corner.  It all works.
*******
Stop procrastinating.  Go make your backups.  Don't have regrets.
Seriously.  Stop what you're doing for a moment.  It will take you fifteen minutes, tops.  But you will have peace of mind for days and days.  It's the gift to yourself that keeps on giving.
As always, add any new thoughts to the Friday Backup post and peruse new comments in order to find out about methods, plug-ins, and devices that help you quickly back up your data and accounts.
*******
And now the blogs…
But first, second helpings of the posts that appeared in the open comment thread last week.  In order to read the description before clicking over, please return to the open thread:
Okay, now my choices this week.
Look No Tubes is writing about pregnancy after infertility.  The little things that many women never think about, like how scar tissue can affect ultrasounds.  The research skills that got her through infertility are still serving her well through pregnancy.  We really do end up knowing our bodies like old frenemies.
My Path to Mommyhood has a heartbreaking post about her donated embryos.  They did not survive the thaw.  She writes, "And just like that, the last dream of hope has died."  It is a post where she peels back many layers of grief.  Her words made me wish I could be in the same room, holding her hand while she cries it out.
Bent Not Broken has a moving post about decorating the tree.  As she unwraps the ornaments, she is flooded with memories.  She writes, "I had a good cry as I hung them all on the tree. I let all of the hopes and dreams and changes in plans from the last ten years wash over me."  If you are having a hard time this holiday season, go sit with her next to her Christmas tree.  There are people out there who get it.
Lastly, Today's the Day had great results with last year's defining word, and she has set forth her new word for 2018: balance.  I especially love the last thought because balance is something that you only have if you create it.  I took some steps recently to regain some balance in my own life, so I may join her and share the word.
The roundup to the Roundup: Support the twins!  Your weekly backup nudge.  And lots of great posts to read.  So what did you find this week?  Please use a permalink to the blog post (written between December 8th and 15th) and not the blog's main url. Not understanding why I'm asking you what you found this week?  Read the original open thread post here.