#MicroblogMondays 169: Games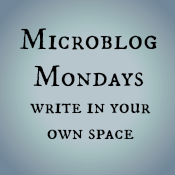 Not sure what #MicroblogMondays is? Read the inaugural post which explains the idea and how you can participate too.
*******
You know how I said on Friday that I'm not playing as many games anymore? I'm not. But I still manage to squeeze in a round or two of Desert Golf while I'm thinking during the day.
I would call it a bad habit, but I actually think it's a good habit. Plus it takes about 30 seconds to do two boards.
I keep going back to the old, tried-and-true games: Desert Golf, Two Dots, 2048, Solitaire, Candy Crush, Merged. I like little puzzle games that you can pick up for a moment and play a few rounds and then walk away from for days and not feel guilty. Or word games — I love crossword puzzles.
So… recommendations? Because I want to cycle out some of these older games and put a few new ones in their place.
*******
Are you also doing #MicroblogMondays? Add your link below. The list will be open until Tuesday morning. Link to the post itself, not your blog URL. (Don't know what that means? Please read the three rules on this post to understand the difference between a permalink to a post and a blog's main URL.) Only personal blogs can be added to the list. I will remove any posts that are connected to businesses or are sponsored post.