#MicroblogMondays 167: Silence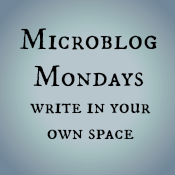 Not sure what #MicroblogMondays is? Read the inaugural post which explains the idea and how you can participate too.
*******
The BBC had an article about a little while back about the cultural interpretations of silence. English speakers tend to panic when there is silence, whereas speakers of other languages see it "as a valuable moment of reflection and a sign of respect for what the last speaker has said."
As I read it, I realized how much I like silence. I don't like waiting for an answer any more than the next person but I like sitting with people in silence. I especially like driving in silence. And pauses in conversation are nice because they're like a period at the end of a thought.
Are you comfortable with silence? How long would you let a pause go on in a conversation before you felt the need to fill it?
*******
Are you also doing #MicroblogMondays? Add your link below. The list will be open until Tuesday morning. Link to the post itself, not your blog URL. (Don't know what that means? Please read the three rules on this post to understand the difference between a permalink to a post and a blog's main URL.) Only personal blogs can be added to the list. I will remove any posts that are connected to businesses or are sponsored post.