#MicroblogMondays 165: Choosing to Be Calm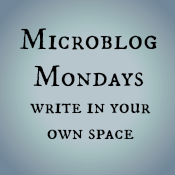 Not sure what #MicroblogMondays is? Read the inaugural post which explains the idea and how you can participate too.
*******
I wrote a few days ago about a Marcus Aurelius stoicism quote about choosing not to be sad if something is distressing you, and I still stand by the lack of worth in the words once he mentioned that this idea is applicable to anything and everything.
But I also found an old Modern Mrs. Darcy post on the same idea, only applied to the small stuff. She mentions a friend whose husband was in a frustrating situation, and she said, "Eh, that's life, she said. You can't freak out about stuff like this. And she went on to explain that mix-ups like this happened to everyone at some time or another, and that's just the way it is, and you have to decide to not get upset about it when it's your turn."
Your turn. Like if you think of it like jury duty, this is just your turn. Nothing you can do about it, so you might as well accept it and move on. I am terrible at this — the idea of just rolling with things — but this is an idea I can get behind while I reject Marcus Aurelius.
What do you think? Do you think people can actually choose calm when they're frustrated?
*******
Are you also doing #MicroblogMondays? Add your link below. The list will be open until Tuesday morning. Link to the post itself, not your blog URL. (Don't know what that means? Please read the three rules on this post to understand the difference between a permalink to a post and a blog's main URL.) Only personal blogs can be added to the list. I will remove any posts that are connected to businesses or are sponsored post.