#MicroblogMondays 162: Lagom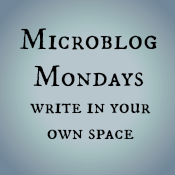 Not sure what #MicroblogMondays is? Read the inaugural post which explains the idea and how you can participate too.
*******
I learned a new term this week. It was presented as 2018's "hygge," though once I Googled it, I saw that it was also 2017's "hygge." That feels like a lot of work for a single word.
Lagom is Swedish, and (based on what I'm reading) it roughly translates as "just enough." The Guardian summarizes the sentiment and compares it to hygge:
Both imply a distaste for extravagance and flashiness, but hygge is active in a way that lagom is not. Hygge is about doing that little bit extra to create a special atmosphere. Lagom, although always positive, is almost the opposite. It's about not doing what is unnecessary or superfluous, focusing on what is absolutely essential, knowing when to stop.
Which sounds pretty damn good to me. There are times when fussy is totally worth it; go all out and enjoy the final product. But too many times we feel like we should strive for fussy when we know that pared down is more our style. (Or, more attainable. Can you tell that I don't lead a very Instagrammable life?)
And yet when it comes to personality, I'm not sure it would work for me. As much as I am austere when it comes to tangible things, I feel pretty passionate about ideas. The author continues:
Being lagom also means being moderate in personality, views, and politics. When Swedish children are told skratta lagom, or teenagers are told to have lagom kul, it doesn't mean "have a bit of a laugh", or "have a bit of fun", it means "don't laugh too much", or "don't go over the top".
You can't take a word out of a culture. Or you can try, but it will forever be like wearing someone else's shoes; they may be your size, but they're molded to someone else's feet.
What do you think about the idea of lagom?
*******
Are you also doing #MicroblogMondays? Add your link below. The list will be open until Tuesday morning. Link to the post itself, not your blog URL. (Don't know what that means? Please read the three rules on this post to understand the difference between a permalink to a post and a blog's main URL.) Only personal blogs can be added to the list. I will remove any posts that are connected to businesses or are sponsored post.