662nd Friday Blog Roundup
My sister bought me guinea pig socks.  Do you know how amazing it is to go to the mailbox to get the mail and see a lumpy package inside?  And then open strange package and find a pair of socks featuring guinea pigs thinking about carrots?
It made my whole week.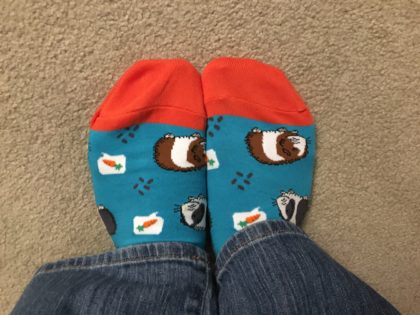 ChickieNob instantly wanted them for herself, but HANDS OFF.  I will share t-shirt collection.  I will share my high heels.  But I will not share my guinea pig socks.
They make me so happy.
*******
Stop procrastinating.  Go make your backups.  Don't have regrets.
Seriously.  Stop what you're doing for a moment.  It will take you fifteen minutes, tops.  But you will have peace of mind for days and days.  It's the gift to yourself that keeps on giving.
As always, add any new thoughts to the Friday Backup post and peruse new comments in order to find out about methods, plug-ins, and devices that help you quickly back up your data and accounts.
*******
And now the blogs…
But first, second helpings of the posts that appeared in the open comment thread last week.  In order to read the description before clicking over, please return to the open thread:
Okay, now my choices this week.
No Kidding in NZ has a post about being an aunt.  I love this post because it's nuanced; looking at the pros and cons of parenthood or not as well as the fact that just as you cannot control whether or not parenthood happens, you also can't control the child that ends up in your life.  I love this: "But there are also complicated and confused emotions, knowing that I wouldn't wish my sister's concerns on anyone, and feeling relief that I am not the one primarily bearing that burden, but also knowing that there is great joy in her role as well as great fear and sadness, and that I would have willingly born these myself, if I had had the chance."  It's a gorgeous post — go read the whole thing.
Res Cogitatae has a post about the worth of changing things when life is working for some but not for all.  She asks: "If everyone else in your family is happy, is it selfish to want to change things just because you aren't?"  The comments are good, too.  Go join the discussion.
Lastly, Family Rocks has a post about how a kind gesture also brought out feelings of shame and a sense of "less than."  It is a post about doing a lot, all with a chorus of internal voices telling you their opinion, too.  It's a post that will both feel familiar and also contains a deeper layer once the surface is peeled away to explain what life is like when you find yourself living a Plan B you never imagined.
The roundup to the Roundup: My sister got me guinea pig socks.  Your weekly backup nudge.  And lots of great posts to read.  So what did you find this week?  Please use a permalink to the blog post (written between September 22nd and 29th) and not the blog's main url. Not understanding why I'm asking you what you found this week?  Read the original open thread post here.