Charlotte and Her Friend, Notability
It has been a little over a week with Charlotte.  That's what I call the Little Red Notebook.  Chickie named her.  Charlotte is always with us, so the notebook sort of needed a name.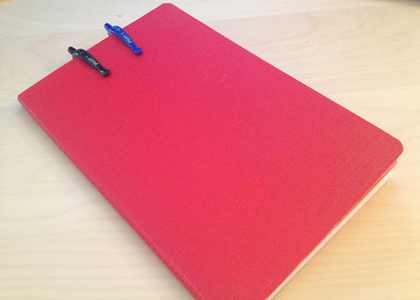 Charlotte makes my brain feel light.  It floats around above my head instead of pressing down heavily on my skull.  I used to spend so much energy remembering: remembering what I had to do and where I had to go and funny things the twins said and blog posts I wanted to write and this idea for the novel that would solve a plotline problem.  All of it churned around in my brain, like a blender left on all the time.
By Thursday morning, three days after starting Charlotte, Josh commented that I had fallen asleep before him.  This never happens.  It takes me hours to fall asleep.  This is partly because I am a terrible sleeper.  But the other side of it is that I get into bed and my brain keeps going and going and going.  I loop through everything I'm trying to remember, and then I loop through again for good measure, and then I pause to worry for a bit before I do another jog through the tall grasses of what needs to get done.
Before Charlotte, I never stopped spinning mental plates.  I wasn't scared that if I stopped their rotation, they would shatter to the floor.  I was worried they would disappear.  Mental plates, spinning one moment and blank stems the next.
Since getting Charlotte, my mind feels light.  Not exactly happy because… after all… I am still me.  I'm just me with a notebook.  But I'm not working so hard to remember everything.  Instead I have peace of mind that it is written down, not going anywhere until I cross out the words.  I put down everything in that notebook.  All the bits and pieces that make up a life.
I write down everything; even the most obvious things.  Clean Truman's cage.  I can smell Truman's cage.  I can see Truman's cage.  Still, I write down "clean Truman's cage."  After I clean his cage, I checked it off the list, and I feel at peace.  Order has been restored to the rodent world.
I'm retaining more things, thoughts that would have drifted away into the ether.  There's a "why not" element to writing things down.  Why not?  Why not record that thought?  It's just centimeters on a piece of paper.
I'm getting more done because I have to keep looking at my list.  I backed up my computer.  It's been months since I've done a proper backup.  I have eight post topics lying in wait, whenever I feel inspired to write them out.  Games I want to buy and a phone call I want to make and everything I've worried about in the last week.  It's all in one place.  In my hand.
*******
The notebook managed the sea of post-it notes, but it did little to make a dent in the rest of the loose sheets of paper floating around my house.  Packing lists, recipes, written instructions.
I have Notability as a note-taking app, but I decided to use it as a way to go paper-free-ish.  If you're not familiar with Notability (I downloaded it when it was the free app of the week, but it's totally worth the $2.99 if you do actual work on your iPad), it's a note-taking app that allows you to type or hand-write your notes.  But moreover, you can also record the lecture at the same time, and when you play back the recording, it will highlight your notes when it comes to the part of the speech.  For instance, let's say you're recording the State of the Union.  Obama says something brilliant that you want to include later in the article you're writing.  You just write on the screen something like, "include this!" and when you play back the speech, the words "include this!" will light up when you get to that part of the speech.  Or you can write something completely unrelated such as "tell the story about my visit to the doctor" when he's talking about healthcare, and you'll have your notes and the sound notes in the same place.  Does that make sense?
But that's not how I'm using Notability to go more-paper-free. (I feel I need to qualify it since I'm not going to actually go paper-free.)  I mean, yes, I am still using it to take notes (or the twins use it to do their homework.  It makes great scrap "paper"), but instead I am using it for those recipes or packing lists.  One of the reasons I like paper recipes is that I write notes all over them as I cook, tweaking the ingredients or cooking steps.  You can do that on Notability.  You just create a PDF of all your recipes, upload it to Notability, and you can write all over the PDF.  You can change ink colours so your first time making the recipe, the notes are red.  And the next time, the notes are orange.  That way, you always know which were your most recent notes.
I made a master packing list that I duplicate and then make specific for each trip.  I can keep adding to it as I remember things I want to bring.  And then, when it comes time to pack, I have this typed list on the screen, and I choose the hand-writing function and cross out each item as it goes in the suitcase.  I can jot quick notes on the side of the page.  I can even add images to the document if want to leave the list for someone else and have them see all the things I want them to pack specifically.  And then I can erase all my markings so the same list is clear and ready to go when I'm ready to repack those items on the other end of the trip.
It feels as if a little flip has been switched.