Toasts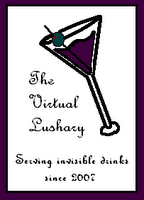 Yes, the Virtual Lushary has creaked open its doors and the bartender is ready to pour you figurative drinks.
The doors were actually opened by Loribeth who said, "Mel, we need a Lushary."  Which is why I'm raising up this first beer (normally, I like a Grolsch, but since it's almost St. Patrick's Day, I took some of the Guinness on tap) to Loribeth and offering up a toast.
To Loribeth, who has been a friend for about six years. (I literally can't remember when we first started reading each other, but Gmail spat out back and forth emails from 2007 when I did a search.)  Who once sent me a Jewish calendar that I loved so much that I left it unused so it wouldn't have markings in it.  Who brilliantly deconstructs news stories.  She's a wonderful, kind-hearted, lovely, smart person, and I'm lucky that she decided to start a blog and put her story online, inviting us to all know her daughter, Katie, who she lost many years ago.
I'm imagining at this point that you're all raising your glasses with me and calling out, "to Loribeth!"
So take a moment to offer up your own toast to another blogger, a shout out telling us why you love them.  And as I'm pouring you a drink, fill us in on what has happened in your life this past month.
It has been awhile since we met, bitched, cried, comforted, and caught up each other on our cycles and lives. Pull up a seat and I'll pour you a drink. Let everyone know what is happening in your life. The good, the bad, the ugly. My only request is that if a story catches your eye, you follow it back to the person's blog and start reading their posts. Give some love, give some support, or laugh with someone until your drink comes out of your nose.
I have a ton of assvice in my back pocket and as a virtual bartender, I will give it to you unless you specifically tell me that this is simply a vent and you do not want to receive anything more than a hug.
So if you have been a lurker for a while (or if this is your first open bar), sit down and tell us about yourself. Remember to provide a link or a way for people to continue reading your story (or if you don't have a blog — gasp! — you can always leave an email address if you're looking for advice or support. If not, people can leave messages for that person here in the comments section too). If you're a regular at the bar, I'll get out your engraved martini glass while you make yourself comfortable. And anyone new, welcome. I'm glad you found this virtual bar.
For those who have no clue what I'm talking about when I say that the bar is open, click here to catch up and then jump into the conversation back on this current post.
So have an imaginary cocktail and tell us what is up with your life.