Ungaming and Comment Chaining, Part 6
For those who didn't read my blog years ago when we used to do this fairly regularly (by which I mean a bunch of times and then not at all), this is a big online round of the Ungame.  What is the Ungame, you ask?  It is only the most fabulous board game ever made.  You just roll the dice and move around the board, talking about your feelings.  To bring it online, I've added an additional component of chaining comments so you find a new blog to read too.
Directions: answer the question in the comment section. Then leave a comment on the blog of the commenter directly before you (so it's a chain. #2 comments on #1, #3 comments on #2, etc). The first person who comments gets a free ride and does not need to leave any comments. The last person who comments gets… screwed. My answer is below the picture.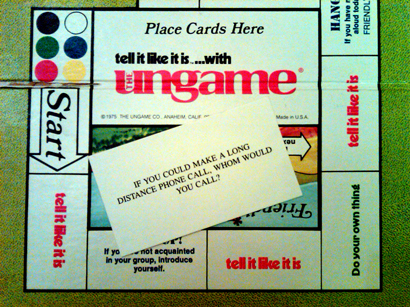 In case you can't read it, the card states: IF YOU COULD MAKE A LONG DISTANCE PHONE CALL, WHOM WOULD YOU CALL?
Um… the cards can be a little dated on our 1970s version of the game.
As a side note, my grandmother was so freaked out about me paying long distance charges that even after I got a flat-rate calling plan, she wouldn't believe me and she'd hang up on me because she said the call was too expensive.
So I'm going to take this card to mean who would you want to call that you can't just pick up the phone and call.  Which out-rules most people I am in contact with since… you know… flat-rate calling plans and free cell phone minutes means that I'm fairly comfortable calling them whenever I damn well please.
I would love to talk to my first boyfriend and see if he really became a rabbi, but I realized that after I found out that piece of information, I wouldn't want to keep talking.  The same goes for a bunch of people from my past.  Except one.
I had a doppelganger at camp; a girl who looked so much like me that even my friends would mistake us.  Her name was Michelle and we had very similar last names.  There were a few sets of twins at camp and someone had the idea to round up all the twins for a special picture.  Michelle and I protested, explaining that we weren't related, but the counselors thought we were just being obnoxious tweens and made us get in the picture.  So we're in the camp's twin picture in the camp yearbook.
Beyond our similar physical characteristics, we were alike in temperament and interests and expressions.  I lost touch with her after high school, and I would love to call her (long distance!) and see how her life turned out.  Did she end up getting married (maybe to a Josh)?  Was she infertile?  Did she have twins?  Was she a writer?  Wouldn't it be bizarre if I found her and discovered that our lives literally were parallel paths all these years later?
Spooky.
Who would you call?