336th Friday Blog Roundup
Seriously?  They needed a study in order to prove that if we had insurance coverage, we would actually elect to do single embryo transfers?  Did they actually think infertile women (and men) WANT to transfer multiple embryos and deal with those risks?  It didn't occur to them that perhaps we make those choices because we're paying out the nose for each cycle?  No?  Not obvious?
We've all been writing about this for years.  It seriously pains me that this is news.  But now that it is, for the love, give us insurance coverage because it will save money for all on the back-end.  NPR says so.
*******
I am very much in love with post-it notes.  I always have a couple of pads around the house to jot down ideas or random things I'm trying to remember or construct to-do lists.  The ChickieNob recently asked me for her own pack of post-it notes because she had terribly important work that needed to get done.  I acquiesced, laying down a bunch of ground rules as to where post-it notes could be left after finding them lining the upstairs hallway.
She recently turned her play kitchen into her home office.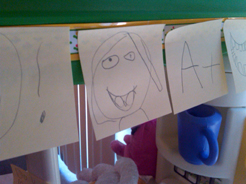 I was going to write something snarky about her terribly important work and then thought better of it when I looked down at the inane commentary I've  scribbled on the post-it notes on my desk.  Touche.
*******
I shaved my legs for the first time this week since the beginning of winter.  Which means that, yes, I did go to that fancy winter wedding in a long ball gown with hairy legs.  And no one was the wiser.
I actually not only hate to shave my legs, but I actually like how it looks au natural.  Shaving my legs is the one thing I do for public appearance.  I don't wear make-up, I don't dye my hair, but I'll shave my legs to blend in with the majority.  I don't really have a reason for why I choose to do this.  It defies reason why I care.  Yet I do.  So out comes the razor when the weather gets warmer.
Where do you stand on the shaving leg front?
*******
Remember how I'm offering one NaBloPoMo prompt in the Roundup to entice you to one day commit to doing NaBloPoMo?  It's a chance to test in a comment if you have the brain power to do a full month of NaBloPoMo.
So try your hand at a single prompt each week and if you can think of an answer, perhaps consider doing the entire month at some point.
ComOnNaPro (Comment on NaBloPoMo Prompt): What three words do you hope other people use to describe you?
You can either answer this in a comment, or if you're moved to do so, answer it in a post on your blog and then come back here and let me know the permalink to the post.
*******
And now, the blogs…
Things get If'fy has a post about questions you can't answer.  It's a wisp of a post — it travels from one if to another (if she answers this way, if Linnea fell different…).  But it's powerful in its quietness.
Three Little Birds has a beautiful post about sex and missing her husband.  I'm not sure why I found this so touching, but I did.  It's one of those posts that I sat thinking about for a long time, wondering why I was so moved by it.  And unable to come up with the words, I instead send it out there so you can be moved by it too.
Tippy and Tidy's Tumultuous Trip to Toddlers has a post about hanging out with her sisters in the city.  These trips recharge her because "…besides the good food, drink and dressing up, it's also great to be reminded that there are a lot of women out there near my age who aren't mom's yet and that's… ok!"  It's an excellent reminder that this reality exists — even if the reality that surrounds you is otherwise.
Lastly, Delayed in DINKville has a post about opening up to friends and family about their infertility.  She explains all the times when she didn't tell others what they were going through and what became the tipping point where she sent a letter that she held onto as a draft for months.  She writes, "I'm so glad that we sent it. Sending the e-mail felt liberating.  It felt like the right time to finally "out" ourselves.  I felt like I got rid of a huge weight I had been carrying around."  The post, of course, is an excellent reminder that NIAW is right around the corner beginning on the 24th.  And I loved reading the aftermath from sending the letter.
The roundup to the Roundup: the whole family is now overusing post-its.  Shaved my legs — how about you?  ComOnNaPro.  And lots of great posts to read.