My Dinner with Julie
I have been in a bit of a mood lately.  Josh has been joking that it is my mid-life crisis, and it is strongly making me resemble a 9-year-old boy.  Last week, I took the kids to a comic book store and bought myself Superboy (I am very partial to Superman right now).  Afterward, I took them to an arcade so we could play pinball.  That sort of sums up where I am right now: I'm reading comic books and playing pinball.
I am watching old Fugazi concerts on YouTube instead of working.  I am spending all of my time marveling at how high other people can jump and wondering why I am incapable of getting that much air between myself and the floor.
This is not a good space for me.  I am restless.  I can't get any traction to finish what I am writing.  I mean, it's done; I could release it, but I'm keeping it around to pick at it self-consciously.  I both simultaneously love it and hate it.  I'm weighing it against things that aren't even books.  I'm also weighing it against things that are books.  Usually, the mental scale tells me that it's not as profound.  Sometimes, I can convince myself that it's decent.  This is not a good space for me.
*******
The dinner outing came at the perfect time; there is something about seeing Julie that is so grounding.  She is the type of person you can unravel and reknit yourself in front of and she won't bat an eye.  She'll just keep asking questions so the figurative stitching can happen.
We ate Thai food until the waitress not so kindly told us that they wanted to shut the restaurant (not to sound gluttonous; we had actually finished dinner an hour earlier and were just sitting there.  I didn't want you to think that we were like Augustus Gloop, hand-fisting Pad Thai as we ran from the establishment).  We went to sit in the Barnes and Noble until they told us that we had now kept their store open an additional ten minutes.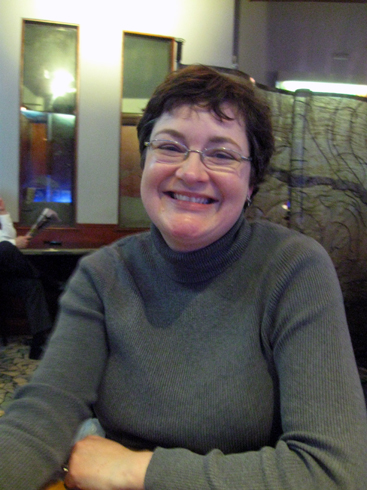 (See, no one is chewing in this picture)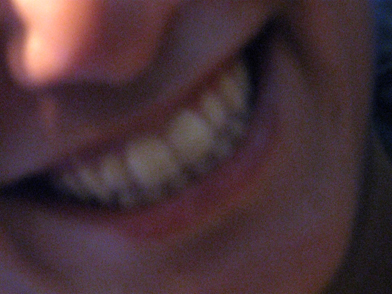 (This is how Julie sees me: all mouth)
I knew that I would see Julie this spring, so this winter trip just sort of dropped from the sky this week.  And it was what I needed in the moment to help crawl out of this comic-book-and-YouTube hole; a good conversation about nothing and everything.  I realized as we sat there how much I wanted to finish the project and move onto the next thing, so I woke up early to take a bunch of tasks off my plate so I could shut down email for a few hours today and speed up the picking process so the manuscript is nice and smooth.  In that moment, I decided that I had to love it, had to be happy with my manuscript and stop coveting everyone else's manuscript.  Because fuck it, I have a perfectly lovely manuscript.
There is pretty much nothing better than having someone you read step through the screen.  And it made me miss every single one of you last night — those that have also stepped through the screen, and those who are still on the other side of the monitor that I hope to one day meet.