Rally to Restore Sanity and Cyclops Guinea Pigs
I didn't want to go this morning. I woke up late after having this dream about wanting to take home a cyclops, vomiting guinea pig from a pet fair held at the local middle school which had been redone to look like a mall. The cyclops guinea pig had seen me walking below (his cage was high up near the ceiling) and he had taken a running leap out of his cage to land in my arms. I was cradling him on his back so I could see when he was about to throw up and lovingly tipping him towards the ground so the vomit landed away from us. Seriously, how could you get out of bed and shlep yourself down to a rally after having a dream like that?
But, of course, I hauled myself out of bed, showered, packed up my reasonable sign, and explained to the twins why we were shleping down to the rally, and in explaining it to them, it sort of became clear to me and was the fuel I needed to get in the car and stand on the chilly Mall with other people desiring the same thing.
Because reasonableness is like that cyclops guinea pig and it needs me to love it and cradle it just as much as my vomiting pet.
Or something like that.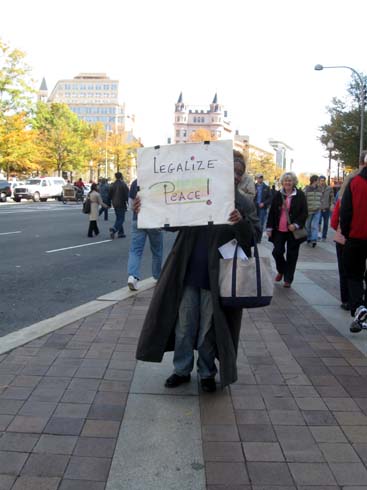 On the way to the rally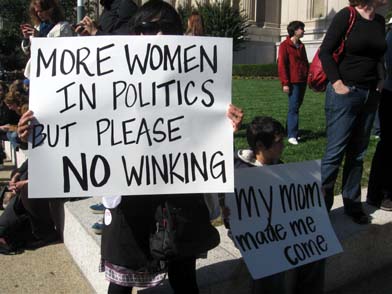 Turning onto the Mall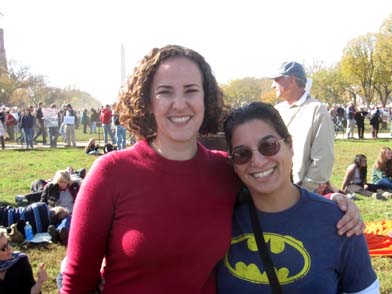 Hey, I found Lindsay in that sea of 200,000+ people
*******
The crowds began around Kalorama Heights. Anyone familiar with Kalorama Heights knows that it is nowhere — NOWHERE — near the Mall. It would probably be over an hour and a half walk for someone with legs as short as mine. But the sea of people began in fits and starts in upper northwest, and continued in fits and starts all the way down to the Capitol.We had a brilliant plan to park the car at Josh's office, walk to the Metro, take it a few stops to Chinatown, get off and walk a few blocks to the Mall — perfect. Except that the Metros were so packed out in Silver Spring — as in, suburban Maryland — that people were waiting in long lines just to enter the stations, much less ride the trains. We gave up this idea when we saw the Dupont Metro.
So we walked. With the rest of the costume-and-sign-holding crowd. And there was something exciting about walking through this city that I love with this person that I love going to a rally that is proposing an idea that I love.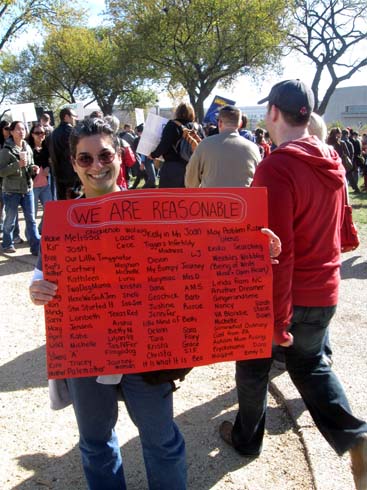 I had so many people on the sign that I needed to also use the green back…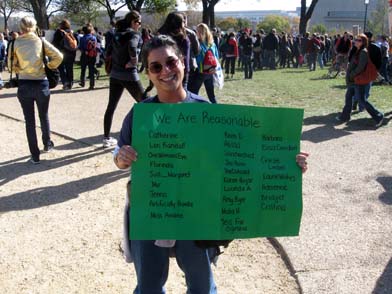 Thank you to everyone who came with me in spirit.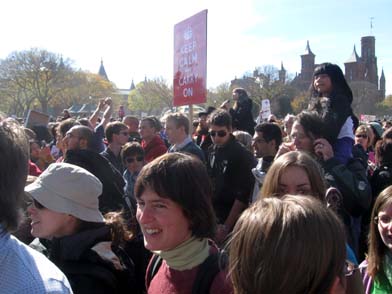 The crowd around us.  The Mall was so packed that it was difficult to move around.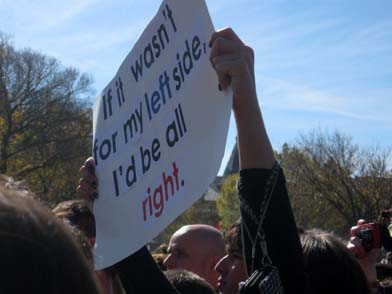 *******
On any day of the week, there is a rally in D.C. and the participants dress up to make their point since rallies are sort of like D.C.'s version of a theater scene (hey!  D.C. has a vibrant theater scene!). Therefore, on any day in D.C., it is possible to find something like a woman dressed as Fidel Castro in knee-high boots wearing an enormous diaper. This is not something that would make me slow down or think twice (well, okay, I do have to admit that I've contemplated why Fidel Castro would be wearing an enormous diaper or knee-high dominatrix-like boots).
But because the rally was a day before Halloween, it was impossible to know what was a Halloween costume of someone who happened to be walking in the direction of the Mall and what was a rally costume. And did it really matter?
The costumes were probably the best part of the rally. Beyond the inexplicable human bananas or Scooby Doos were the beautiful drag queens and the numerous zombies. Actually, the best part of the rally were the signs. Beyond the non-sequitors such as "I love waffles!" were the range from truly moving ("Legalize Peace" held by an earnest, elderly lady) to truly hysterical ("What do we want? Brains! And when do we want it? Brains!").
We moved around the rally reading signs since the sound system was terrible and we could only hear portions of the musical guests and speeches.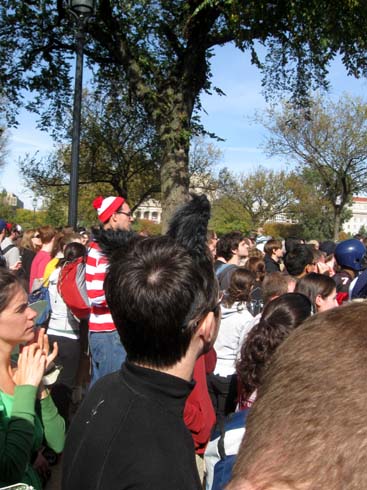 Can you find Waldo in this picture?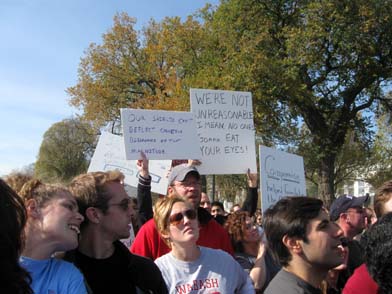 Rally signs.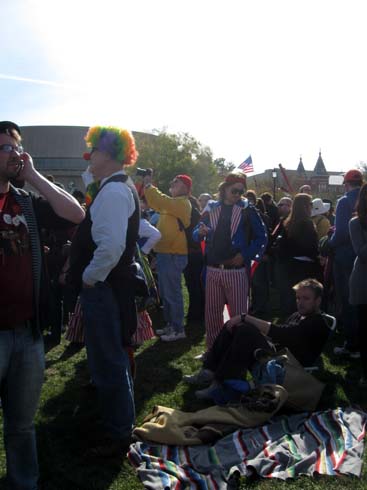 Hanging out on the Mall.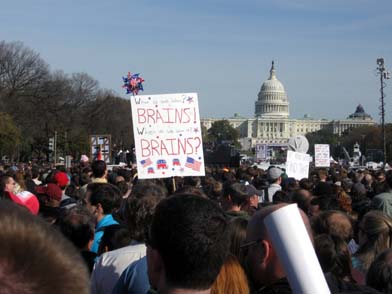 Brains!
*******
Throughout the rally, I couldn't get the image of my cyclops, vomiting guinea pig out of my head (I mean, honestly, would you?). I felt like it must mean something. Why would I have such a vivid dream that stuck so long with me into the day if it didn't mean something?
And the best I could do was think about how deeply I loved that guinea pig, even though it was leaving trails of vomit on the floor around me. And isn't that sort of how the rest of the world interacts with us? We're all lovable and wonderful within community, but then, we also vomit on each other. And it's up to all of us to still choose to cuddle each other close, to hold each other, even though holding each other can be a very messy prospect.
Does that work better?
No?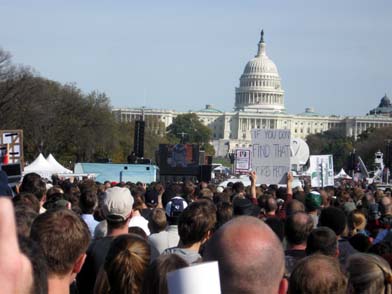 R2D2 was there, because he's a reasonable robot.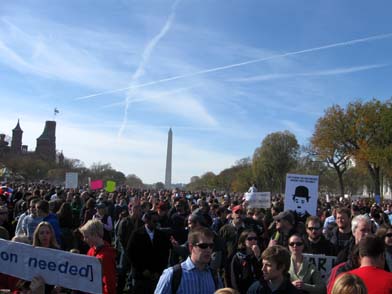 The vast crowd behind us.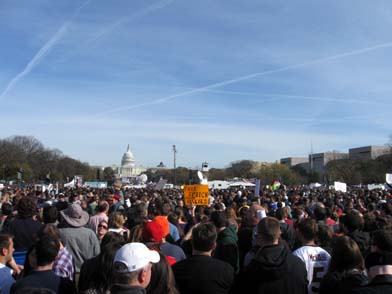 The vast crowd in front of us.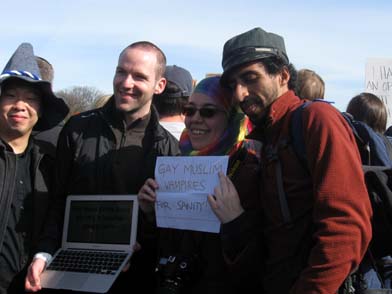 Gay Muslim Zombies (zombies seemed to be the reasonable supernatural figure of choice)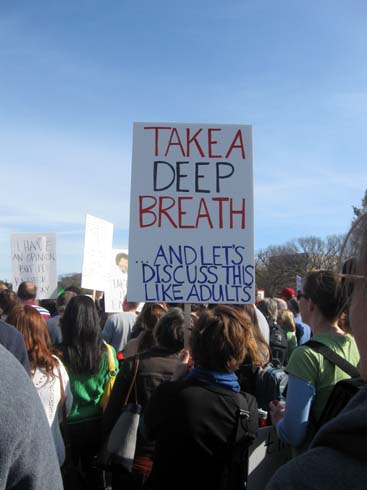 Indeed!
More thoughts once I digest the experience further.