Haunting
Thank you for the birthday wishes.  We mostly celebrated my birthday last weekend since it was a long weekend. In addition to the trip to the Aquarium, Josh took me on a ghost tour in Alexandria.
He had thrown out other options for our date night—a movie, dinner at a favourite restaurant downtown, book browsing at Politics and Prose—but nothing sounded appealing. I was in a mood about turning 36 and uncomfortable in my own skin, tension-filled internal pacing (being carried out from a reclining position on the sofa because I'm not a fool—I'm not going to actually pace if I can lie down. In those cases, mental pacing suffices). I suggested the ghost tour because it gave us an excuse to drop in on friends who live in Virginia and eat at Bilbo Baggins.
Robert, the tour guide, had a tendency to mumble things quickly and then whip around and wiggle his fingers at you as his scare tactic.  Which wasn't very scary.  His stories tended more towards campfire fare—for example, a headless, drunk colonial Alexandrian who apparently haunts dogs in case they're the mutt who has stolen his severed head.
He ended the tour in the graveyard and ditched us—making it sound as if we'd never get out alive despite the fact that you could hear the motorcycles from Rolling Thunder a few streets away. Rather than make us quake in our Keens, it made—at least me—introspective, pausing to squint at the headstones and try to make out the names in the darkness.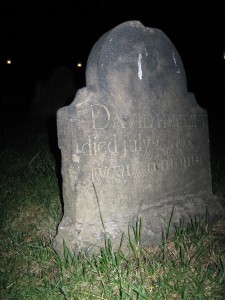 We sat on a stone bench and watched other groups come into the cemetery and discuss its inhabitants. These ghosts were someone's children. They may have been someone's mother or father or sibling. Someone may have sat on this very bench consumed with grief after the person was gone and thought about them as they looked at their gravestone.
It's sobering to sit in a graveyard, but it may be the only cure to feeling anxious about growing old. Disquiet loves company and sitting in the graveyard plugged me into a continuum of people who have considered their mortality—faced their mortality—and yet still the world turns.
I love the idea of ghosts. A little while after my cousin died, I noticed that different clocks in my house were exactly one hour off. One hour behind or one hour early. Different clocks in different rooms at different times. When I left for college, the same thing happened in each apartment—clocks would change, always by exactly one hour—and roommates would bitch about it, but I'd explain (like a crazy woman) that it was just my cousin, connecting with me from beyond. No explanation for why she chose to communicate through the clock, but perhaps that's one of the easier methods to learn when you're newly-dead. She still changes the clocks in my house to this day and I love it when it happens.
Based on this experience, my best friend and I made a list of ways we'd try to communicate with each other after we're gone. We included a multitude of possibilities just in case some of our ideas were too difficult to learn for someone newly-dead. Josh was really upset when we informed him of our plan—thought we were morbid—but it made me feel comforted to know that even from beyond, I'd have moments where she would feel close. It makes me sick to think that there will one day be a time when we're not able to be physically together–or to pick up the phone and call her–but I'm also well aware that there is nothing I can do to change the way life works. Ghosts are a small comfort.
I miss people who are gone too much to believe that once you are gone, you are completely gone. Losing them once was horrific enough, losing that hope is unfathomable.  It's something I want to believe; perhaps doing so makes it true.
Do you believe that you can communicate with people who have died? And how does the idea of ghosts make you feel?