Secret Ode Day (Ode 5)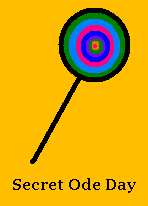 Instead of going through the whole explanation again about how this giant love fest came to be, let's save the space because you can click here to read about the project and find out how you can participate in the next one.
The words below come from the hearts of others around the blogosphere. If your blog is featured below, I hope you carry these good thoughts with you, use them to continue writing and continue putting your heart out there.
I Can't Whistle: Kate is not just an amazing writer she has the most beautiful outlook on life. Even as she endures difficult moments she finds a way to see the beauty in the stillness of a lake or deer that wander in her backyard. Her writing helps me be more thoughtful in my own life.
I Can't Whistle: Kate finds the beauty in this world and in everything around her, and she writes about it so eloquently and poetically.
Sunny In Seattle: Sunny's been through a lot with her current pregnancy and birth but she handles it all with honesty and a beautiful outlook on life. I also love the adorable stories of her little boy. She is also a very supportive blogger who doesn't leave comments just to comment, she puts time and thought into what she says on other people's blogs and I appreciate all the support she's given me.
Knocked Up, Knocked Down: Monica is an inspiration. Her strength is amazing. Her upfront and honest writing about the loss of her babies has helped many. She is a fantastic writer and her words allow the reader to feel as though they have known her forever. I have been reading along in her journey of pregnancy and cheering her through each step. I wish her and her husband endless happiness.
Pour Away the Ocean: Eve is often hilarious, always thought-provoking. Most recently, after losing her son in utero and under threat of losing his twin sister, her writing has achieved a new clarity and beauty. The way that she expresses her emotions is brave and inspiring.
Stirrup Queens: Mel has improved the lives of thousands, yes thousands, of women and men by bringing them together at some of the darkest times of their lives. She is as warm and sweet as cookies just out of the oven. She also plays a mean pennywhistle.
The New Life of Nancy: Nancy is friggin' funny and as honest as hell.  She's not afraid to talk about things as she sees them and loves to stir up controversy.  I love the controversial posts the best because I love to read all sides of a topic so many people are passionate about.  I also love the story about Scary Guy Pills – I can't get enough of it!
I Want to be a Mommy: Not only has Batty Nurse struggled with IF and TTC, but she is also going at it alone.  I truly admire her for all her strength and courage and everything she has fought through.  And she still takes the time to make baby blankets for both her Etsy shop and to give as gifts to other TTCers.  She is so selfless and thoughtful of other people.  Batty Nurse deserves much love and at least an Ode!
Barren Blog: Barren Blog is far and away my favorite.  The combination of humor and bitterness is perfection.  Sadly, she posts too little and I fear her long absence is due to yet another crushing disappointment.  Wishing you well Barren Blogger…
The Creamery: I just love Whimsy. She's fun and funny and happy and real. She's a great writer, and she knows how to inspire real interaction with and among her readers. She uses pictures well (she did a photo essay recently about a tube of toothpaste that was just brilliant). She reminds me a lot of Swistle, actually, who comments a lot. I don't know her in real life, but she just seems like one of the nicest bloggies in blogland. Plus, she has a seriously cute kid.
The TaterTwins: Jayme is really inspiring. She's been through A LOT, but she just keeps on living life and writing about it. She's really entertaining and shares the cutest pics of her kids. She seems like she's probably a really sweet person in real life.
Waiting Lisa: Lisa is absolutely amazing. She's authentic, sincere, and kind. Admit medical complications, adoption efforts, and general frustration with infertility, she's hopeful. Her post "Dear Uterus" really moved me. I adore Lisa, I pray that she finally gets to adopt her little baby, to whom she'll make an incredible mother.
Woman Anyone?: WiseGuy is so often poignant. Her journey has been a long one but she manages to keep some humour. She has a dry wit which often leaves me laughing out loud. I never know what to expect from her and that is a big part of her charm.
Hobbit-ish Thoughts and Ramblings: Mrs. Gamgee is one of the most generous and kind ladies I've ever known. Whatever you're going through, she lends a sympathetic ear. She is one of the people I'd most love to meet.
Creating Motherhood: Calliope continues to be one of my best bloggy friends. She is caring, witty, both deeply introspective and extroverted, and I love (and am a little jealous!) of all the ways she can seamlessly blend those qualities into her writing about the many facets of her life. Calliope never fails to warm my heart and her pick-me-up emails always land in my inbox at just the right moments. Love. her.
Dragondreamer's Lair: With all of her stitchery, book-reading, hilarious posts about her boys, and general feel-goodness, you'd never guess that comment queen Kristen is a thug, but she is. If a horde of crazed lunatics wielding dull, rusty PIO needles were after me, Kristen is one of the few who I'd want in my corner fighting with me. Her support for me through the past year (and more!) has been invaluable and I just want to send her a little shout-out of thug love.
Dragondreamer's Lair: Kristin is always there with an encouraging word.  She has helped me get through some really tough times in the past year.  She was one of the first bloggers I started reading, and I started seeing her EVERYWHERE I went to comment.  She is a major support beam of the ALI house.  I'm so glad to know her.
Geek by Marriage: Heather is The Funny but even moreso, she has an unyielding heart. In the past year, she has been a friend in the truest sense, often selflessly going above and beyond to show her caring support. She's a rare gem of humor, love, kick ass, and determination. I love her for it.
Geek By Marriage: Heather is AMAZING.  She always makes me laugh and is so supportive.  She's a true friend, though I've never met her in person!
Miss Inconceivability: One of the first blogs I found when searing for others going through this IF craziness, I was immediately drawn to Frenchie's balance of open mindedness and self preservation. She knows how to keep things in  perspective but at the same time honor her own feelings and needs.  On top of all that, she and I have an uncanny amount in common. Combine that with her sweet (but not pollyanna-ish) personality, and I desperately wish we didn't live on opposite sides of the country so we could be IRL friends.   After adopting her beautiful son, Frechie found herself the stuff of legends with a "whoops" pregnancy that was discovered while preparing for an IUI cycle. It honestly couldn't have happened to a better person.
The Babbling Bitter (infertile) Bitch: Leda's blog is relatively new, so her blog doesn't reflect how much she cares for other people (yet). She has been an incredible force for those of us who lost pregnancies. She will cheer for you in the middle of her darkest moments and take the time to seek you out if you've been quiet. Leda, I'm thinking about you multiple times a day and wishing your dream will come true.
No Oven for the Bun: Against all odds, Meg courageously blogs about her diagnosis of MRKH and how she and her husband are working to make their parenthood dreams come true. Her blogs show honesty and strength as a woman and a wife (and a future mother).
Life According to Leah: When I first found Leah's blog, I was won over by her down-to-earth posting. Something in her tone made me instantly like her, and as the months have passed my appreciation and admiration for her have grown tremendously. Her blog initially chronicled her and her spouse's adoption process, and Leah's posts have been crafted with equal measures of wisdom and patience and openness. She has done some neat things to reach out to the adoption community, even hosting guest adoption bloggers who discussed the different countries from which they were adopting. Now Leah's blog is dedicated to both her adoption and her pregnancy–Leah found out she was expecting during her adoption process. She has navigated this complex situation with enviable grace. She is so sensitive to her readers, she leaves such kind, outreaching comments, and she is always so thorough at addressing her readers' questions. To me she is a model blogger, and I am so excited to see her journey unfold.
No Regrets: I love this blog because it's honest and real.  She doesn't candy coat how she feels and she responds to those who take her to task on her feelings with integrity and respect. Especially  when they do not give the same courtesy to her.  I appreciate her having the courage to bare it all, something that's not easily done by everyone.
A Fifth Season: Sometimes her posts have very few words in them but her ability to be concise does not diminish the readers ability to feel the pain behind them.  I am hoping that reintroducing herself to making music will help soften the edges of the wound she bears after losing her beautiful daughter.
Taking the Statistical Bullet: I love how Katie recognizes other people in their IF struggles, but also posts about her day to day life with Will.  And now she's pregnant with number 2!  Yay!  She's just an all around great person.
Maybe If You Just Relax: It is simple.  I simply love Jen's sense of humor!  And hearing Olivia stories is priceless!
Weebles Wobblog: I learn so much reading Lavender Luz's words.  Her peaceful wisdom has become a bright spot to so many of my days.  I'm so glad I found her blog, and her.
Delinquent Eggs: Adele rocks. She's witty, thoughtful and insightful in her posts and she's only been at it a few months at this point! She's a light of joy to other bloggers with equally witty and insightful sunbeams of comments left in her wake.
The Sweet Life: Vee's story always leaves me feeling breathless: her powerful writing style, combined with her gutsy, moving story makes for an often tearful and yes, even laughter filled, inspiring read. Love her strength in sharing with us all the ups and downs very publicly, even though the "public" season for her is ending all too soon.
The Mud and the Lotus: I don't remember how I first found Sonja or if she found me, but I quickly became hooked on her down-to-earth writing style and deep compassion. Deeply spiritual and infused with Buddhist teachings, Sonja reminds me to keep things in perspective. Like any other journey through infertility, it is fraught with its own scary moments and troubles, but I always come back to Sonja's blog for its optimism, hope, and clear-headed moments.
Hopelessly TCC: Hopelessly writes so well.  He writes with humour and with his heart.  Plus it is so refreshing to hear a man's voice.  He hasn't updated his blog in a while, so I hope he's OK.  Maybe some love from all of us will bring him out of hiding?
A Little Blog about the Big Infertility: Sometimes you just connect with someone, and Jess is just someone I connect with.  We live on opposite ends of the earth, but some of the things we're going through and enjoy doing are the same so it makes me feel close to her.  I just have to see the photo of her with 'Mr Ultrasound' on the side of her blog to feel right at home!
Life From Here: I don't miss a word Luna writes. Her heart is as big as her brain, and let me tell you, they are both HUGE. Her series on building her open adoption as well as the powerful story of the birth of her daughter had me (and others, judging by comments) gripped. Her posts tend to make me think and see in a new way.
Love this project?  Click here to read about it and find out how you can participate in the next one.  When is the next one?  That's the beauty of it–you never know when these kind words will show themselves, though I always post once I have a critical mass of blurbs.