Lunch at IKEA
Holly Golightly: You know those days when you get the mean reds?
Paul Varjak: The mean reds, you mean like the blues?
Holly Golightly: No. The blues are because you're getting fat and maybe it's been raining too long, you're just sad that's all. The mean reds are horrible. Suddenly you're afraid and you don't know what you're afraid of. Do you ever get that feeling?
Paul Varjak: Sure.
Holly Golightly: Well, when I get it the only thing that does any good is to jump in a cab and go to Tiffany's. Calms me down right away. The quietness and the proud look of it; nothing very bad could happen to you there. If I could find a real-life place that'd make me feel like Tiffany's, then – then I'd buy some furniture and give the cat a name!
I have been in a terrible mood all week, and when the mean reds set in and everything in life feels out-of-my-control, I clean.  I scrub and organize the house within an inch of its life with the other inhabitants clinging to my leg and screaming, "don't give away my thiiiiiiiiiiiiiiiiiiiiiiiiiiiiiiiiings."  And at some point, in the process of cleaning and organizing, I generally decide that while I can't control my body and produce a person, I can control the way my bathroom looks and I get a new $5 shower curtain with a Swedish name and all feels right in the world much in the same way that a chocolate bar can make things feel right even if your body knows that it was cheated out of the calories it actually wanted and needed in exchange for this tasty item.
Substitute room redecoration is like empty calories.
I knew on Monday after I gutted the closet in the second bedroom and purged it of bouncey seats and baby bjorns that I needed to go to IKEA to get a storage bin that would allow the kids to help themselves to their toys.  It was the thought that kept me going all week as I went through the baby items–that on Thursday, I would go to IKEA and envelope myself in the warmth and safety that comes in the form of clean-lined furniture and cheap textiles.
Cali and N agreed to go with me (Lindsay was supposed to be there too, but last minute changes meant her items would not fit in my car and so she is going on a different day and I am tweaking to go again too just so we can covet kitchens together–our favourite IKEA activity) and we met in the cafe.  It is nice to have a set of friends who agree with you that IKEA is our Tiffany's, a place to go that has the power to instantly calm.  I have 1000 memories tied to trips to IKEA, and calls to my father begging him to drive down to Virginia and save our asses when the stuff we've bought doesn't fit in the car, and putting together furniture.  It feels like nothing can go wrong in IKEA with the exception that anything you buy will be missing a few necessary screws.  Everything is organized, with signs, and clear boundaries, and when life feels chaotic and scary and the choices to big to wrap my mind around, it is a place to go where everything makes sense.  Where the world is colour-coordinated.  And in the face of expensive losses of dreams, everything comes with a tiny price tag.  Where else can you redo an entire closet for $40?
Before we headed to fill my actual needs, we walked through the upper level of mock rooms, critiquing the set-up of furniture and paint colours.  There is something so hopeful about seeing those rooms, as if you too could live that free of clutter and disorganization.  You too could have a place for everything tangible and the thought bleeds off the side of reality into making you believe that you could also have a place for everything intangible.  A neat doling out of your love and emotional energy and happiness.  Wherever you placed your feelings would be where they belonged.
I could tuck my thoughts on family neatly into a drawer where it would rest, nestled inside a box and untangled from all the other items beside it.
I place a lot of stock in the power of IKEA.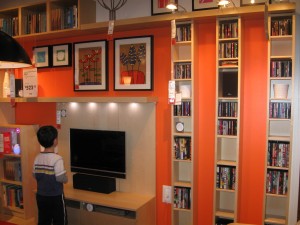 Everything I needed was in textiles or the warehouse room.  It is best to visit IKEA with others who appreciate IKEA, who can move through the textiles with a mental map in place.  We didn't consult the signs in the warehouse, marching directly to the aisle of Trofasts.  And after I paid (a mark of true friends–Cali and N didn't buy anything.  They just came with me to ensure that I didn't end up curled in a ball, rocking back and forth, muttering in Swedish) and the twins and I kissed our friends goodbye and went out to the car to fit our items into the trunk and live happily ever after.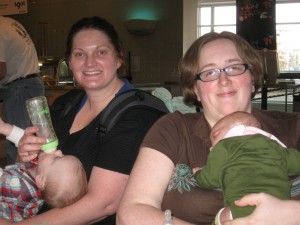 And that's when I had the quintessential IKEA experience that I have almost every trip (at least the ones where I do not bring along Lindsay or Josh who have highly-honed spatial relations skills).  I let the twins in the backseat and went to put my Trofast in the trunk.  It was freakin' heavy and I grunted and strained to slide it from the cart into the trunk, gasping at the Wolvog to please-for-the-love-of-G-d-hang-over-the-backseat-and-pick-up-the-beach-toy-basket-and-move-it-out-of-the-way-because-my-heart-is-going-to-explode-from-lack-of-oxygen.  I finally got it wedged into the trunk and tried to close the top and–of course–it didn't fit.  I say "of course" because this has been my experience every damn trip and I never seem to remember it.  My thinking went: "I have obviously gotten a Trofast home before, therefore, it must fit in the car somehow."
I tried several more times to get it to fit, the twins a complete lack of help because they have muscles as sturdy as a Kleenex tissue.  People walked by me in the parking lot, watching me struggle and stand with my hands over my face and no one offered to help.  And it wasn't them–I mean, I don't know how often I've paused at IKEA to help someone get something into their trunk and everyone struggles at IKEA–it was just the idea that two minutes upon leaving the safety and orderliness of IKEA, that I was back to feeling as if a situation was out of my control.  That I could shove and push as much as I wanted, but it wasn't going to do any good because there were additional factors that the dream item had to contend with.  Sometimes you can't make a Trofast fit no matter how you twist and prop it.
I already warned you that I make IKEA work hard to bring me emotional catharsis.
In the end, I took the Trofast out of the trunk and somehow hauled it to the side door and slid it across the backseat, an ordeal that took about 10 minutes of gasping while the twins cheered me on.  I closed the door and slipped into the driver's seat, admitting that I no longer held that IKEA joie de vivre energy to spur me through a trip to Bed, Bath, and Beyond.  We drove home, a route we never take that Google Maps promised me was faster than my usual route.  And for once, it was.
Holly Golightly: He's all right! Aren't you, cat? Poor cat! Poor slob! Poor slob without a name! The way I see it I haven't got the right to give him one. We don't belong to each other. We just took up one day by the river. I don't want to own anything until I find a place where me and things go together. I'm not sure where that is but I know what it is like. It's like Tiffany's.