The 93rd Circle Time: The Show and Tell Weekly Thread
Show and Tell is wasted on elementary schoolers. Join several dozen bloggers weekly to show off an item, tell a story, and get the attention of the class. In other words, this is Show and Tell 2.0. Everyone is welcome to join, even if you have never posted before and just found out about Show and Tell for the first time today. So yank out a photo of the worst bridesmaid's dress you ever wore and tell us the story; show off the homemade soup you cooked last night; or tell us all about the scarf you made for your first knitting project. Details on how to participate are located at the bottom of this post.
Let's begin.
On Tuesday, I went into the post office to mail my first batch of mishloach manot and I brought the postal workers their annual basket of cookies and candies.  I asked if Joel was working because I knew he always looked forward to the hamantaschen and had asked back in January if it was getting close to Purim.  "He retired," the postal worker admitted.  "Two weeks ago."
She pointed out that even the retired still have to pick up their daily mail, so she put the hamantaschen in his mailbox.  But it really blew my mind that he wouldn't be there anymore when I came in to pick up my mail or send a package.  I don't have a picture of Joel, so this rendering in Microsoft Paint will have to suffice.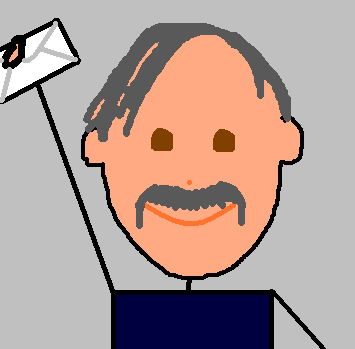 Just to let you know the sort of guy Joel is, when we did the March of Dimes walk and wore the Team Lennox and  Zoë t-shirts, I went to mail them (after I washed them, after I washed them; I want it noted that I did not send Allison skanky shirts) and told Joel how special and irreplaceable they were and he left his station to walk them through the whole mailing process in the backroom and place them directly on the mail truck so he could promise me that the package didn't get lost on its way out of the facility.  How many people would do that?  He would tell me dirty Tiger Woods jokes when I came in to get my mail.  He would give me extra boxes to fill at home so I didn't have to package things at the post office.  And he always gave me free tape from his stash of post office tape even though I was supposed to bring my own adhesive.
He was a great postal worker and I'm sorry that he won't be there in the morning anymore when I go to pick up my mail, but I hope he enjoys retirement and does fantastic things and still gets to enjoy the hamantaschen when he comes to pick up his own letters.
What are you showing today?
Click here or scroll down to the bottom of this post if this is your first time joining along (Important: link to the permalink for the post, not the main url for your blog and use your blog's name, not your name. Links not going to a Show and Tell post will be deleted). The list is open from now until late Friday night and a new one is posted every week.
Other People Standing at the Head of the Class:
Want to bring something to Show and Tell?
If you would like to join circle time and show something to the class, simply post each Wednesday night (or any time between Wednesday morning and Friday night), hopefully including a picture if possible, and telling us about your item. It can be anything–a photo from a trip, a picture of the dress you bought this week, a random image from an old yearbook showing a person you miss. It doesn't need to contain a picture if you can't get a picture–you can simply tell a story about a single item.

The list opens every Wednesday night and closes on Friday night

.
You must mention Show and Tell and include a link back to this post in your post so people can find the rest of the class. This spreads new readership around through the list.

This is now required

.
Label your post "Show and Tell" each week and then come back here and add the permalink for the post via the Mr. Linky feature (not your blog's main url–use the permalink for your specific Show and Tell post).
Oh, and then the point is that you click through all of your classmates and see what they are showing this week. And everyone loves a good "ooooh" and "aaaah" and to be queen (or king) of the playground for five minutes so leave them a comment if you can.
Did you post a link and now it's missing?

: I reserve the right to delete any links that are not leading to a Show and Tell post or are the blogging equivalent of a spitball.