The 86th Circle Time: The Show and Tell Weekly Thread
Show and Tell is wasted on elementary schoolers. Join several dozen bloggers weekly to show off an item, tell a story, and get the attention of the class. In other words, this is Show and Tell 2.0. Everyone is welcome to join, even if you have never posted before and just found out about Show and Tell for the first time today. So yank out a photo of the worst bridesmaid's dress you ever wore and tell us the story; show off the homemade soup you cooked last night; or tell us all about the scarf you made for your first knitting project. Details on how to participate are located at the bottom of this post.
Let's begin.
Befana brought the loot last night.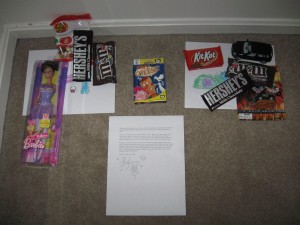 She brings not quite the gift extravaganza as Purim or a birthday–two small toys and some candy.  She usually, cheeky bitch that she is, requests a little behaviour modification in her yearly letter too.  Last year, she helped smooth over a difficult patch at school.  The year before, she was the main impetus that got them potty training.  This year, she has asked them to leave their binkies on the top step on Friday night and she'll swing by and pick them up for binky-less Italian babies and leave a toy in their place.  We figured it was the last year to really milk their love of Befana for all its worth before they start realizing that there are a few holes in the Befana story including how she gets from Italy to America on a broomstick in under an hour.
The Wolvog gasped as we read the letter aloud and screamed, "what is Befana trying to do?" as if I had told him that Befana had requested 20 pints of his blood or she was going to hold the yearly chocolate bars hostage.
We told them that it sounded like a pretty good deal.  They were going to have to give up the binky regardless someday soon, and here, they could help binky-less Italian children and get a toy for their emotional pain.  They went to school muttering about this and told me they would make a decision before Friday.  Oh–and yes, I'm well aware that we should have given up the binky about 3 years ago, but…well…I am a weak-willed woman and frankly, teeth are overrated.
What are you showing today?
Click here or scroll down to the bottom of this post if this is your first time joining along (Important: link to the permalink for the post, not the main url for your blog and use your blog's name, not your name. Links not going to a Show and Tell post will be deleted). The list is open from now until late Friday night and a new one is posted every week.
Other People Standing at the Head of the Class:
Want to bring something to Show and Tell?
If you would like to join circle time and show something to the class, simply post each Wednesday night (or any time between Wednesday morning and Friday night), hopefully including a picture if possible, and telling us about your item. It can be anything–a photo from a trip, a picture of the dress you bought this week, a random image from an old yearbook showing a person you miss. It doesn't need to contain a picture if you can't get a picture–you can simply tell a story about a single item.

The list opens every Wednesday night and closes on Friday night

.
You must mention Show and Tell and include a link back to this post in your post so people can find the rest of the class. This spreads new readership around through the list.

This is now required

.
Label your post "Show and Tell" each week and then come back here and add the permalink for the post via the Mr. Linky feature (not your blog's main url–use the permalink for your specific Show and Tell post).
Oh, and then the point is that you click through all of your classmates and see what they are showing this week. And everyone loves a good "ooooh" and "aaaah" and to be queen (or king) of the playground for five minutes so leave them a comment if you can.
Did you post a link and now it's missing?

: I reserve the right to delete any links that are not leading to a Show and Tell post or are the blogging equivalent of a spitball.