The 85th Circle Time: The Show and Tell Weekly Thread
Show and Tell is wasted on elementary schoolers. Join several dozen bloggers weekly to show off an item, tell a story, and get the attention of the class. In other words, this is Show and Tell 2.0. Everyone is welcome to join, even if you have never posted before and just found out about Show and Tell for the first time today. So yank out a photo of the worst bridesmaid's dress you ever wore and tell us the story; show off the homemade soup you cooked last night; or tell us all about the scarf you made for your first knitting project. Details on how to participate are located at the bottom of this post.
Let's begin.
A few days ago, Josh and I had a brilliant idea and marked the calendar with an "H" so we wouldn't schedule something else in the space.  "What does the H mean?" the Wolvog immediately asked the next morning.
Which kicked off a long list of what it didn't stand for–hiccups, hippopotamus, half-and-half, or hermeneutics (What?  Don't all five-year-olds read Heidegger?  Who, by the way, is also not the "H" on the calendar).
This morning, the twins awoke to a map on their floor and a series of clues that could be opened in fifteen minute intervals once they entered the car.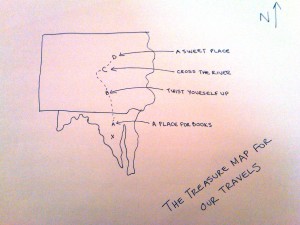 Destination?  Absolutely insane day of fun including a pretzel factory tour; a Christmas-themed, chocolate-tasting, carol-singing trolley ride; a trip to Hershey's Chocolate World, and dinner at the Hershey Lodge in front of the fireplace.  Just because we had the time.  And I love that singing cow ride at Hershey.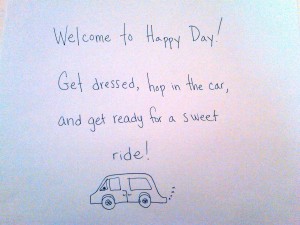 This is what happens when your parents start innocently Googling "factory tours" one evening.  I luuuuuuuuuuuurve factory tours.  Will absolutely make Josh drive random long distances for me to see things being made–even things that I don't like at all.  And what do I love more than factory tours?  Eating chocolate.
We're returning this evening from our festivities, hopefully the follow-up report will match the pre-trip excitement because damn, that would suck hardcore if I was this giddy in the morning and the trip sucked.  But we are armed with peanut butter and jam sandwiches, roadtrip scavenger hunt sheets, and enough excitement to power a small vehicle two hours.  Because we're freakin' heading towards chocolate.
Oh…and before I left…wrote all the blurbs and laid out the Creme de la Creme.  It is ready to go up January 1st!
What are you showing today?
Click here or scroll down to the bottom of this post if this is your first time joining along (Important: link to the permalink for the post, not the main url for your blog and use your blog's name, not your name. Links not going to a Show and Tell post will be deleted). The list is open from now until late Friday night and a new one is posted every week.
Other People Standing at the Head of the Class:
Want to bring something to Show and Tell?
If you would like to join circle time and show something to the class, simply post each Wednesday night (or any time between Wednesday morning and Friday night), hopefully including a picture if possible, and telling us about your item. It can be anything–a photo from a trip, a picture of the dress you bought this week, a random image from an old yearbook showing a person you miss. It doesn't need to contain a picture if you can't get a picture–you can simply tell a story about a single item.

The list opens every Wednesday night and closes on Friday night

.
You must mention Show and Tell and include a link back to this post in your post so people can find the rest of the class. This spreads new readership around through the list.

This is now required

.
Label your post "Show and Tell" each week and then come back here and add the permalink for the post via the Mr. Linky feature (not your blog's main url–use the permalink for your specific Show and Tell post).
Oh, and then the point is that you click through all of your classmates and see what they are showing this week. And everyone loves a good "ooooh" and "aaaah" and to be queen (or king) of the playground for five minutes so leave them a comment if you can.
Did you post a link and now it's missing?

: I reserve the right to delete any links that are not leading to a Show and Tell post or are the blogging equivalent of a spitball.