166th Friday Blog Roundup
This is what someone needs to create: an image generator where the person can describe the image in bits and pieces to the computer program and it can sketch out the idea.  Wouldn't that be an amazing program?  Doesn't anyone want to get on making that?
I am deep in the idea of the next blog performance piece.  Allison has agreed to do the coding and I need to thank her publicly again.  First and foremost, she does amazing work.  She can take my dafook directions and fill in all the gaps of thought and pull together something amazing like the door project with me.  Her design site isn't up and running yet, but you can contact her via her blog if you want her to do freelance work for your site.  Believe me, it is so much easier to turn over the work to the professionals than to bang your head against the table.
She is also building the image from bits and pieces and once that's done…oooooh, this is going to be fun and interesting and emotional.
Can you tell that I'm super excited about it?
*******
I think I'll spread out the explanations from the rooms of our house.  First and foremost, the door comes from a random neighbourhood in Dublin.  On one trip to Ireland, there was a transportation strike, so we had to walk through the whole city.  I ended up taking a lot of pictures of doors, as is the popular touristy thing to do, springing forth many door posters that hang in American university dorms.
Every time I crept up to a house to snap a picture, I half expected the door to swing open and have someone ask what the fuck I was doing.
So I'd just like to thank the owner of this house, a purple-doored brownstone close to the Jewseum.
So let's start with room one.  We were all sitting in the car, waiting to meet up with my mum so Josh and I could celebrate our anniversary.  The Wolvog wanted a Lego robot and I agreed to buy it for him until I saw how much it cost and the age level for the toy.  The end of that portion of the story is that we built our own robot, one who currently resides in our kitchen and can actually move around the room by remote control.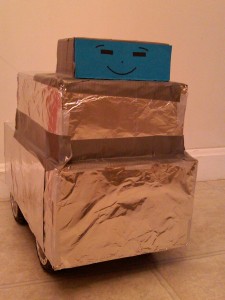 Robot-T, also sometimes called Beatle (which is also the nickname for Simon Liverspot, our pet squirrel).  He is constructed out of two shoe boxes and a cough suppressant box all covered in aluminum foil.
As he was whining about his robot, I took out a recorder and told everyone in the car they could ask one question.  I'm not sure why I was going to bring up the robot for mine because that was simply poking the bear; especially after the Wolvog didn't make it his question.  But Josh beat me to the punch.
*******
The Weekly What If: what if you could master a new skill with one hour of work (this is a magical pocket of time where you could fit four years of medical school into that hour or become a skilled musician or learn how to figure skate–all you'd need to expend is one hour of time and you'd have a mastery of the information)?  What would you choose to learn?  Would you change careers with your new-found knowledge, or would life continue on as is with simply a new skill in your back pocket?
*******
Not that you don't have plenty of time to get on the Creme de la Creme list (after all, it doesn't truly close for good until March 1, 2010), but if you want to be guaranteed that you'll be on the list when it goes up January 1st, you need to have submitted your choice by December 15th.  Which is a little over a week away.  If you fill out the form after December 15th, you will go up as I keep adding to the list, but you probably won't be up there when the first wave of people start reading on January 1st.  So if you've been dragging your heels on picking a post, I'd get on it this weekend.  If I were you.  I mean, I've had my post up there for eeeeeeeeeeeeeeeeeeeooooons.
*******
And now, the blogs.
Serenity Now has a gorgeous post about what to do with those infertility-induced emotions when you no longer necessarily need them.  She writes: "Infertility has changed me to the core. It's made me sensitive to other people's struggles. And it makes me want to take their burden FOR them. Because I KNOW that pain. I know how awful it is.  I can't."  It is about knowing how badly the person is feeling, knowing your own impotence to remove that pain, and drowning in those feelings yet again.
Banking on It has a post about Christmas cards.  The desire to not only be able to send out a certain type of card announcing news, but also the desire to be okay sending out one with her husband and dog.  I think it's an interesting read from the other side–how those cards you're excited to send out are taken by the receiver.  And how do we temper giving news with the fact that not everyone on your Christmas card list is emotionally in the same place?
Dreaming of Quiet Places has a post about life after divorce.  As she says, despite the fact that there are millions of women out there in the same position, people don't know how to make small talk with her since they cannot ask about a partner or children.  I think the most amazing part of the post is the admittance of how "the prejudices of the world have been stamped in my brain and have become my own.  Unlearning them will be a big part of becoming comfortable in this new space called my life."
Communiqué has a post about peeing on sticks.  And I love how she susses out what side of the pee-before-beta line you fall on.  Today is her beta day and I'm sending only good thoughts for a positive.
Lastly, Relaxing Doesn't Make Babies has a post about pregnancy after a loss.  For me, the middle vignette was the most breathtaking, especially the end twist to the word obvious.  About how she holds back knowing full well the other side.  Except focusing on the middle vignette misses this gorgeous line: "In a way it feels like I've just been ghost-pregnant, still waiting for the reality of it to come."
The roundup to the Roundup: Allison rocks and our next performance blog piece rocks.  What was behind Door #1.  Answer the Weekly What If.  Submit your post to the Creme de la Creme list if you haven't yet.  And lots of great posts to read.