Ungaming and Comment Chaining Part 3B
Directions: answer the question in the comment section.  Then leave a comment on the blog of the commenter directly before you (so it's a chain.  #2 comments on #1, #3 comments on #2, etc.  If the commenter above you didn't leave an address, just go one above that.  The point is to find new blogs/leave a comment–not stress).  The first person who comments gets a free ride and does not need to leave any comments.  The last person who comments gets…screwed.  My answer is below the picture.
A follow up to the last question, and one much more deliciously terrible.  Please, no googleable names used in your answer.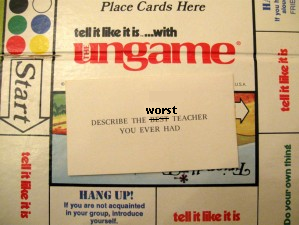 In case you can't read it, the card states: DESCRIBE THE BEST WORST TEACHER YOU EVER HAD.
My answer: As a former teacher, one who has a great respect for all teachers, we also do need to acknowledge that some just suck at their job.  That they should have never been allowed around not only children–or in the case of college and beyond, adults–but they probably shouldn't be allowed around humans in general.
While I have some true horror stories, from the professor who would make me kneel on the floor when I came to speak to him (he'd sit on a chair and we'd kneel on the tiled office floor) to the English teacher who left her liquor bottles in the rubbish bin and taught us nothing for an entire year, my favourite terrible teacher was a college professor.
He was flown in for the semester to teach a class on Scandinavian history–and all apologies to the Scandinavians, but the years of Scandinavian history that we covered sucked in comparison to your exciting European neighbours–and he spoke no English.  He had someone translate his notes into English and then he read them off the page by sounding out the words.  It was three hours once a week of English read phonetically off the page.  And if you didn't show up, you couldn't get credit for the class.  Three weeks in a row, he must have gotten his pages mixed up because he read the same lesson on the Russification of Finland.  Three times.  Did I mention that it was in phonetic English?  And you couldn't ask him questions because he didn't know any English?  You couldn't even ask if you could be excused to use the bathroom because he didn't know the word "bathroom" and we didn't know the word for bathroom in Finnish.
Once a week.  Every week.  Three hours.  Just for three credits.