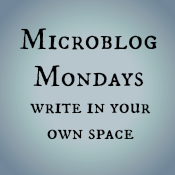 Not sure what #MicroblogMondays is? Read the inaugural post which explains the idea and how you can participate too.
*******
I read an interesting thought from Abraham Twerski (The Enemy Within). It was part of a larger commentary on self-love; not in the positive sense, but in the "putting yourself before others" sense:
The Rebbe of Kotzk noticed a young man thoroughly enjoying a dish of fish. "Why are you eating fish?" the Rebbe asked.

The young man responded, "Why? Because I love fish, that's why."

"So it was your love for the fish that caused you to take it from the water, kill it and cook it! If you really loved the fish, you would have let it live. Do not delude yourself, young man. What you really love is yourself, and because the fish satisfies your palate, you eat it."
A fitting thought considering the political climate where so many of us are the fish, and we're being told that work is being done to make our lives better when we feel like we're being devoured, all for someone else's enjoyment. It's words not matching up with actions.
Chew on that.
*******
Are you also doing #MicroblogMondays? Add your link below. The list will be open until Tuesday morning. Link to the post itself, not your blog URL. (Don't know what that means? Please read the three rules on this post to understand the difference between a permalink to a post and a blog's main URL.) Only personal blogs can be added to the list. I will remove any posts that are connected to businesses or are sponsored post.
I really loved the BBC video last week where the guy was doing a live broadcast and his kids entered.  I loved it for that first kid's dance she did as she entered the room.  Everyone should aspire to internally (or, frankly, externally) do that dance at some point in their day.
What I didn't love were the various parody videos, especially the one that showed a woman on air, feeding a baby, cooking a chicken, and tending to the laundry, all while running through her talking points.  Yes, I'm aware that it's a parody.  I've already been told that I need to lighten up when I talked about it on Facebook.
But comedy is a trick thing.  Sometimes we laugh because we recognize a universal truth, and other times we laugh because the piece has pointed out something we never realized.  And sometimes we don't laugh because the parody misses the mark on both counts.  There's a big difference between comedy that moves the conversation forward vs. comedy that moves the conversation backwards.
It's hard to laugh when it's the latter option.
*******
Men — totally incompetent, amiright?  That bumbling dad in the original video put out his arm in his panic and stammered around.  If a woman had been in that chair, she would have executed dance-like grace, scooping up the child without missing a beat and using the moment to deliver a witty bon mot about work-life balance.
Except she wouldn't have.
The parody is unfunny on so many different levels.  For every woman who struggles to get everything done, implying that real women have it all together makes them feel like shit.  I don't know about you, but I do not operate like the woman in that video.  Does that make me as bad as the man in the original video?  Do I lose my woman card?
For every woman who would like to be known for something more than her child-rearing, meal-cooking, laundry-doing skills, it sticks our socially prescribed roles front and center.  Do you remember anything she said?  I'm guessing not because the focus was on the bottle feeding, chicken-sniffing, lint-brushing actions.  Sure, the portrayal is flattering on the surface — she's supermum! — until you realize that you didn't listen to anything she was saying due to the distracting exterior.  It's a gotcha! moment; you think it's women empowerment… but it's not.
For every man who does an excellent job co-parenting (or, in some cases, single parenting) their kids, it turns them into a bumbling fool who can't take care of the kids OR matching their socks.  How did that man get through life before marrying that smart, savvy, accomplished woman?  Or, the alternative is that we look at the man in the original video, who was doing the best job he could in the moment, and sneer at his inability to somehow stay the course when everything is going off track.
I don't like being reduced to a stereotype — mostly because it makes me feel like crap about myself because I really don't fit that calm, cool, collected supermum stereotype — nor do I like to reduce other people to a stereotype.  And that's where the conversation went this week in terms of the roles of men and women (not to mention the various other discussions that came out of commentary on that video).  I want to blow those stereotypes out of the water; not reinforce them.  Even when it's just a parody video.
So we got a snow day, but we lost our Yayoi Kusama exhibit tickets.
There were three scenarios that could have happened: (1) The storm was smaller than anticipated so we could get downtown and see the show, (2) The museum closed due to the snow and we could use the tickets on the proposed snow date, (3) The museum opened late due to the snow and they wouldn't honour the tickets on another date.
Guess which scenario happened?
We couldn't safely get downtown — the roads were too slick — and the Hirshhorn said they wouldn't honour the tickets on their proposed snow day.  It was use them now or lose them forever.
We had a moment where we asked ourselves whether or not we were willing to risk our lives in order to use the tickets and see some art, and then realized that was a horrible idea.  The Hirshhorn stating that our only option was to traverse unsafe roads in order to see the exhibit made me feel like the point wasn't really the people seeing the art.  I mean, if it's about the audience — the human beings giving their attention to the piece — you try to keep them safe.  If it's about the museum, you tell people to get on unsafe roads or miss out.
So we let the tickets go.  We may try again to get tickets, but not sure if we'll end up seeing it after all.
*******
Stop procrastinating.  Go make your backups.  Don't have regrets.
Seriously.  Stop what you're doing for a moment.  It will take you fifteen minutes, tops.  But you will have peace of mind for days and days.  It's the gift to yourself that keeps on giving.
As always, add any new thoughts to the Friday Backup post and peruse new comments in order to find out about methods, plug-ins, and devices that help you quickly back up your data and accounts.
*******
And now the blogs…
But first, second helpings of the posts that appeared in the open comment thread last week.  In order to read the description before clicking over, please return to the open thread:
Okay, now my choices this week.
Searching for Our Silver Lining has a post about trying to get back into writing again after being away from her blog for a bit.  I'll be honest: The reason why I never take a break from my blog is that I know how hard it would be to get started again.  This post confirms it.  She writes, "Originally the break in writing was meant to be temporary; a hiatus to focus on all the turmoil. Coming out of that required more activation energy then I anticipated."  Plus I really love the ending of the post.
Bent Not Broken has a post titled "Struggle Bus" that I loved for its name and simplicity (though not the situation).  I latched onto the title because it immediately conjured an understanding of those times when your feelings are at the wheel, moving you through life, and you're not really the one in control of getting from Point A to Point B.  Plus this: "This is grief.  It's not pretty.  It's not always logical.  It always sucks.  But I always get through it."  Sending a hug.
Lastly, Infertilityhonesty has a post about emotional labour, an idea that has been bouncing around the blogs a lot for the last few weeks.  There is a longer definition in the post (and a roundup of some of those posts I mentioned), but emotional labour "includes the things we do to support people emotionally, the willingness and effort to enter into another's world view, the ability to acknowledge another person's pain and attentiveness shown to another person's experience."  It is a long post but an important post.  Read it all the way through and then think about it a lot.
The roundup to the Roundup: Not seeing Yayoi Kusama's exhibit.  Your weekly backup nudge.  And lots of great posts to read.  So what did you find this week?  Please use a permalink to the blog post (written between March 10th and 17th) and not the blog's main url. Not understanding why I'm asking you what you found this week?  Read the original open thread post here.
Speaking of the KonMari method in terms of my ugly couch, Forbes from time to time presents the idea of KonMari-ing your calendar.
The point, it seems, to saying no is that it frees you up to say yes to what you really want to do (vs. what others want you to do).  And that's great but… what about not filling up the calendar at all?  Like what about saying no so you have an empty space in your calendar and then not filling it with anything that needs to be written down on a calendar and is tied to a certain block of time?
Anyway.
I decided to do this with my calendar.  I left off work engagements because I enjoy work AND it doesn't really matter whether or not it sparks joy.  I still had a considerable number of promises on my calendar, but I immediately ran into the problem that the author addressed in the article:
So last spring I decided to analyze my calendar and, using the KonMari method, ask whether each commitment brought me joy. I believe this is why Kondo has become a guru to many Americans at the end of their proverbial ropes. She doesn't ask if things are necessary or useful. She asks if they spark joy. Joy! That is a high bar, especially if you are using it as the filter for socks or a trip to the DMV.
I would say about 50% of my commitments sparked joy.  I genuinely enjoy the volunteer work that I do with teaching coding to kids.  I'm helping advise a new nonprofit on their social media strategy, and it's a lot of fun to apply what I know and dream big.  But I also do a lot of things that I don't really like at all because they're obligations.  They're part of living in a community.  They're part of giving back to the world.  They're necessary for our family to run.  It's not that I'm so busy; I just don't enjoy a bunch of ways I'm spending my time.
So… I dropped pretty much nothing.
I find KonMari great in theory and terrible in practice.  I can apply it to one or two things — clothing, for example — but I can't apply it to most items in my house.  And I certainly can't apply it to the intangibles and have the ideology create a life-changing impact.  Grab me back an hour, sure.  Grab me back full afternoons so I can read a book or take a class?  Not quite.
Instead, it felt worse to say to myself, "This doesn't spark joy… but you have to do it anyway."
I take ownership of my calendar.  I know I'm in control of setting my own boundaries.  I know how much is on my plate and how much I can reasonably take on and not make myself miserable.  Sometimes those facts control my calendar.  Sometimes there are other elements that are more powerful that take over my time.
Do you think you could KonMari your calendar and really achieve a difference in the way you spend your time?
Updated at the Bottom
The sofa in our basement is called the asscracker.  It's a sectional, but we've put together unrelated sections, which means that there is a strange metal bar that runs down one of the grooves between cushions.  People who do not know about our affectionate nickname for the sofa have plopped down on said metal bar and gotten a sore bum.  Hence the name, asscracker.
We inherited asscracker because… well… this is a long story.  You may want to get a cup of coffee.  And we should probably begin with ugly couch.
Ugly couch is a different sofa: one that does not harm people's bums insomuch as it harms people's eyes and sense of taste.  It's ugly; a hideous tan, the colour of dried urine.  We didn't realize how ugly this sofa was when we purchased it early in our relationship.  All we knew was that it fulfilled our two requirements: (1) hid a sofa bed for guests and (2) was the most inexpensive piece of furniture in the store.
Over the years, as we sat on other people's sofas, we wished that we had made a different choice.  We weren't really using the sofa bed feature, and while it was a decently-made piece of furniture, it likely had been sold at such a low price because no one else wanted a sofa the colour of a urine stain.
When we moved into our current house, we made ourselves a little grownup promise.  We were adults now, and we were going to take our hard-earned money to the store and splurge on a new sofa.  The current sofa — ugly couch — would be moved into the basement's rumpus room.
But then we moved into the house and the movers could not get ugly couch down the stairs.  They tried for a long time to turn it in various directions, but they couldn't make it past a turn in the stairs.  Ugly couch was left in our living room.  It didn't make sense to buy a nice, new sofa for the rumpus room.  My parents donated asscracker, which had been in storage.  We took three unconnected pieces because I liked them the most and I didn't know about the metal bar until they had gotten rid of the other sections.
So that's how we ended up with two piece of furniture that we don't like for the last fifteen or so years.
A perfect storm of a bathroom renovation (which makes you look critically at everything else in your house) and a lot of articles about minimalism has made me think that it's time to say goodbye to ugly couch.  We could get a simple IKEA sofa for the basement — something with a bed so guests could use it despite the fact that no one has used the sofa bed in the living room in the past twelve years.  And we could get the sofa of our dreams for the living room.  I don't actually have a sofa of my dreams, but you know what I mean: something that is not ugly couch.
But here's the thing: the ugly couch sparks as much joy as it sucks away.  It's a sofa with a story: how we ended up with ugly couch and not the couch-not-taken (yes, there was a third couch I left out of this story) was part of our first fight as a couple.  That couch has known us from the very beginning of our engagement.  When we first got it, we used to take trips to our living room and sleep (or, really not sleep because it was so uncomfortable) on the sofa bed for a change of pace.  The sofa features heavily in early baby pictures, when we'd prop up the twins and pretend they could sit up on their own.
So first I need to talk a sibling into taking custody of ugly couch.  I need to have visitation rights and be able to go back to ugly couch and bask in its tan-ness.  I need to sleep on its uncomfortable sofa bed and say, "sofa beds really are an excellent idea."  If that can happen, I can let my sofa-that-sparks-joy live somewhere else.  If not, I don't know, it passes the Konmari test so I'm at an impasse.
Asscracker, on the other hand… totally fine getting rid of that one in a hot second.
Update:
The twins read this post and informed me that the proper name of the sofa is "Assbreaker."  They wanted this corrected.  So I'm correcting it.