The conversation about GoldieBlox clearly touched a nerve with me, maybe because I am working so hard to instill the concept in my daughter that she can do anything without actually knocking her over the head with the idea that she can do anything.  Because once you do that, it works the other way.  She also receives the message that if it was important enough to convince her, it means that there are people out there who think she can't do certain things.  And lest you think that kids don't pick up messages underneath messages, consider the fact that it doesn't occur to us to also tell boys that they can anything.  I know, I know, you believe that they'll get that message inadvertently from society anyway.  But here's the thing; they get that message because they are never given a different message.
I call it the "You Can Do Anything!" Paradox.  By telling them they can do anything, they learn immediately that if they need to be told it, they maybe can't do everything.*
So I prefer to treat my daughter as I treat my son.  I don't tell either of them that they can do anything.  I just let them exist and navigate, and I instill in them a healthy understanding that other people's messages — good or bad — shouldn't hold much weight.  Either their self-esteem comes from within, or we need to take the "self" out of self-esteem.  And really, once you do that, you leave your kid open to a host of other problems creating dependency on external validation.
But that's not really the point of this post.
The conversation about GoldieBlox took place on this blog and Facebook and Twitter and email.  And one of those emails was from someone at littleBits, which I've heard called the "Lego of electronics."  We were talking about gender-specific toys, and she asked me if my kids (both of them) would like to try littleBits.  She would send me a set**.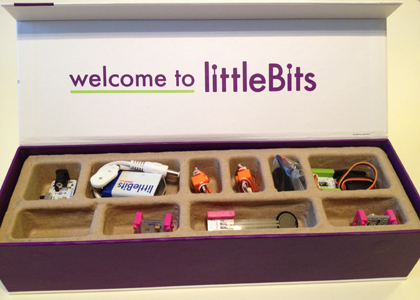 I showed it to the kids online, who immediately started throwing out ideas of what they would build with the littleBits.  And the ChickieNob instated a bunch of rules about the toy, claiming she got to play with it first since if this was tied to GoldieBlox in any way, shape, or form, she was discussed in my post more than her brother (and had been asked to watch the video to get her take on the toy) and therefore should get first dibs on this toy.  She may have also had a bunch of diabolical plans.  Either/or.
We watched the littleBits come toward our house by the tracking number. (One thing I will say for the company, they are beyond responsive and helpful.  That makes a difference in my mind.  Lego too pops up immediately as a company that has such great customer support for their electronic items that it's worth buying them just because you know you'll have the safety net if you can't figure something out.) And on the day it arrived in town, the twins implored me to get the box before they came home from school so they could hit the ground running.
That is true toy excitement.
I met the kids at the school with the box tucked under my arm.  And the most bizarre thing happened.  I felt like the girl in a Brat Pack movie who walks through the school in slow-motion after her transformation and all the cool kids are suddenly paying attention to her.  Fine, maybe I was walking at a normal pace, but every kid who passed me and saw that box under my arm screamed out, "YOU HAVE A LITTLEBITS!" (Except for one child who inexplicably said, "no fair!")  It made me feel so cool.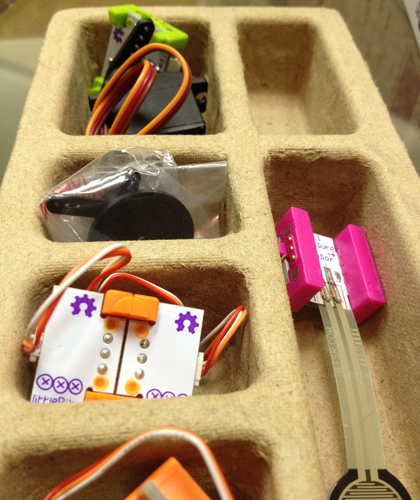 When we got home, the Wolvog had to practice guitar (and he knew he'd have an uninterrupted hour and a half with the toy while his sister was at art), so the ChickieNob and I sat down and opened the box.  We read all the instructions and cracked up at being congratulated for our analness.  I promised her that she couldn't do anything "wrong" and electrocute herself, so she took a deep breath and dug down into the box to make the back massager.
The blocks are very easy to use — and I say that as a Geek Immigrant with no background (or comfort) with engineering.  They are clearly marked, the magnets only attach one way, and the instructions are very straightforward.  I won't say "simple" because engineering isn't really simple.  But they're straightforward: you will not be able to mess this up or get confused.
The ChickieNob's initial thoughts were that she really liked the colours (all the pieces are colour coded so you know your input from your output) and the fact that the instructions were written on the blocks themselves.  She thought they looked pick-up-able — they made you want to hold them.  I made her try out building the massager herself since she has a tendency to say "can't" before she has ever tried.  It was worth it because of the expression on her face when she got it working after about five minutes of work. (It's one of the first, easiest things to try out.)  She popped a muscle to show how powerful she felt, and she shrieked out, "I'm strong!"
LittleBits created a monster because later that night, after she was done with dinner, she informed me that she was going back to her workshop.  She had one moment where she called out that her drawer alarm wasn't working, and I told her to figure it out herself.  A few minutes later, we got the happy shriek, "I did it!"  I love littleBits because they're a toy that makes her feel empowered.  They are just on this side of being non-intimidating; meaning, they look difficult but kids can figure them out on their own.  And when they do, they feel cool.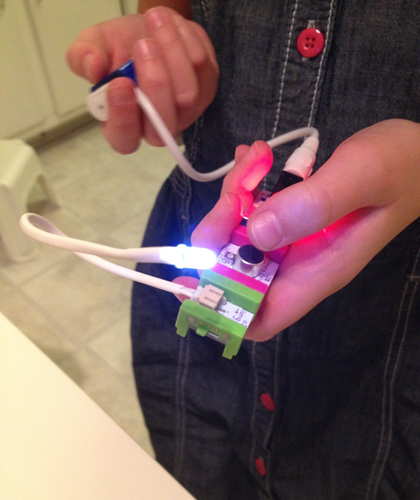 We're using the littleBits this week as a kick-off for each of my Hour of Code workshops this week. (Yes, Hour of Code begins tomorrow.  So do something computer-related this week!)  The ChickieNob is actually going to be the one to show the kids because she is finally getting the concept of how order matters when it comes to coding (and everything else in life).  The fine details matters.  One character missing can change everything.  Putting the littleBits in the wrong order is an easy way to convey to kids order of operations.
And I love that the ChickieNob asked if she — not me — could be the one to show the rest of the kids this concept in robotics.  Sure, babe, take center stage.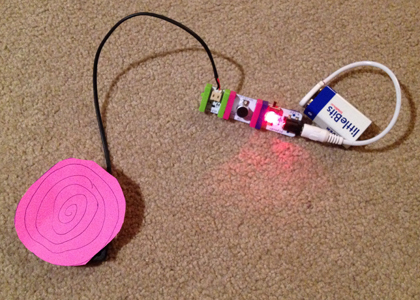 It's expensive — most computer-related/engineering toys are.  But I think it's worth the cost because the kids are still playing with it without being prompted.  That speaks volumes to me because a lot of times, they'll play with something once or twice and set it aside until I remind them to use it again.  It comes with about 16 projects to build in the box, but if you go online, the box boasts 600,000 combinations, and the projects are limitless in terms of how people have used the littleBits.  It's a very versatile toy that grows with the kid.  Right now, the twins are focused on making an electronic pet.  But I could see them using this well into middle school/high school to make all sorts of things that light up, make sounds, and move.
On a side note — littleBits is a company created by an M.I.T. educated woman — Ayah Bdeir — who had the idea according to the New York Times "of making electronics components into Lego-like bricks that could be used by anybody, even the technically ungifted."  So, like GoldieBlox, it's a woman trying to get more girls involved in engineering.  But does so without a hint of pink or a loud message that THIS IS FOR GIRLS!  Instead, she says, "this is for anyone, especially the technically ungifted."  She does it without using the word "just," which is essentially a put-down. (I was really turned off by the "more than just a princess" tagline from GoldieBlox since it places a value both on whatever that "more" is as well as "princess."  We don't need to be anti-something in order to be pro-something else.  Let's support both girls who value engineering and girls who reject engineering and love princesses.)  And she doesn't make the assumption that girls only want to play with other girls or that boys only want to play with other boys.  She just lumps us all into two categories — those that know circuits and those that don't.  And I'm totally okay with raising my hand and saying, "no engineering background; so I'm in that category."
* Think about it this way.  If I say to you, "Those jeans look great on you.  They don't make your body look strange at all."  Your first thought will be, "These jeans work."  And your second thought will be, "Wait, does that mean some of my other jeans don't work?  I didn't know any of my jeans made my body look strange.  But if she's bringing that up, she must think that some of my other jeans make my body look strange, but these are a good fit."
P.S. If anyone knows where I can get a good pair of jeans…
Just kidding.
Not kidding.
** I never do reviews, therefore I haven't paid much attention to all FCC update on disclosure, but hopefully sticking it smack in the middle of the post will make it clear.  She asked if she could send me a set.  She didn't ask me to write about it.  I asked her if she was cool with me writing about it.  She said yes.  I wrote my honest opinion of littleBits.
My pre-Christmas gift to you is a copy of the post-it note I made myself to get through level 315 of Candy Crush.  Let me start by saying that this level frustrated me almost as much as the timed levels.  It involves sliding over two ingredients at least two spaces.  So four lateral moves in total.
You likely do lateral moves all the time without thinking about it.  But once you're forced to slide over those hazelnuts, you realize just how difficult it is to line up the candies just so vs. have it happen by accident.
See, the hazelnut in the center is fine.  The one on the left and the one on the right will hit a ledge if they drop straight down.  So they need to move two over toward the center in order to be placed over an opening.
So how do you do that?
You look for (or create) one of these eight patterns: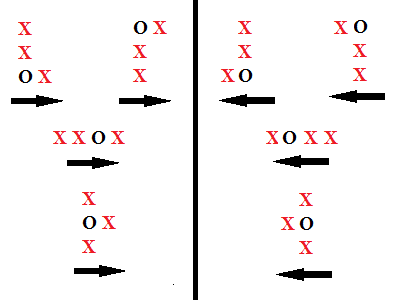 The four on the left correspond with the hazelnut on the left.  The four on the right correspond with the hazelnut on the right.  The O is the hazelnut, and the X are three candies of the same colour.
In other words, if you want to move the left one over (toward the center, which means, toward the right), you're looking for two blues above the hazelnut and a blue to the right.  Then you'd slide that hazelnut to the right, and the three blues align and disappear.  One move complete.
My advice is to play on a device so you can keep restarting without losing a life.  Look for a board that opens with two of the same colour below one of the hazelnuts, and either a third of the same colour to the right of the nut (if you're trying to move the one on the left) or the left of the nut (if you're trying to move the one on the right).  That way, your first move takes care of one of your four lateral moves.  Then it's just three more to go.
Also make sure you use the coconut wheel early on so the nut in the middle doesn't land atop it.  Once that happens, you can only use it left or right to take out one candy.
This moving ingredients technique comes up a few times in Candy Crush, but this is the first board where it is crucial; impossible to play without doing lateral moves.
So if you need a break from Christmas stuff and you're feeling inclined to crouch in a darkened room somewhere playing Candy Crush while other people string their lights, this is my gift to you.  How to move ingredients to get past those evil boards.
Currently: I'm on Level 350, and I'm happy to go backwards and explain how I did any board before that. Sometimes it was stupid luck but other times, there was actual thought involved (here are the other advice posts I've written). Let me know the level you're struggling with.
Josh and I were all ready to drop down over $100 for a small piece of tech this week.  I'm being purposefully vague because my goal is not to harm the reputation of this company but to point out an issue with brands utilizing social media.  So we were all ready to shell out the money, but I decided to ask a question before we plopped down the cash.  It's my new canary in the coal mine: if I can't get a company to answer my questions BEFORE I've given them my money, I have a good idea that they're not going to be available to answer questions AFTER I've given them my money.  And for some of these obscure tech items we get the kids, there are such a small amount of other people out there who own the same item that if we run into a problem and the company itself won't help us out, we're out of luck.
So I write a quick question.  If I get an answer back in a reasonable amount of time, I make the purchase.  If I don't get an answer back at all, then I walk away from the product.  So, for instance, the Wolvog desperately wanted a coding app.  It wasn't clear that the app came with a tutorial, and it was a pretty expensive app.  It happened to be a coding language that the Wolvog doesn't know, so I wanted to make sure that there was going to be something on the app to help him when he got stuck.  I sent an email in mid-October.  I'm still waiting for an answer.  In the silence, I told the Wolvog that I wasn't willing to spend that amount of money to be frustrated.  So no app.  Instead we put that money towards an engineering toy where the person not only answered my first question quickly, but each subsequent one in quick succession.  That company is a keeper.
I think brands — especially small brands, just starting out — look at social media as this paradise where the customers are like low-hanging fruit.  There are just so many of us, and we're all so accessible.  They can purchase ads and send it to our Facebook wall, tweet at us, slip comments into our blog posts.  They can throw up a project on Kickstarter and get tons of people to contribute small sums of money vs. going through the grant writing process (which is often an exercise in frustration).
What they don't realize is that if do social media poorly, it hurts their brand.  It affects their reputation.  And social media is loud.  A single complaint sounds louder than it would in the face-to-face world.
Part of being a brand on social media (and perhaps some small businesses may want to think twice about joining in with social media if they don't have the bandwidth to do it well) is engaging in that social part.  Not just talking at, but talking with.  Sometimes that means hundreds of people asking you questions.  If you're asking them for money or support for your idea, that's a fair trade.  Sometimes it means someone whining about your product, and you need to pleasantly respond and try to make their experience with your product better.  And sometimes they have such a fantastic experience with your product that they give you tons of free press, spreading that love across the blogosphere.  It works both ways.
So I sent an email that got no response back from this tech company, despite the fact that the company continues to tweet and Facebook and blog.  And yes, I sent them a message on Twitter letting them know I emailed just in case it went into spam.  Crickets.  They just keep tweeting, "support our project!"  And I'd love to.  I just want my question answered in return.  Especially since I got the email from a page that asked potential customers to email them with questions.
I know I'm hella cranky.  I should probably go drink a cup of tea.  Though I am giving them a week.  That seems fair-ish.
*******
The 2013 Creme de la Creme is trucking along.  There are currently 75 on the list and under two weeks to go until the hard deadline (December 15!).  So, are you on the list yet?  It's wrapping up, so this is your last chance.
*******
And now the blogs…
But first, second helpings of the posts that appeared in the open comment thread last week.  In order to read the description before clicking over, please return to the open thread:
Okay, now my choices this week.
Processing Thanksgiving was a theme this week.  Birds, Bees, and Medicine had a post about her two Thanksgivings — one with kids and one without.  Both contained their moments, but it was her words about a family member's Christmas present idea that gave me pause: "a family tree with the parents in the trunk, the four children in each of the branches with their spouses, and then all the grandkids as leaves with thumb-prints. I wondered if our branch would really look as sad and barren as it did my imagination and if there would be space for us to add our thumbs prints later or if this was her idea of the family being complete. "  I especially loved the end of the post.
LittleLightLuke sat at the Thanksgiving table and remembered her son who should be here but wasn't.  As they went around the table, stating what they were thankful for, her mother answered that she's thankful that they're all together.  She wrote, "My heart felt stabbed–We are all here?!  It is so glaring to me that we are NOT all here.  I know she didn't mean anything bad by it and she misses Luke too, but it still bothered me."  But the moment most moving was when the author brought Luke's name to the table.
Lastly, the Road Less Travelled had a post about the elf on a shelf.  And I love love love this part: "But these days, it seems the pressure to do more, buy more, give more gifts — on top of all the other pressures of modern life and parenting – just keep ratcheting upward.  And who is benefiting here?"  I don't even celebrate Christmas, but who hasn't felt the volume turned up everywhere year after year?  Brilliant post.  Actually, I feel like I need to unpack it myself in my own post.
The roundup to the Roundup: It's hard to be a brand on social media.  The 2013 Creme de la Creme opened: is your post on the list?  And lots of great posts to read.  So what did you find this week?  Please use a permalink to the blog post (written between November 29th and December 6th) and not the blog's main url. Not understanding why I'm asking you what you found this week?  Read the original open thread post here.
The only thing I ever read in the New York Times (if I can help it) is the weekly Opinionator blog.  Each week, a writer muses on a different subject.  Last weekend's topic was writing about people after they've died and cannot public respond to your verbal portrait.  The writer, Ken Budd, discusses the act of dissecting his father's life in his memoir since his own story is so closely entwined in the story of his family.
We've already tried to feel for the line between where one person's story ends and the blogger's story begins, so that part didn't really interest me.  But something Budd said in the middle raised my eyebrows.
Writing a memoir is a selfish act. For the memoir to work, to truly be alive, the honesty of the writing must outweigh the feelings of your subjects. As the central figure, you have to write what scares you: the drama resides in the dark places where you're least comfortable. And that means exposing yourself. It's like ripping off the front of your house and saying, "O.K., here we are, take a look — I'll be in the shower if you want a closer view." If you can't do that — if you're unwilling to bleed, naked, on the page — why write memoir?
It made me think of that other line — the one between gratuitous sharing (oversharing, for instance) and warranted sharing.  How much do you hold back?  How much do you lay it all bare?  And is that really noble, admirable, if you save nothing for yourself but give people access to every nook and cranny of your brain?  How naked should we be with naked blogging?
I mean, there's naked and then there's naked.  There's no clothes on but you're waxed and plucked and buffed, and there's no clothes on and you haven't showered in a few days.
You know?
I think the answer will be different for every person, and how reserved you are also comes into play.  I know where the line is for myself, but I also thought about it in terms of the blogs I read.  The ones closest to my heart are honest without making me feel like a voyeur.  They're frank without making me feel as if they're telling me things just for page views.  They're the people I learn from; not shy away from.
Again, we'll all have a different reaction to the same blog: what one person thinks is melodrama will be another person's best-read-all-day.  You may think that I'm a horrific oversharer even if I see myself as fairly circumspect.
But all of that aside, I guess I disagree with Budd.  I don't think that the honesty of the writing must outweigh the feelings of the subjects.  The best post, for me, is one where I don't cringe thinking about how the subjects might feel as they read those words about themselves.  Because if I'm cringing, I'm not looking closely.  And a good memoir is one that opens my eyes and makes me lean in; not one that makes me turn away.
Oh, opinionators, what is your opinion?
At dinner last night, the ChickieNob admonished me for paying for Candy Crush.
"But I haven't!  I haven't bought anything on Candy Crush!  I don't pay for it."
(I may, or may not, have been gleefully commenting about how I'm only 6 or so levels behind a friend and catching up quickly.)
I swear that it was like encountering a mini version of myself at the dinner table.  She pursed her lips and stared at me.  "Oh, you pay," the ChickieNob said owlishly.  "You may not pay King.com, but you pay as you drain your battery and kill your phone.  One day, you won't have a phone and you'll cry.  'How did this happen?  Why doesn't my phone work?  Oh boo hoo, I'm so sad because I don't have a phone anymore.'  That's what you'll say."
"No, I won't," I insisted, uncomfortably.
"So you do pay for Candy Crush.  You pay for it… WITH YOUR PHONE."
Oh my G-d, it was like encountering the Ghost of Christmas Future except that ghost looked like me (with more gaps between my teeth and browner hair).  I wanted to delete the app from my phone and run out of the room screaming to escape my fate.  Except that I have a horrific, crippling addiction to the game.  So, that isn't an option.  In fact, moments earlier in the meal, when the Wolvog asked me what game I would play after I finished with Candy Crush, the answer was none.  I am not getting hooked on another drug-like game, thank you very much.  I will go back to reading books and crocheting and watching Green Day documentaries for the 6335th time.  You know, things worthy of my big brain.
The ChickieNob is right.  Candy Crush is draining my battery.  It helps to go into my apps and formally log out of it after playing.  By which I mean, while I'm waiting for the lives to regenerate so I can play some more.
She informed me that she was going to tell Grandma on me.  So here I am, turning myself in.  I am killing my phone for the sake of a match-3 game.  Oh, and I just introduced the concept of gambling via Yahtzee to the kids.
Apparently my goal is to turn us all into degenerates in 2014.