#MicroblogMondays 152: You Have What It Takes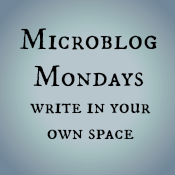 Not sure what #MicroblogMondays is? Read the inaugural post which explains the idea and how you can participate too.
*******
I recently read a post on Modern Mrs. Darcy that stuck with me long after I closed the browser. It's a very simple idea, but one that is life-altering if put into continual practice.
Lie to yourself.
Okay, so the post isn't really about lying to yourself. But it's about making the conscious decision every time you are nervous or unsure about something that you have what it takes. Say those words to yourself: "Oh, Melissa (well, fill in your own name), don't worry about it because you have what it takes." And then proceed as if someone else that you trust a lot has reassured you that you are up for the task.
She talks about it in terms of surfing, but it applies everywhere. It's a powerful feeling to go from being unsure about a decision to deciding you have what it takes and moving ahead. Both with the small things and the very huge, life changing things.
So what are you telling yourself today that you have what it takes? What difficult moment are you trying to get through, or what new path are you unsure about starting?
*******
Are you also doing #MicroblogMondays? Add your link below. The list will be open until Tuesday morning. Link to the post itself, not your blog URL. (Don't know what that means? Please read the three rules on this post to understand the difference between a permalink to a post and a blog's main URL.) Only personal blogs can be added to the list. I will remove any posts that are connected to businesses or are sponsored post.