#MicroblogMondays 63: Coupon Used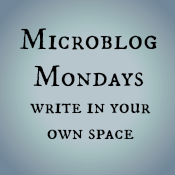 Not sure what #MicroblogMondays is? Read the inaugural post which explains the idea and how you can participate too.
*******
I had a gift certificate for $10 for a store I frequent that was due to expire. I don't buy myself a lot of things — usually only books or games — but I decided to splurge and put the money towards a new purse. My old one was falling apart, and a new purse would make me feel organized and put together.
I measured my current purse, and I looked at my options online. I ordered one that I thought looked perfect. Then it arrived and it was definitely not perfect. So I returned it. (And lost my $10 gift certificate in the process. Sniff.)
I was going to let the whole thing go when I decided to poke around in different stores, suck it up, and just spend the money on myself. So I did, and I got a completely awesome black backpack. It does make me feel more put together.
What was your last splurge?
*******
Are you also doing #MicroblogMondays? Add your link below. The list will be open until Tuesday morning. Link to the post itself, not your blog URL. (Don't know what that means? Please read the three rules on this post to understand the difference between a permalink to a post and a blog's main URL.) Only personal blogs can be added to the list. I will remove any posts that are connected to businesses or are sponsored posts.