#MicroblogMondays 37: What's in a Name?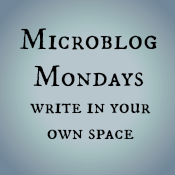 Not sure what #MicroblogMondays is? Read the inaugural post which explains the idea and how you can participate too.
*******
Just to make this all about me: I audibly released a sigh of relief when CNN sent out an alert stating the new name of the princess was Charlotte Elizabeth Diana. In other words, not Alice.
Normally I'm only worried about family members scooping one of our names, but in this case, because the name would become a new trend, I equally didn't want Alice used. Not that Josh would ever agree to the name Alice, but it has always been one of my special names, and I didn't want to share it with the Princess. I know, ridiculous. But the idea of having to hear my special name paired with this other woman's baby felt like… too much.
Charlotte, that's just the name of my notebook.
Inside that notebook is a list of names I always carry with me. And yes, Alice is on the list.
Do you have any special names that you hope no one else — either in your family or famous people outside your family — use?
*******
Are you also doing #MicroblogMondays? Add your link below. The list will be open until Tuesday morning. Link to the post itself, not your blog URL. (Don't know what that means? Please read the three rules on this post to understand the difference between a permalink to a post and a blog's main URL.) Only personal blogs can be added to the list. I will remove any posts that are connected to businesses or are sponsored posts.