Creme de la Creme of 2014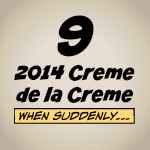 For the ninth year running, the ALI community kicks off the new year by celebrating our best posts of the last year.
So what is the Creme de la Creme list if this is your first time here? It was started as a response to the many blogging awards that are given out each winter. I expanded the idea of presenting "the best" to include a post from every blog in the ALI (adoption/loss/infertility) world*. Every blogger has a personal best that deserves recognition. As editor of the list, I create the small blurbs after the title which serve as a doorway to the post. I hope they will help you find what you are seeking to read as well as show definitively the diversity of experience and emotion within the ALI community.
In the past, the list has been open for a bit after January 1st, but this year, submissions were only accepted from October 15 — December 15th. I will decide next fall if there will be a 2015 list, so look for news in October 2015.
Listed below are the best posts of 2014. As always, happy reading! And leaving a comment on these older posts is not a "may I?" but a "please do." Comments are how an author knows their words are appreciated. Comments about the Creme de la Creme in general can be left on this post.
The Creme de la Creme of 2014
Past Creme de la Creme Lists
Like what you read? Peruse an old Creme de la Creme list from the past
*I aim for inclusivity, therefore, if you think you belong on this list, you probably do. From the newly-diagnosed to the treatment vets, from those still filling out paperwork to those with completed adoptions, from those who are trying to choose a donor and those parenting DI or DE kids; those who are completely confused on what to do and those who are peacefully–or not peacefully–living child-free. Biological infertility or situational infertility, being a single parent by choice, straight or gay, young or old — this list is about difficulties while family building, pure and simple.