How Should You Use Your Writing Time?
Right after Josh and I got married, we read a bunch of financial advice books (and then promptly ignored 50% of the advice because… hello… hard to invest when you live hand to mouth…).  The one piece of advice that stuck with me was the concept of paying yourself first.  I didn't completely get how it would work because if you pay yourself before you pay your bills, you may end up with your utilities cut off.  Additionally, it seemed like poor advice to tell people to take on debt rather than paying off something in full just so you can put something into savings.  But hey, I do like getting paid, so I was all for this idea of paying myself first.  Even if I've never done it.
But it's actually a really good ideology to apply to your writing time, especially if you have a very limited amount of writing time per day.  How do you prioritize so you use your time well?  Do you do all your paid gigs first because they're paid gigs?  Do you write a blog post which will build your platform so an agent wants to work with you?  Do you put all your writing minutes towards your novel?  What about your overflowing email inbox — should you take care of that if you're trying to build relationships with people who could help you with your writing?  And if you only have an hour, do you break that hour down and do a little bit of everything, or do you just focus on one task?
Here's what you do: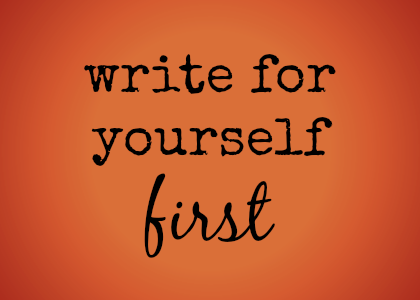 You will use your time best if you write what you're in the mood to write rather than arbitrarily creating a writing task list and checking off boxes.  Is there something weighing on your brain that will keep you from working on your novel?  Write a blog post first and get it off your chest.  Crave the immediacy of a blog post but also dying to spend time with your novel characters?  Work on the manuscript.  Feel as if you can't concentrate on your novel until you pound out that article you lined up with a paid site?  Then work on the paid gig.
And if you're never in the mood to work on your paid gigs, that may be a heads up that you shouldn't take those paid gigs.
The same goes for your blog, novel, or correspondence.
Unless you are in a bizarre hostage situation where you must write in order to gain freedom, writing is a choice.  It may not feel like a choice — and, believe me, I know how it feels to be obsessed with the idea of writing — but it is still a choice.  If writing is bringing more stress than release, it's also okay to not write… for the time being or ever again.
But if you are going to write, it should be — first and foremost — the piece of writing that will fulfill you the most.  That will fill your emotional wallet.  Think of productive writing days as your writerly self-esteem savings account.  You need to have emotional reserves in there for a rainy, low-self-esteem day.  You will feel better about yourself as a writer and have emotional reserves in there to draw from if you write what fulfills you by writing for yourself first.
You can also use your writing time better if you know what you're doing BEFORE you sit down at the screen.  Nothing makes you feel as if you made poor use of valuable writing minutes than staring at the screen or wasting the time doing Harry Potter quizzes on Buzzfeed (not that I ever do that).  Carry a piece of notebook paper with you at all times (or I use Charlotte, my bullet journal) to record passing ideas that could be shaped into a blog post.  Notice interesting things around you.  Write down snippets of conversation you want to comment on in a longer piece.  Know your characters' goals for an upcoming scene.  Anything that can help when you unfold this piece of paper as you sit down and hit the ground running.