MFA Sunday School (Eight: Starting Self-Editing by Understanding Your Writing Accent)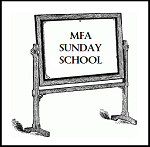 Welcome to MFA Sunday School, a once-a-week, free, online writing workshop. MFA Sunday School posts are uploaded on Sunday mornings, though you can read them or participate any time — the comment section is always open for people to post a link to their work or ask a question. You can subscribe to blog posts via the RSS feed, or look for them under the category heading "MFA Sunday School." If this is your first time in "class," you may want to jump back to the first post in the series in order to understand how things work, or peruse all of the past lessons as well as a glossary of terms by reading the MFA Sunday School Glossary and Course Archives.
Looking at your work with a critical eye means exiting your own brain and figuratively trying on someone else's in order to see your writing from an entirely new angle.  Everyone has their own approach to self-editing: some work as they go along, editing before they write the next paragraph or scene.  Others wait until they have a final product in hand and then go back in to polish it up.  Some do a blend of both, and others get so hung up on the editing process that they sort of stop writing altogether.  Editing is what makes them hit the proverbial wall with their project.
So how does one go about learning how to self-edit?  There's something to be said for the joke about starting a whole new relationship by masturbating with your other hand — getting out of your own tired brain is easier said than done, but changing the location of where you wrote the piece (writing it on one computer but editing it in a different room or on a different computer), reading it aloud to someone, or editing on a different medium (writing on the screen but editing on paper) are all simple ways to trick your brain into seeing your writing from a new angle.
Before you start editing, you need to understand one thing: there is a difference between your writing accent and writing mistakes.
When I talk about your writing accent, I don't mean writing to convey to the reader the accent of the character (as in, putting "y'all" in there so the reader knows this person is from the south).  Your writing accent — as defined by me — are the small quirks that you use in your writing which make it undeniably yours.  It goes beyond your writing voice; it is about the tiny inflections you pepper into your writing that people respond to on an emotional level without realizing it.  I think of your writing voice as something loud, immediately defining.  You would never mistake Danielle Steel's writing for Stephen King's.  But your accent is something much more subtle.
Two seconds into a blindfolded conversation with an Australian, you can tell that they're not from America.  That is due to the way they pronounce their words, and that is the equivalent to your writing voice.  But several minutes into the conversation with the Australian and regardless of what they're talking about, without even seeing them, your gut has formed an opinion on whether you like the person or not.  Whether you respond to the person or whether you'd rather not talk to them anymore.  It's how I can put three Australians in front of the blindfolded you and asked them to talk about something as mundane as the weather, but you'd be able to form an opinion on each one, though you may not be able to point out why you formed that gut reaction.
Side note — this lesson is about discovering why.
Now do you see the difference between writing voice and writing accent?  Voice is apparent.  Accent takes some searching.
With editing, we want to get rid of writing mistakes without getting rid of your writing accent, but in order to do that, we need to know whether the way you're writing is putting off the reader or drawing them in.  And best example I can give you comes from my own writing accent.
Perhaps not in blog posts, but within book writing, I have two things I constantly do — one of which is my writing accent and the other of which is a writing mistake.  Part of my writing accent is my love of verb-led sentences.  "Running for the bus, she slipped on the newspaper sheet stuck to the sidewalk and landed with her face in yesterday's gum."  Verb-led, non-gerund sentences was something I was known for back in my MFA program.  When other people did it, people would jokingly ask if I secretly wrote the story.  Now that I'm conscious of it, I tone it down or play it up depending on the piece I'm writing and the volume I want on the action or external story.  That's my writing accent, and people respond to it (either liking or hating it).  I also use a lot of dashes to draw out thoughts.  To drag your brain this way and that.  Either you like that or you don't, but that's what you're responding to in my writing.  I use a lot of semi-colons to keep ideas close together.  Again, either you like that you or you don't, but those are small things I'm doing that you unconsciously respond to in my writing.
Here's a writing mistake I often make: I summarize a whole scene with a one or two sentence punch at the end, a move that my advisor always called "tags" but since I can't find this online, it's making me think that he invented the term.  The tag was a mistake because it not only slowed down the storytelling, repeating what was essentially shown in the scene, but it treated the reader poorly.  My professor once jokingly told me that he was going to gather up all my discarded tags one day and publish a whole book of them called Tag Sale.  I still write tags because I have to write tags.  It's like stopping myself from vomiting — not only does it not work most of the time, but it's usually better just to vomit and get it over with and move on.  So I write my tags, and then, when I go to edit, I remove them.
This lesson is getting long, so I'm going to break it into two parts.  Next week, we'll take a look at common writing mistakes so we can find them in our writing.  But for the time being, start looking at your writing with your other hand… I mean… a different portion of your brain.  What writing quirks do you notice you do?  What is done consciously, and what is done unconsciously?  If you can't find them, don't worry.  Once we get to writing mistakes next week, your writing accent is going to pop out at you.
Homework: No special assignment this week because we're mid-lesson, though keep writing.  Instead, let your classmates know how you edit in a comment below — do you do it at the end of a project/post, as you go along, or a blend of both?  And does the editing process ever stop you from finishing what you're writing?  It will be interesting to see the various ways people approach editing before we get to talking about finding writing mistakes.