MFA Sunday School (Three: Character Development)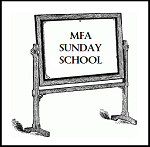 Welcome to MFA Sunday School, a once-a-week, free, online writing workshop. MFA Sunday School posts are uploaded on Sunday mornings, though you can read them or participate any time — the comment section is always open for people to post a link to their work or ask a question. You can subscribe to blog posts via the RSS feed, or look for them under the category heading "MFA Sunday School." If this is your first time in "class," you may want to jump back to the first post in the series in order to understand how things work.
Last week, you practiced writing by examining the fine details of your project and your writing motivation — which are the sort of things you need to always be considering within storytelling in general.  In that sense, you were the character in the story last week, and in order to complete the project, you needed to figure out a few things: namely, what and why in that six question scope (who, why, what, where, when and how).
One of the best pieces of advice that I got in my undergraduate writing program is to know what your character had for breakfast.  My professor would kick off the conversation about our story by asking a question of that ilk: what did Rachel have for breakfast.  And you were expected to answer without needing to think about it too deeply.  In the case of my character, Rachel Goldman, I can tell you that she eats yogurt most of the time, but she eats late in the morning — after she has been up for a few hours — and on occasion, she grabs a bagel or muffin.  So no French toast or scrambled eggs or even frozen waffles.  She doesn't even eat cold, leftover pizza from the refrigerator.
Why is this important to know?  Because the reader subconsciously picks up on small clues (just as we do with the people we encounter in the face-to-face world) as they try to discern what sort of person Rachel Goldman is and predict how she'll react in various situations (and try to figure out what will happen next in the story).  What do we know about Rachel from this?  Well, she works at home and has the time, but she doesn't make a hearty meal for herself.  She doesn't wake up and eat but chooses to do other things before she gets around to putting food in her body.  She goes for things that are simple and quick.  See, we just learned all sorts of things about Rachel just based on the way she consumes breakfast.  You'd understand her to be a completely different person if she woke up and set the table and ate scrambled eggs and bacon.  And a different person still if she ate an egg-white omelette with a few cantaloupe slices on the side.  Or if she didn't eat breakfast at all.
But forget about you — as the writer, I need to know Rachel that well.  If I can't even tell you with authority what she ate for breakfast, how can I expect to know what sort of decision she'd make when faced with something high stakes, something the entire plot hinges on? You need to know your characters inside and out, left and right, back and forth.  You need to be able to open their closet doors and know what you'll see hanging from the racks.  You need to know what their locker looks like at school.  Even if you never use these small details outright, they will seep into the story in other ways.  Jimmy has a nasty locker filled with old, rotting bag lunches and last week's homework that was never turned in crumpled under his coat?  That says a lot about Jimmy as a person and unless he's going to grow a lot as a person and change drastically (and maybe that's the story), he's not the best person to throw into the role of class president or head of the environmental club (not with those bag lunches!).
We'll talk more about character motivation in the future, but considering how your character approaches small daily tasks or their relationships with common people is a good place to start when talking about character development.  Your homework this week is to create seven character sketches.  Again, this hopefully isn't busy work and you'll be able to cannibalize from this exercise in the future as you start a story and realize that you've already created the perfect character to fit a part.
Homework: What I'd like you to do is create seven distinct characters — one for each day of the week until we meet again.  The more you can write about each character, the better.  You need to love your characters (even the ones that are traditionally unlikeable such as Voldemort) or we — the readers — won't love your characters.  And you need us to love your characters so we'll stay with the story.  The best way to show that love is to write effusively about them, examining them in the way a preteen examines Justin Beiber's every move.
For every character, I'd like you to know the following facts:
Name
Age
Physical traits (height, weight, hair and eye colour, scars, distinguishing characteristics)
Basic familial relationships (are they married, have children, no siblings, two mothers?)
And then, specifically, one for each day of the week, I'd like to additionally know this next fact:
Sunday: what did he/she eat for breakfast today?  Is this usual?  Unusual?  And why?
Monday: what sort of relationship does he/she have with his/her parents?  Are they still alive?  Does he/she see his/her parents?  Why or why not?
Tuesday: what is your character wearing at this exact moment?  Are these his/her normal clothes or are they wearing something for a special occasion?
Wednesday: if your character is old enough to vote, how is she/he voting in the next election?  If your character is too young to vote, how closely do they follow political issues?
Thursday: where would your character like to go on vacation?  Why?
Friday: describe where your character lives.
Saturday: does your character like him/herself?  What are their favourite personal traits?  What do they wish they could change about themselves?
Even if your goal is to write better blog posts or poetry or creative non-fiction, please try your hand at this lesson.  There is a greater point I'll make about this next week, but that post (which is applicable to all writing) won't make sense unless you try creating characters.
See you back here next Sunday (with your homework!) and another lesson.  Remember, if you end up posting this on your blog, please leave a link below so other students can go read it.