The Art of Moving On
Yesterday morning, at 9 am, Paz swung by the house to pick me up and we took a girls' road trip up to Hershey — 2 hours away — to meet up with M.  We ate chocolate (though not enough), dragged Paz on the ride, and then had a four hour lunch at this tiny restaurant.  The day rocked so hardcore.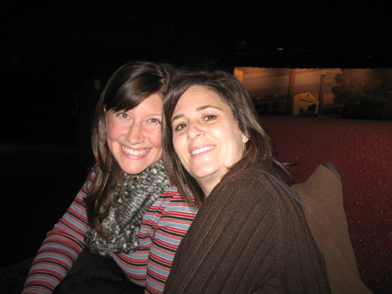 I've known M and Paz for almost 4 years, and being with them is like putting on a pair of black swingy pants — totally comfortable but not in a boring sit-on-the-sofa-in-sweats sort of way.  These women are do-ers and thinkers and sassy and funny.  They are the type of people you can fall into a four hour lunch with and still emerge with things to discuss on the ride home.
We know a lot of face-to-face people in common because we're all in TOOTPU, but we also overlap with hundreds of bloggers that we all virtually know.  For instance, I was finally able to share the thought I have every time I go into the bathroom at Chocolate World — I think of Julie and her dislike of people using their foot to flush a toilet and how someone has invented a public toilet to send a clear message about dirty shoes and flushing.  And rather than say, "who is Julie?" everyone nodded and said, "what do you think of hovering over toilets?"
The topic of those who have stopped blogging came up too, and Paz and I mused on the many reasons why people close their blogs.  Sometimes it's clear — the story has ended, the person got too busy to write, they were a sporadic poster to start with and now you're not sure if they're done writing or if this is just one of their long pauses.
But we were musing more about the ones that don't have a clear ending.  The person posted regularly, didn't seem to be at a natural break, and simply said, "goodbye!"  And then they disappeared into the ether.  Every once in a while, they pop back into a comment section, but they transition from writing semi-daily to not writing at all.  And it just makes you wonder — how do you lose that routine and not miss it at all?  I am not talking about the people who switch blogging spaces, but the people who stop writing altogether and float away after having a pretty regular writing routine.
Which bloggers who used to squat in the blogosphere do you miss now that they've moved on to other things?  Who do you wonder about?
And on that note, help me out with the blog closure section of the Creme de la Creme list.  Is there anyone you can think of who closed (not moved, but clearly said goodbye to readers, closed a blog, and stopped writing) in 2010?