End of an Era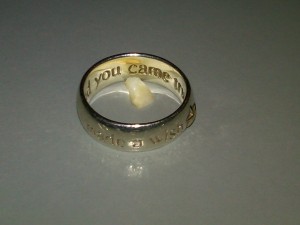 Why yes, that is a human tooth inside a ring.  Isn't that what everyone has on their desk?
Wait, let's start over.
Last week, I noticed that the ChickieNob's tooth was loose.  For whatever reason, this one milestone didn't bother me at all.  I wondered if it was the milestone itself or the fact that it is the first one we've hit since giving away most of our baby things.  You would think I'd be more of  a wreck.  But I was really excited to play tooth fairy.
I'm sure both of my parents were the tooth fairy at various times (um, I hope I didn't ruin that for you), but one night, I woke up to find my father in my room.  He mumbled something about "just checking" on the tooth, but I remember opening my eyes and seeing him rooting around in the tooth fairy pillow and I knew that I had two choices–I could let him see that I was awake and that I knew the truth or I could close my eyes again and pretend fairies existed.  I went with the truth because it felt like the right thing at the time.  Which is not to say that I haven't had regrets and wish that I still believed in fairies.
The ChickieNob's tooth fell out while she was with my parents, a fitting ending to my tooth fairy story.  They were playing rummy and my mother asked her for a card and my daughter handed her a tooth.  She told me that it had been annoying her because it was wobbling about so she pushed it out–with her tongue? with her finger?  And we stepped over to the other side–the loss of baby teeth.  The start of her permanent adult teeth.
I was thinking about her tooth today in regards to blogging.  I have started and stopped various projects throughout the years.  Some have been on-going for years–the Roundup will be 4 years old this summer and IComLeavWe has been going on for almost 2 years.  And others have come and gone after a few months or years.  I let Barren Advice drift away a while back.  The Emoblopedia hasn't been updated in ages.  Every once in a while, something disappears and then it strikes me to resurrect it.
The loss of the tooth made me realize that now was the right time to put Show and Tell to rest.  Not permanently, perhaps, but at least for a while.  I considered letting it go to 100 posts just to keep things even (it's currently at 97), but I think that I would like the post about "Country Roads" and West Virginia and Lori to be my last Show and Tell for a bit (or, perhaps forever).  It is fitting to end with her because I got her into blogging so she should be my bookend to the project much in the same way my parent's role as the tooth fairy has transferred to me.
I could let this project go quietly, but since others participate in it too, it felt like closure needed to be mentioned.  I'll leave this last one open until Saturday night as always, and then close the participation box.
Baby teeth fall out to make room for new teeth, and I have to admit that part of me has felt that Show and Tell went from one of my favourite parts of the week to a bit of a drag to find something to show.  When her tooth fell out, my thought was to hold the picture another week instead of blogging it organically after it happened because I already had my Show and Tell chosen with Lori.  And that's not what Show and Tell was ever about.  And so, for the sake of organic blogging, it's time to let this project fall out to make space for the next idea (at least for the time being).  Because I'm sure there is one rattling around in there, something beyond the new space for the Mondegreens.  There always is.