275th Friday Blog Roundup
I can't believe it has been a week since I've left the house (with the exception of the harrowing and pointless trip to the food store).  I feel like I've aged fifteen years.  Literally, you don't want to skype with me and see what my eyebrows look like and how much my hair has greyed.
I would like to return to the words I infamously wrote this time last week:
Snowmageddon is happening at some point today, 24 inches of snow dumped on the greater DC area.  I could not be more excited to be stuck inside our house.  I gleefully stocked up on movies and books from the library, purchased art supplies from the craft store, and braved a two-hour visit to the food store to get baking essentials.  Every two minutes I turn to Josh and crow, "we are going to be snowed in, baaaaaaaaaaaaaaaaaaybee!"
Can you believe that I was ever that stupid?  Who was that Melissa?  Why was she such an idiot?  This week has seriously sucked my non-functioning ovaries.
*******
The only good thing to come out of being stuck at home is that we did a lot of baking when we weren't crouching in the corner and wringing our hands over the fear of losing our power.  Which means that it is time to consult the random number generator and see what number it pulls out of its tiny little ass…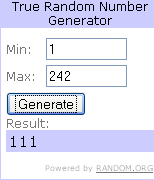 Baby Smiling in Back Seat, come on down!  By which I mean, send me your address–you're getting a big box of cookies and candy.  I will most likely send the box on Wednesday, which means it will be a Friday or weekend delivery.  Or I'll send the box on Tuesday if the next snow storm (because they have predicted another snow storm for Monday which makes me cry when I think about it) doesn't shut down the post office.
Didn't win and are weeping at your desk?  Cali is doing a raffle of another one of my baskets and the money will go to Michell's FET.  So you possibly get something sweet and you're doing something very sweet.
*******
Speaking of sweet, I really loved the last Secret Ode Day.  And if you wonder if your words mean something to the person receiving them, all you need to do is read Apron Strings for Emily's post after reading the kind words someone wrote about her.  She writes:
Wow. That just totally blew me away. I feel like I should be standing up behind the magic mike stand (you know, the one that disappears once the person is done speaking?) to thank the entire blogoverse for allowing me to write as freely as I do. And specifically to thank everyone for actually reading my words.  Oh, and did I mention this was all done anonymously ?! So … seriously, *THANK YOU* to whomever wrote such beautiful words about me. You honestly don't know how much it means to me …
I do have a critical mass in hand, but that doesn't mean you can't still write one or eight or fifteen.  Looking forward to a random Secret Ode Day springing out at you when you least expect it.
*******
I'm still trying to figure out StumbleUpon and loving the process.  I stumbled all the posts in the Roundup (so if you see traffic coming from StumbleUpon, that is why.  It sometimes takes time for it to show up over there).  I installed the toolbar and now I'm stumbling like a crazy woman.  It's a nice way to honour all the great posts I read that don't make it into the Roundup and hopefully drive some traffic towards them.
If you are on StumbleUpon and I'm not following you yet, let me know.  And er…follow me?
*******
Weekly What If: Imagine the person on this earth who annoys you the most (and if you have more than one, feel free to pick one from many).  Have that person in your head?  What if you could get a week long, all-expenses vacation to anywhere in the world but the only catch was that you'd be going to this relaxing or exciting place with the person who annoys you the most and you'd be expected to spend at least 20 hours a day together (you could have a four hour break from each other during waking hours, but for 20 hours, it would be just the two of you).  They would not know how much they annoy you, therefore, you'd still have to be polite and friendly on the trip, even though you're seething on the inside.  By the way, they're paying, which is how you get to go on this trip.  Would you take the ticket (think of the beaches, the mountains, the museums!) or would you rather stay home knowing there would be no chance to do this trip on your own later (it's one of those once-in-a-lifetime type trips).
*******
And now, the blogs…
I Can Haz Bebe has a post about internal strength.  After hearing from people who tell her that she's so strong, she responds with honesty, "I think that I am a person who has had to endure a difficult situation. Have I done so with grace? No. I have been kicking and screaming the entire way. I am jealous. I am angry. I am bitter and resentful."  But she does something so beautiful in the post that it becomes the yin and yang–the bitter heart chased by the enormous love it also holds.  And perhaps that what strength simply is–allowing those two things to coexist with each other without denying the other's existence.
Edenland has a post about truths of life.  The wisdom ranges from the profound: "You can't plan happiness. It happens, unexpectedly, in the oddest of places. And it bubbles over in your soul. And it's real" to the personal.  And it is an amazingly honest post–the best that blogging can be.
Roots & Wings has a post about those moments before the beta.  It is not just fantastic writing, it is a dissection of that anxiety that is born out of hope–that understanding that while it may not be your chance right now, it equally could also be your chance.  That something could be starting or something might not, but at least there is something to know soon.
Lastly, Communiqué has a post about her father that made me cry.  I don't know if I can explain it much more than that because it is such a sigh of a post, a tiny moment of a girl remembering.  And it is so beautiful that it will break your heart.
The roundup to the Roundup: We are still snowed in.  There's a winner for the Purim basket giveaway, but a chance to win another one.  Secret Odes make someone else's day.  Still trying to figure out StumbleUpon and loving the process.  Answer the Weekly What If.  And great blog posts to read.