Secret Ode Day (Ode 4)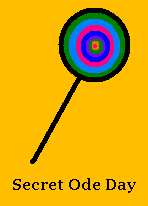 Instead of going through the whole explanation again about how this giant love fest came to be, let's save the space because you can click here to read about the project and find out how you can participate in the next one.
The words below come from the hearts of others around the blogosphere.  If your blog is featured below, I hope you carry these good thoughts with you, use them to continue writing and continue putting your heart out there.
Sprogblogger: Susan is one of the nicest people I know in blogland–she is funny, direct, thoughtful, and a terrific writer.  But mostly, it's her straight-up honesty that has kept me reading.  She doesn't sugar-coat, dance around, or keep very personal things personal.  I have tried to write more like her every since I found her because I admire how open she is every single day with us.
Where the Wright Day Takes You: I love this blog because I always feel at home here.  The topics and posts usually feel as if they could be written by me.  She's honest and caring and loves the Outer Banks!!  How can you not love a blogger that loves the Outer Banks!
Edenland: What is not to love about Eden? She is honest, funny, and thoughtful. She tells you like it is–straight from her heart.  Eden is all of that and so much more.  She is truly awesome!
Destined to Be an Old Woman with No Regrets…: Lindsay is a wonderful read….she touches your heart with the truthfulness of her words….she is a wonderful cook, and posts beautiful photographs. Also, she is a wonderful support to those she follows, and not only are her words kind, but they are also very soothing. I have been reading her blog for a long while now, and I am always looking forward to reading her posts. Needless to say, I am so happy to have found her.
Destined To Be An Old Woman With No Regrets: Lindsay has overcome many obstacles to get where she is today.  Now, she's taking us through her PPD and still putting up beautiful photos that she takes.
Destined To Be An Old Woman With No Regrets: The Steadfast Warrior is a very honest writer, not afraid to bare her soul and share even her most difficult times.  In doing this, she helps spread a little light of hope for so many.  A little light that tells others they are not alone.  She also posts some amazing photographs – many of them tell just as much of a story as her blog posts.
Conceive This!: I love Murgdan's humor! She is now pregnant (yay!), but still so humble and cautious and always make us laugh! I am so glad she is still blogging, you never know what you'll read when you visit. If you haven't you have to and then you'll be hooked!
Venting Vagina: First off who wouldn't love her blog name. She is currently in her 2ww and writes with some awesome humor but with reality. I just love her and I bet you will too.
Heidi's Notes from Vermont: Just a very funny, Jewish gal up in Vermont. We are so different, but have so much strangely in common. Her blog gives a great laugh and she is just a crazy funny cool blogger. She was phone sex operator once too, LOL!
A Woman My Age: I knew this blog was special when just the other day I was telling a coworker about a "friend" I "met" two years ago who just adopted a baby boy and I recounted some of her journey.  I talked about her as though I knew her intimately as I would have any friend.    With Death Star you have this sense that you are in her living room, sharing a cup of coffee and chatting. And I don't even know her real name or what she looks like.
Twangy Pearl the Elastic Girl: An excellent attitude and fantastic illustrations make this blog a high point.  The dachshund drawings are adorable, the horse animations are incredible.  And through it all runs a thread of optimism and joie de vivre that is infectious.
One Eye Open and Dreaming: Flying Monkeys has a unique and amusing perspective on life.  For example, a recent post included pictures of the beauty of the Grand Canyon contrasting with an eagle dining on road kill and an interesting road sign.  She also makes cupcakes that look so good, I want to crawl into the screen to eat them!
I'm A Smart One: Fundraising for Parenthood for Me, wacky conversations, amazing family moments, the plight of today's children…this blog has everything.  Plus, soon, we will get to see Frank perform!
I'm a Smart One: What can I say about Kym? She's amazing. She is so supportive, funny, charming and always the first to reach out and share her love. I admire her strength and tenacity, and the strong spirit of giving back and paying forward that she exhibits in the ALI community and in her real life.
Creating Motherhood: Calliope's blog is the one that either rush to read first or save to savor last in my blog reading.  She's shared her IF journey,  caregiving for her grandmother who had alzheimers as well as everyday life with it's ups and downs.  I really appreciate her honesty and openness as well as how she looks out for others in the IF blogging community by being a steadfast commentor and encourager of them.  She takes fantastic photos which I never tire of and it's always fun to see her header artwork change.  Cali has got to be one of the most creative people out there!  I love Cali's style of writing… it makes me feel like I'm out with one of my girlfriends for coffee – just sharing what's going on and providing laughter and support!
Our Family Beginnings: Lindsay is a combination of biting wit, super-smartness, and enormous heart.  She is the glue that holds together TOOTPU, the DC face-to-face group.  She is an amazing mother, an amazing friend, and though I'm not inside her marriage, I'd venture a guess to say that she is also probably an amazing wife.  The blogosphere is a better place because of her.
Mrs. Spit … Still Speaking Out: Cheryl is not only a talented writer, she has a huge heart and this is evident in much of what she writes.
In Our Own Weird Way: If I could pick one blogger to sit down and have a cup of coffee with or enjoy a dinner, it would be Ms. J.  Not only is she honest, but her humor speaks to me.  She writes so openly and honestly about her experiences, that you can't help but feel connected to her.  I appreciate her candor, and look forward to following her as her little family continues to expand.  Ms. J, you are one phenomenal woman!
Dragondreamer's Lair: Kristin is always supportive and loving and kind and realistically upbeat and there for the entire ALI community. It would take an entire blog to mention all the ways she has done wonders for me and others, but suffice it to say that she is a CHAMP. One day, I'm going to start a crochet group just so that I can invite her as the Most Honored Member.
Dreaming of Quiet Places:  Quiet Dreams is a woman of great strength, compassion, kindness and love. She always provides supportive and thoughtful comments on my blog, even when I've been a jerkheard and haven't commented on hers in ages. I consider her a friend, one that I admire and respect, and I truly hope that we get to hang out in real life one day.
Apron Strings for Emily: Emily writes beautifully, about what it is to live as a family of 2. She writes about her identity as a person, a wife, a music junkie, a nurse-manager and an infertile woman.  She talks about not just what it is to be infertile, but what it means to make that part of your life, to integrate it into your marriage, your hopes, your dreams and your cultural identity. She speaks, eloquently about the need to maintain yourself and your sanity and your relationships at the forefront of your life, inspiring me to live a life that is whole and full.
Everything Happens at the Right Time: Everything Happens is a real life friend of a friend for me, and our mutual friend spoke so highly of Everything's courage, wisdom and tenacity.  She reminds me that the most important attitude we can have in our struggles is resilience, informed by hope and determination.  She's honest and smart and kind, loves those around her, and never fails to balance the hurt and sadness of infertility with the joy in her life.  I'm thankful to know her.
Weebles Wobblog: Her writing is infused with this sense of peace, as if she has taken a deep breath before she writes and she passes along this peace to the reader as well.  She has opened my eyes to open adoption.  She embraces all who come into her path and we are all lucky that she shares her world with us.
Here We Go Again: There is so much that I can say about HereWeGoAJen, but I will say what so many of us in the ALI community can say about her – she is our cheerleader, our bringer of kleenex and chocolate, our commiserator, our celebrator and most importantly, she is our friend.  If I could take only one thing with me, from this community, it would be Jen. I am blessed beyond all measure to have her in my life.
LifeDeathPreeclampsia's Blog: Life and Death doesn't blog as much as she used to, but she is no less a part of my life. I think about her and her 2 lovely children often, and she is a surprising source of comfort and information.  She pops into my inbox and on my facebook page when I least expect it, bringing me words of wisdom and good cheer that I didn't realize I desperately needed.
Of Cabbages and Kings: Jen is whip freakin' smart. Her writing is this great amalgam of humor and heart. When I found her blog I immediately devoured the archives, and I wondered how it took me so long to stumble upon it. She leaves the most thoughtful comments–full of even clarity and gentle sentiment–like the big sister I never had. Gotta love it.
Little Blue Birds Fly: Bluebird is the sort of giving person who doesn't realize that she is so giving. She, through her blog, allows us to see and participate in her life, bringing a depth of experience to my life, that makes me a better person.  I know she struggles with the give and take of the blog world, feeling like she can't post if she's not reading, but I don't think she understands how many she touches and the joy she brings.  She brings me fresh perspective, and another way to look at things. She takes me places I wouldn't otherwise go, and I'm terribly thankful.
Oh, The Possibilities: Seraphim is exactly what her name depicts, not just an angel, but a strong one. The Seraphim weren't your grandma's angels, fluffy white, playing on harps.  Nope, these angels are all about strength and power and determination, just like this blogger. I'm lucky to read her posts, and still enthralled that she can out swim a shark.  But I won't be coming to swim in her ocean any time soon, just saying.
The Road Less Travelled: I sure hope this blog gets lots of ode's. I hope LoriBeth is drowning in Odes.  She  is the view that is so rarely spoken of – a mother who misses her Katie, but still continues to live her life. She reminds me to be of great courage and strength, and she posts some great articles too.  Also, she scrapbooks, and you can never have too many of those.
The Road Less Travelled: I have learned so much from Loribeth, from living your choices with grace to what it is like to be child-free after infertility and the devastating loss of her Katie.  She is a wonderful writer, a caring person, and beautiful individual.
Thinking Miracles: If I could make a miracle, if I could wave a wand, it would be for Heidi. I'd bless her with all the flamingo kitsch she could bear, and more than that, I'd have Blue and Honeydew with her and Jenn.  Families come in many shapes and sizes, and we don't hear as much from lesbian families. These two have taught me so much, and I wish I could make their dreams come true.  I can't, so I settle for following along, celebrating success, and trying to bear the load of sorrow.
Service is Joy: I will start off by saying that Sarah DOES NOT POST ENOUGH.  Having said that, she is a tireless cheerleader for the perinatal death community. She is an educator, a care taker and a light for us.  We are singularly blessed and fortunate to have her in our midst.
Bloorb This!: Chicklet has such a matter of fact and unapologetic way of blogging about life.  I recognize myself in so many of her stories, even the difficult ones, and she makes it easy to laugh at myself.  Better than that – she makes it okay to laugh at myself.  This is a blog I always look forward to a new post from!
Love this project?  Click here to read about it and find out how you can participate in the next one.  When is the next one?  That's the beauty of it–you never know when these kind words will show themselves, though I always post once I have a critical mass of blurbs.