Love
Sometimes (meaning: I have dealt with this, though it certainly isn't the feeling of all people that I encounter) people speak about meeting a partner or a friend via the Internet with contempt or embarrassment that I don't really understand.  Contempt by people who judge those relationships and embarrassment by people in them. Sometimes people refer to the offline world as "real life" as if the friendships that are made via blogging are somehow unreal in comparison.  Perhaps I'm just anti-ranking in general, but I don't think there is a superior way to bring love into your life.
Hi, my name is Melissa, and I met my friends over the Internet.  And I'm proud to shout that to the world.
However you meet your partner or friends is unimportant if you have a partner or friends because honestly, think about just how much needs to line up to bring you to the people in your life.  If I hadn't annoyed Josh enough times beginning at 11 p.m., he wouldn't have suggested that I start a blog.  And if I hadn't started a blog, I wouldn't have searched out other DC blogs and so on and so on until I ended up in a living room today, surrounded by the most amazing, nurturing, funny, warm women you've ever met.
I am really fucking lucky.
Because I also know that there are too many people without friends.  Or who have friends, but they don't click on all levels.  And what everyone needs is a group of women like this.  Women that you can cry in front of and laugh with and never need to explain yourself.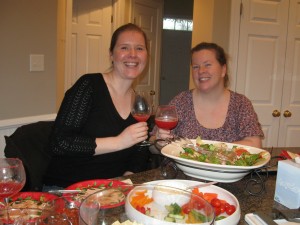 Meghan and Leah with their ruby sippers.  These two are so funny–they always crack me up.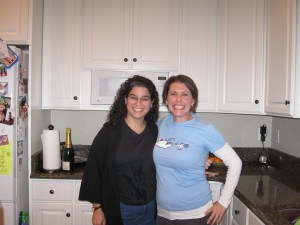 Me and Sunny.  My shirt is drenched with club soda from a bottle that exploded.  But I needed my picture with Sunny because I was really proud of my bra and wanted her approval.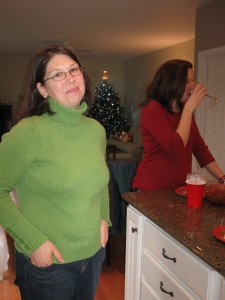 Bean, who is my friend, but is also my cousin.  See, the Internet not only brings you friends, but it can bring you long-lost family.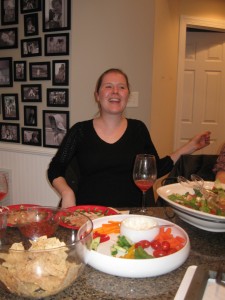 Meghan laughing–I just liked this picture.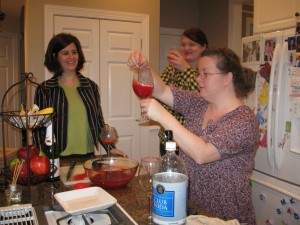 Leah teaching Paz and Cali how to make a ruby sipper.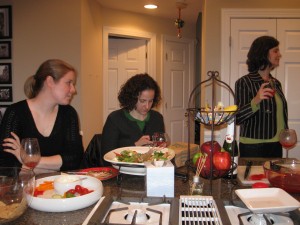 Meghan, Lindsay, and Paz.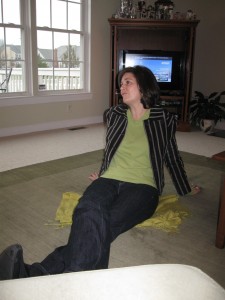 Paz chilling on the floor.  Isn't she so pretty and stylish?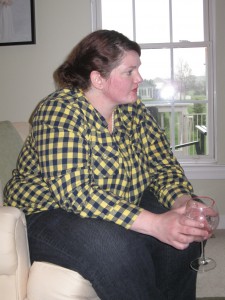 Cali listening to Paz.  I am so excited that she's up here now.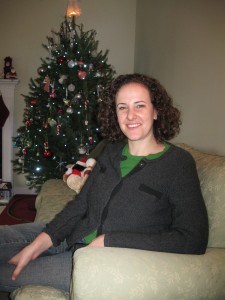 I met Lindsay over the Internet, via our blogs–and I cannot imagine what my life would be like without her.  For one, my Chanukkah table would have been a lot smaller.  And I wouldn't have my venting space, my park partner, or my computer fixer.  I wouldn't have the privilege of getting to see V grow or have someone to pass off baked goods upon.  Thank you, Internets, for aligning just right.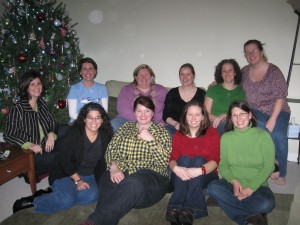 A lot of TOOTPU was missing today, but from left to right: (top) Paz, Sunny, Jendeis, Meghan, Lindsay, Leah (bottom) Me, Cali, Lucy, and Bean.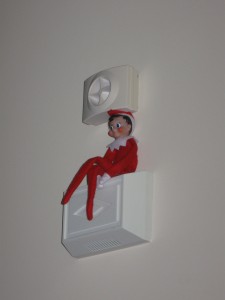 Leah's daughter took me to meet Elfie.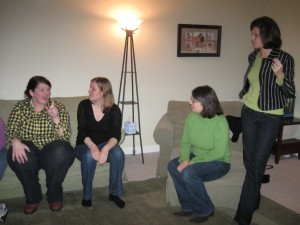 Cali, Meghan, Bean, and Paz.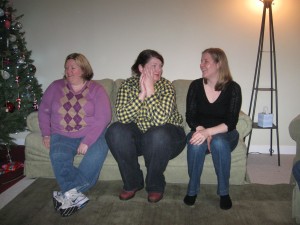 The ever-lovely Jendeis, Cali, and Meghan.
These are in addition to the ones I uploaded in real time over at the on the road blog.
I love hearing stories of people who met over the Internet–of egg donors meeting up with recipients, of two friends who meet via blogs and go on holiday with each other, of a marriage resulting from a meeting via Match.com.
Tell me a story about someone you met online; about how the Internet has changed your life–even if they are someone you are deeply connected to even if you haven't met face-to-face yet.