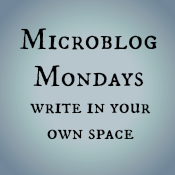 Not sure what #MicroblogMondays is?  Read the inaugural post which explains the idea and how you can participate too.
*******
Back on May 12th, I made myself a note that reads: "Ishiguro for chickens."
That's it.
Ishiguro for chickens.
I have no clue what this means now, though it's intriguing.  Was I considering a situation for chickens where they were treated well just to be slaughtered?  Do I want Ishiguro to write books specifically for chickens?  Or about chickens?  Sometimes I wish I could remember what I was thinking when I wrote down these cryptic notes, but sometimes it's more interesting to find them and not understand.
*******
Are you also doing #MicroblogMondays? Add your link below. For this first time, the list will be open until Wednesday morning. (Normally, it will close on Tuesdays.)  Link to the post itself, not your blog URL. (Don't know what that means?  Please read the three rules on this post to understand the difference between a permalink to a post and a blog's main URL.) Only personal blogs can be added to the list.  I will remove any posts that are connected to businesses or are sponsored posts.
September 1, 2014 12 Comments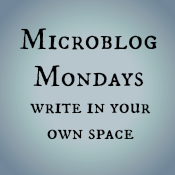 Take back your blog.
MicroblogMondays is a response to the mass exodus from long blogging in your own space to writing status updates on other social media sites.  Instead of writing out posts in their own home on the Web, more and more people are opting to place their brilliant, witty observations or thought-provoking images in someone else's home; namely, Twitter, Facebook, Instagram, and the like.
And while those sites as well as the communities that have sprung up in those spaces are lovely, they don't really fulfill the purpose of blogging in the first place: to plant your flag on the vast surface of the Internet and say, "here I am."  Here, being your own home.  Because while you may have accounts on various social media platforms, you don't actually own your space on Twitter or Facebook or the like.
Please understand: I am not proposing that people stop using other social media sites; only that people make a commitment to microblogging one day per week in their own space.
Yes, I said microblogging.
As in creating a post that is between 1 word to 8 sentences long.
Nothing huge.  No massive time commitment.  Just taking a passing thought, writing it up in a paragraph, and posting it in your own space.  You can promote it on Twitter with the hashtag #microblogmondays, you can mention your post on Facebook, you can let people know on Instagram where to find you one day per week, but you're going to put your words or images on your blog.  And then you're going to come over to Stirrup Queens and look for my weekly MicroblogMondays open thread and add a link to your post.  And peruse other people's posts who have taken back their blogging space and utilized it at least one day per week so that if Facebook, Twitter, or Instagram were to disappear one night, there would still be a place — under your control — that people can find you on the Web.
So what to write about?  Take anything you would have thrown up on Facebook or Twitter or Instagram and place it on your blog.  A passing thought.  What you did over the weekend.  What you're looking forward to during the week.  What you're worried about.  The strangest thing you observed on your way to work.  The funny thing your kid said.  A great picture you took during a hike.  A funny picture you forgot about until you found it while looking for something else.
Anything.  Don't stress this.  Just write.
If you're stuck, you can even scroll through a week of Tweets or Facebook status updates, find one that you think deserves a little more unpacking, and do so on your blog.  Or go look for an image you posted on Instagram and create a complimentary one.
If you've missed your blogging space and want to keep it going in this minimal, basic way (and hopefully you will be inspired to write longer posts on other days of the week by making the commitment to post once a week), here's what to do:
Write a very small post between 1 word and about 8 sentences long.
Put #MicroblogMondays in the title or use the image at the top of this post (just right-click to save it to your computer and then upload it to your blog).
Come over here and read my #MicroblogMondays post and add your post URL to the linky box at the bottom of the post.
Read other people's microblogging posts.
Rejoice that you posted at least once this week to your blog, not someone else's space.
No, you don't have to write your post on Monday.  You can write it any other day of the week and schedule it to run on Mondays.
Last three rules:
The linky list closes on Tuesday morning.  You get about 24 hours to add your post.  If you missed this week, just participate next week.  If you're going to be out of town, ask a friend to post your link for you.
Link to the post itself, not your blog URL.  Any non-post URLs will be removed.  Just so you understand, the permalink to this post is http://www.stirrup-queens.com/2014/09/

what-is-microblog-mondays

/.  The main URL for this blog is http://www.stirrup-queens.com.  Only use that first permalink; the one that goes directly to a post.
Only personal blogs can be added to the list.  I will remove any posts that are connected to businesses or are sponsored posts.  You may end up with new readers or traffic to your blog, but the point of this exercise is to connect as individuals with ideas bouncing around in our brains, not to tell people about products or services.
Hope you'll join along every Monday.  You can find all old #MicroblogMonday posts via the category menu on the left sidebar.
Wanted to add that you don't have to confine this activity to Mondays.  I set it at the beginning of the week so you could feel inspired to know you checked off your post per week by Monday morning.  But feel free to microblog in your own space any day of the week.  Or several times per day.  Short posts rock.
*The first MicroblogMondays post will go up in a few hours.  So get microblogging!  Remember, only 1 word to 8 sentences for the whole post.  Everyone has time to write a paragraph!
September 1, 2014 8 Comments
There was an interesting study out of University College London that found a mathematical equation for predicting moment-to-moment happiness. Basically, we really ARE Douglas Adam's human lab mice.  By being dropped what we perceive to be tiny rewards for our choices, we feel happiness.  We want to feel as if our work has a purpose and is being done well.  We want to meet our goals.  We want accolades.  We want little treats, to get something for nothing, to get as much as we perceive we deserve, and then to go a little beyond that.
In other words, we want to win at mindless games with low consequences.  We want a free reward at the end of a ten-punch card.
We also want our IVF cycle to be successful once we've built expectations by doing injections.  And our happiness is tied to that happening.
The study utilized data being collected from an app.  Unfortunately, I played the game that they used to find the equation for happiness after I read this study, so while I did feel slightly proud of myself for getting the coconut off the monkey's head, it didn't have the same effect on my overall happiness.
Still, as someone who has a lot of wants as well as a lot of expectations, I was drawn to the idea that just feeling as if things were going my way impacted happiness, even if the life rewards weren't anything spectacular.  It brought back my thoughts on the librarian who wouldn't give me an extra day with the book. My expectation was that she would give me the extra day with the book because (1) I know she does this regularly, (2) I was playing by the rules and bringing back the book on-time rather than being rude and keeping out the book beyond the expiration date, (3) it cost the library nothing to shift my due date back a day.
And then the expectation wasn't met.
If you asked me whether I deserved the extra days, I would have laughed and said, "of course not."  No one deserves extra time with a library book.  But clearly, my behaviour and reaction show that I did feel as if I deserved it.  And it made me sad when I walked out with my expectations thwarted.
[A side note: the book came back in the library this week, and I checked it out again.  But my heart totally isn't into this book anymore.  I can't tell if it's the writing of the author or if the situation soured the book for me, but I'm not enjoying it anymore.  Would I have loved the ending if I had been given the extra day to read it without the three week gap?]
Or, again, an example with a book.  I went to the bookstore this week to buy the Magicians trilogy by Lev Grossman.  It didn't even occur to me that they wouldn't have it in stock because the third book is so hot right now.  But I drove all the way to the bookstore and didn't have my expectations met.  Josh called ahead to check availability at another store, and I drove an additional half hour to the Devil's Armpit to pick up the books.  But when I got there — ooops! — they only had the first one despite saying they had both.  Expectations definitely not met or exceeded; mood definitely not happy.
Fast forward a few days to yet a third bookstore.  We walked to browse while on a date night, and I found the book and decided to buy it for $16.  Before I could pay, Josh walked past the hardcover version being sold for $6 in the bargain section.  And even though I prefer paperbacks to hardback books, I swapped out the $16 copy for the $6 copy, and not only got the book I wanted but saved $10 to boot.  You better believe I felt good going over expectations and getting a better deal than I thought possible when I set out to buy the books in the first place.
Anyway, being infertile and part of a niche in the blogosphere that has our overall happiness tied to an expectation (family building), I thought the study was interesting.  Especially this quote from the article:
Life is full of expectations — it would be difficult to make good decisions without knowing, for example, which restaurant you like better. It is often said that you will be happier if your expectations are lower. We find that there is some truth to this: lower expectations make it more likely that an outcome will exceed those expectations and have a positive impact on happiness. However, expectations also affect happiness even before we learn the outcome of a decision. If you have plans to meet a friend at your favourite restaurant, those positive expectations may increase your happiness as soon as you make the plan. The new equation captures these different effects of expectations and allows happiness to be predicted based on the combined effects of many past events.
That warm glow of happiness at the start of a cycle thinking, this could be it.  The expectations that sparkle in the form of hope.
I'm not sure how you can effectively lower your expectations, but someone could make a mint if they could retrain brains to want less and be equally happy with the status quo, or to be able to keep the happiness you feel before you learn the outcome and have it temper the crushing disappointment when the expected ending doesn't come.
August 31, 2014 5 Comments
I just watched online the pilot for a very cute new show on NBC this fall called A to Z.  It's essentially 500 Days of Summer, with an online dating site swapped in for Joseph Gordon Levitt's greeting card career.
And you can watch the pilot too!  It's 26 minutes long.  So… maybe a lunch break viewing?  Or save it for this weekend?
A nice break from having my mind chewed apart by Doctor Who, or feeling increasingly depressed over the state of the world by watching the Daily Show.  This is a show I can actually relax into while I watch.
And I cracked up over Lea Thompson at the end.
*******
Yes, this is your weekly reminder to back up your blog, social media accounts, and email.
Seriously.  Stop what you're doing for a moment.  It will take you fifteen minutes, tops.  But you will have peace of mind for days and days.  It's the gift to yourself that keeps on giving.
As always, add any new thoughts to the Friday Backup post and peruse new comments in order to find out about methods, plug-ins, and devices that help you quickly back up your data and accounts.
*******
And now the blogs…
But first, second helpings of the posts that appeared in the open comment thread last week.  In order to read the description before clicking over, please return to the open thread:
Okay, now my choices this week.
No Kidding in NZ has been writing a series on the gifts she received from infertility (and no, that's not sarcastic).  The one that resonated with me the most so far is the one on friendship because I too have made quite a few friends that I would have never met otherwise if not for infertility.  She writes, "We got to know each other from the inside out; raw, hurting, with open wounds.  Friendships that first developed on a message board, moved to more informal online chatting, and then blossomed in real life."  Yes, you could say blogging brought me friendships, but I may not have started a blog if I didn't have something I needed to talk about — infertility.
If You Don't Stand for Something has a raw post about both wanting to give up and knowing that she also doesn't have it in her to walk away from trying to build her family.  It's the sort of post that I want to point people toward and say, "that's what infertility feels like."
A Woman My Age has a post about growing into her blog title.  I especially love her comparison between a mid-life crisis and peri-menopause.  It's a post about being true to your own needs and meeting them.  While I'll miss her if she doesn't post as often (or at all), I really respect her for taking care of herself.
And I have to highlight this brilliant trick by Journeys of the Fabulist, which is about saving money for travel, but the same trick can be applied to saving money for anything you want.  I have to admit that I often do things on my to-do list just so I don't have to recopy them again, and I could see myself not making purchases if I had to take out a book and write down the purchase in black and white.  Suddenly, I would lose the urge to purchase coffee drinks out of the house.  And then put that money in the travel/IVF/whatever-you-want-to-save-for fund.
The roundup to the Roundup: I'm watching A to Z this fall on NBC.  Your weekly backup nudge.  And lots of great posts to read.  So what did you find this week?  Please use a permalink to the blog post (written between August 22nd and August 29th) and not the blog's main url. Not understanding why I'm asking you what you found this week?  Read the original open thread post here.
August 29, 2014 6 Comments

Welcome back to IComLeavWe. It stands for International Comment Leaving Week, but if you say it aloud, doesn't it sounds like "I come; [but] leave [as a] we"? And that's sort of the point. Blogging is a conversation and comments should be honoured and encouraged. I like to say that comments are the new hug–a way of saying hello, giving comfort, leaving congratulations. Here is the vital information, pure and simple (a more detailed set of rules follows below the list):
The list opens the 1st of every month. It remains open until the 21st. You can add yourself at any point. The list is open to everyone in the blogosphere–blog writers and/or blog readers.
Add yourself to the list by filling out this form after adding the icon below:  September 2014. I will move the information from the form into the post (usually within 24 hours).

Click here to cut-and-paste this bit of code to add to your sidebar (if you have the old code from another month, remove it and replace it with this one). You need to add the icon or a link to the current list on your blog (see below) and will not be added until it's up.
Commenting kicks off every month on the 21st. Please mark it somewhere (calendar, post-it note taped to your computer…), though I will be sending out an email reminder on the 20th. Commenting week runs from the 21st to the 28th. Every day, leave 5 comments and return 1 comment for a total of 6 comments. You are highly encouraged to choose the blogs you comment on from the participants list below, but this is not required.
I will send a second email on the 28th to remind you to remove the icon from your blog.
Read below if you want to find out about Iron Commenters.
The commenting ends on the 28th. We catch our breath and the whole thing starts again the next month on the 1st. Drop in and out according to what is happening in your life between the 21st and the 28th.
The September 2014 List
You have questions…I have answers:
Q: What if I miss a day?
A: Catch up the next day by doubling your comments–12 comments instead of 6.
Q: What if I have two blogs? Can I sign up twice, listing both blogs?
A: Yes, but you also need to double your comments. If you have two blogs listed, you should be leaving 12 comments per day.
Q: What is an Iron Commenter?
A: Not for the faint-of-heart. People who wish to be an Iron Commenter and be entered on the Iron Commenter honour roll need to leave a comment on every blog on the participants list (exceptions are blogs that require you to have a special log-in, such as some LiveJournal accounts or other similar situations). You can spread out this commenting any way you wish over the whole week, but the final comment needs to be left by midnight on the 28th (EST). Reaching Iron Commenter status is done on an honour system. Please email me if you earn Iron Commenter status so I can add you to the wall of honour.
Q: Why do I have to add that bit of code to my sidebar?
A: The code is the latest icon (the icon changes colour every month so you know that you're on the right list). This month, the icon is red, the next month it will be orange, etc. The reason is two-fold: (1) it enables more people to find out about IComLeavWe and (2) it gives you easy access to the current list once the commenting week actually begins and better ensures that you'll use it. Too many times, people sign up and forget to actually do IComLeavWe and this icon gives you a daily reminder (with the dates on it) every time you open your own blog. The icon is linked back to the current list. On the 28th, remove the icon from your blog. A new one will be created for the next month.
Q: It's the 23rd and I just saw this for the first time on my friend's blog! I want to join the list–why can't I?
A: Because IComLeavWe happens every month, once the list is closed, it's closed. If you're finding out about this on the 23rd, you can't join the current month. But leave yourself a note to check back in a week on the 1st and you can sign up for the next month.
Q: You said the list closes on the 21st. Well, it's still the 21st where I am. Why aren't you moving my information onto the list?
A: All dates and times are U.S. Eastern Standard Time (UTC/GMT -5 hours). The list closes around 11 p.m. EST on the 21st.
Q: What if no one comments on my blog and I have no comments to return?
A: Well, that really doesn't happen for the most part, but in that case, simply choose another blog and add an additional comment. The goal is to hit 6 comments daily as a minimum. Going over that is fantastic and encouraged.
Q: Mel, my question wasn't covered at all. What do I do?
A: Email me; I'm quite friendly. It helps to place "IComLeavWe" in the subject line. You could also check this post which contains the history of IComLeavWe and see if you can glean anything there.
Looking for the comment section? It has been closed on this post. Use the form in the directions to add yourself to the list.
August 28, 2014 Comments Off