Thank You, Susan G Komen, For Showing Me That I Should Give My Money Straight to Planned Parenthood Instead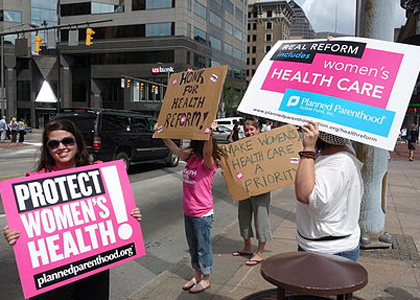 Every Friday, I have to drive down the same road to get to a class, passing the same buildings and houses that I never pass any other day of the week.  A few weeks ago, Josh was off of work, and he ended up taking me to the class, so we were driving in the car together.
"I always wonder about that place," Josh commented.
"Me too!" I exclaimed, sort of amazed that Josh had the exact same thoughts about the building we were passing, a building I've thought about on and off for about 9 years every time I've had reason to pass it.
"I would go in there, but it sort of looks sketchy."
"It would be worth it though."
"Really, I'm sort of surprised.  This doesn't seem like you."
"You think I couldn't hold my own and use them for what I want in the same way that they are going to attempt to use me to get what they want?"
"Melissa, what are you talking about?"
"I'm talking about the place that advertises that they give free pregnancy tests, which is obviously from the rest of the signage, an anti-abortion clinic.  So I'll listen to their spiel, blah blah blah and get the free beta.  When you're not in treatments, it's hard to get a beta."
Josh takes his eyes off the road to glance at me for a moment.  "Melissa, I was talking about the tofu restaurant next door."
Oh.
Here's the thing: my ability to use that anti-abortion clinic to get my damn beta numbers (I am the queen of the beta of 9) is something I developed quite recently, that grownup trait of making up your own mind and sticking to your convictions, even in the light of external pressure.  To be able to see someone else's agenda and know whether or not they have my best interests at heart, or if they have put the message they want to push before the needs of the person sitting in front of them.  In other words, until recently, I was the type of woman who needed Planned Parenthood, a place I could go where decisions would be left in my hands without an overriding political message.
Planned Parenthood was made for a woman like me.
A woman who was prone to being swayed by judgment, so they took out the judgment.  A woman who was concerned about doing what was "right," so they removed the idea that there was only one correct answer.  A woman who sometimes didn't know the right questions to ask, so they provided a wide-range of information.  A woman who didn't have a lot of money, so they ensured that all women could have access to basic women's health care services including pap smears and breast exams.
You know, those two health exams that I'm assuming we all want every woman to have access to.
Susan G. Komen, the fundraising giant in the name of breast cancer, pulled funding from Planned Parenthood which was used to provide cancer screenings to those who cannot afford women's health care otherwise.  They are doing so because Planned Parenthood is under investigation for complaints raised by anti-abortion groups (in other words, there are no valid complaints made by a non-partisan organization).  And I'm sorry, but there is no room for politics when it comes to women's health — when it comes to anyone's health.  What we are talking about is literally life and death.
Politicans are fond of using live subjects — namely, people — to test out their political theories.  Which makes them like cruel scientists.  We would be horrified to learn that cats or monkeys were being killed in order to push someone's personal beliefs, but we're not equally horrified when people are losing access to health care and dying needlessly based on someone's personal beliefs.  The reality is that our STEM fields have stricter protocols on how and when they can use live subjects to test theories whereas human women are being used daily without any controls in place to test political theories.
The purpose of Planned Parenthood is — simply put — to ensure that women are in the best position to have children when they want to have them.  Which means that
They provide preventative services so they are not having children before they're ready (according to their site, "76 percent of our clients receive services to prevent unintended pregnancy. Planned Parenthood services help prevent more than 584,000 unintended pregnancies each year.")
They provide screenings for diseases that could impede reproductive health ("770,000 Pap tests and nearly 750,000 breast exams each year.")
They provide blood work for infectious diseases that could impair reproductive health ("more than four million tests and treatments for sexually transmitted infections, including HIV.")
They provide abortions for a plethora of reasons ("Three percent of all Planned Parenthood health services are abortion services.")
And they provide education to "1.1 million young people and adults each year."
Or, as their mission state succinctly begins: "Planned Parenthood believes in the fundamental right of each individual, throughout the world, to manage his or her fertility, regardless of the individual's income, marital status, race, ethnicity, sexual orientation, age, national origin, or residence."
In other words, they are fighting the good fight on behalf of women.  They are trying to ensure that when a woman is ready, she is able to have a child.
Women's health is not a pu-pu platter where we can each pick at the one item we want to take.  Where you eat the spareribs and I'll take the fried wontons.  I can't sit down to a meal with women who are going to tell me that I can take the IVF-access and they'll take the mammogram-access fight but we're not going to actually support each other to complete our goals.
Women's health is women's health is women's health.
If you care about having access to fertility treatments, to the ability of your medical team to make decisions taking into account your unique situation and tailor a treatment plan that works best for your body, you need to care about making sure that all women have access to sexual and reproductive health services — even the ones you might never choose to use yourself.  This is about the strength of standing collectively on an issue, about saying every inch of a woman's body is important and deserves to be treated with respect, with the woman's best interests at heart.
And Susan G. Komen isn't doing that right now.
The problem is that all charities look like good charities meant to support the people they claim to support until they make a move like this, causing you to question how the funds you raise or give to other organizations are being used.  And maybe that is why I am always a bit squeamish about giving to organizations that dole out grants vs. organizations that directly provide services.  There are fantastic organizations out there that are working to channel money towards science and services in a completely ethical way.  But there are equally fantastic non-profits who are on the ground, doing the hard work, providing the services, and those are the ones I think I'm going to turn my attention to supporting for the time being.  Not just financially, but by volunteering for them, writing about them, and educating myself (and others) on the services they provide.
So, thank you, Susan G. Komen, for making me realize that there are more options than supporting a philanthropic organization.  I can give my money and time to an organization like Planned Parenthood who provides the services.  Sometimes we just need a reminder.  So thank you for giving me one.
By ProgressOhio (Flickr: June 2009: Protect Women's Health!) [CC-BY-2.0], via Wikimedia Commons